Apple is known for its innovation and being classic in technology solutions. It constantly works on upgrading its technology standards to provide a great user experience. And since Apple is introducing more advanced devices, new iOS app development trends are emerging in the market. 
From AI to AR/VR and IoT to iBeacon, iOS app development is advancing to the next level with the influence of new technology. Here, we have come up with the top iOS app development trends for 2022 that are being used widely across different industry verticals. 
If you have a plan to create iOS apps this year then you must be aware of these top iOS app development trends for 2022. This blog will help understand how you can take an early competitive advantage from these trends. 

So why wait then? Let's take a quick ride through them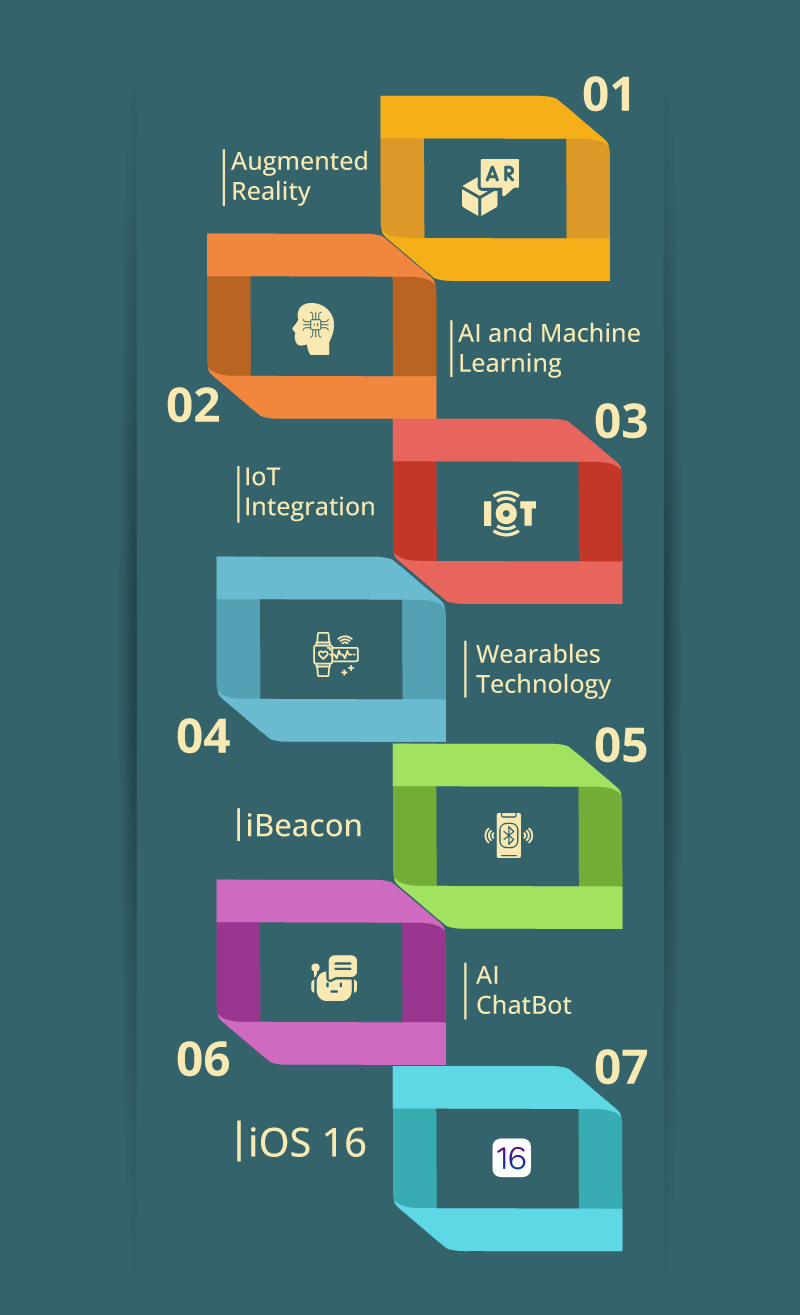 Trend #1: Augmented Reality 
Augmented reality is a hot trend in the field of iOS app development 2022. It is empowering mobile apps to do fantastic things and leave a fully engaging and interactive experience for users. Pokémon Go, Snapchat, and FaceApp are the apps that got highly popular in the market due to their AR features. 
AR technology is transforming iOS development with unique abilities. It allows developers to build innovative features that engage users easily. Therefore, the use of AR SDK in iOS app development has increase significantly in 2022. 
Apple now provides a dedicated ARKit 3 for developing augmented reality-based functionalities in iOS mobile applications. Apple has also released an augmented reality editor called Reality Composer. This toolkit supports iOS developers to create apps with AR features without designing 3D experiences. As a result, it reduces the cost to build an augmented reality app.
Top mobile app development company extensively use this AR SDK to build AR features in their applications. Along with this, another AR SDK released by Apple, Reality Kit. It enables developers to integrate virtual objects into the real world. 
Hence, by considering all these AR SDKs, it is clear that Apple is pushing forward the use of augmented reality technology in iOS app development. And therefore, this trend is emerging among the top trends in iOS App Development 2022. 
How Businesses Can Benefit from Apple's AR SDK?
Apple's ARKit 3 has good capability. It allows developers to utilize front and back cameras parallel. 

By using Apple's AR SDK, you can build high-quality illusions and virtual experiences. 

It enables you to use the AR World Map on various devices. And thus, gives engaging user experiences. 
Trend #2: Artificial Intelligence and Machine Learning
AI & ML are advanced technologies. They are used to develop complex and high-level, or automated functionalities in applications. And in iOS development, the use of artificial intelligence and machine learning is expanding. 
Developers now use AI & ML for enabling predictive analysis and creating automated functionalities in mobile apps. Therefore, eCommerce and entertainment companies use these technologies in their mobile applications to build unique features. For example, Netflix and Facebook use AI & ML algorithms to get insights and data analytics in their iOS applications. 
Apple realized the importance of this technology trend. Therefore, they launched CoreML SDK for improved iOS app development. It enables mobile app developers to integrate various machine learning models in the development of iPhone apps, iPad apps, etc. for product recommendation features.
You can hire a mobile app development company to get complete consistency and uniformity in cloud development, resource-intensive tasks, and cloud operations, and implement your mobile with the most innovative next-gen iOS app development services.
Hence, this old trend is still having a great influence on iOS app development in 2022. And it still continues to grow. 
How Businesses Can Benefit from AI & ML in iOS app development?
Voice recognition:

The best advantage of AI & ML is to enable a voice recognition capability in your iOS app. It can be used for many purposes. 

Accurate Analysis:

Using artificial intelligence and machine learning algorithms in iOS app development,  businesses can accurately analyze user behavior.

Product recommendations:

AI is massively used in mobile applications to recommend products and services to users. This feature is highly advantageous in the eCommerce and entertainment sectors. 
Trend #3: IoT Integration
IoT is among the top iOS application development trends in 2022. However, the use of IoT was not so popular a few years ago. But today, many real estate businesses now hire iOS app developers for creating iPhone apps that support the concept of Smart Home. 
Not only real estate, but other industries are also looking for IoT-based solutions in iOS app development. Developers are learning to use Swift and other programming languages that allow a user to control hardware or electronic devices through the app. 
Since IoT is used in multiple industries. From logistics to smart cities and agriculture to Wearables. Apple's IOKit supports all types of IoT app development services. With this toolkit, you can create iPhone apps or Apple Watch OS apps that can operate hardware devices. Hence, the IoT has started evolving as one of the top iOS app development trends in 2022.
How You Can Benefit from Apple's I/OKit
Smart home apps:

Apple's I/OKit allows you to develop iPhone apps for supporting the concept of smart homes. 

Logistics:

You can create iOS mobile app to efficiently manage the delivery process with automated actions. 

Healthcare:

IoT can enable a hardware device or medical electronic equipment to be controlled from a mobile application. 
Trend #4: Wearables Technology 
Apple Watches, fitness bands, and other wearable gadgets and accessories have captured the attention of the current market. Companies now developing more advanced and different types of wearable devices for consumers. And to operate these devices, users need a dedicated mobile app. 
Therefore, wearable technology is becoming a top iOS app development trend.  In 2020, Apple will sell more than 7.6 million smartwatches globally. And the way its demand is further increasing, experts predict that the sale of Apple smartwatches will be high. 
As a result, the scope for wearable app development will increase too. That is why smartwatch is gradually turning to another mobile device that would specifically need iOS app development solutions.
How You Can Benefit from The Wearable Technology Trend?
Apps for Smartwatches:

The demand for Apple smartwatches is increasing. Therefore, businesses will invest in iOS app development to create iOS apps for Apple smartwatches. 

Apps for Wearable devices:

There are many types of wearable gadgets and accessories that require iOS apps to operate these devices. 
Trend #5: iBeacon
iBeacon is Apple's BLE (Bluetooth Low Energy) device that transmits Bluetooth signals. This device contains sensors that enable the device to connect itself with the user. And thus, establish a local network. 
iBeacon has been used across various industries. Especially in retail, entertainment, and multiplex, it is widely popular. They use iBeacons for communicating with targeted customers and managing events, shows, and exhibitions.
The reason why iBeacon is among the top iOS application development trends 2022 is its fast and effective accessibility to users. This device stores location-based data. And then with the help of an iOS app, the admin or stakeholder gets the information through the app. This information helps them in communicating with users for general and marketing purposes. 
Retail, multiplex, and real estate industries are tremendously utilizing iBeacons for marketing purposes. Therefore, the growth in iBeacon app development has increased impressively in the past few years. 
How You Can Benefit from iBeacon App Development?
Real-time marketing: Since iBeacons shares, the live location of users businesses can use iBeacon apps for real-time marketing purposes. They can use it for sending quick push notifications, sending instant attractive offers, or new product arrivals whenever a customer is found nearby the physical store. 
Trend #6: AI ChatBot
Apple has a premium class of users. They always look for quality and uniqueness in iOS apps that give them an amazing mobile experience. Apple knows what its users need and mostly look for. Therefore, the company always brings innovations and creativity to entice the audience. 
And AI Chatbot is among the latest innovations that are capturing Apple users' attention. For example, Siri, Apple's AI-based voice assistance mobile app. It created a big sensation. 
Today, when users are now looking for more AI Chatbot apps, their demand has increased too. Apple also provides good resources to save cost to develop a Chatbot. As a result, AI Chatbot has a big place in the iOS app development trends list.
How You Can Benefit from AI ChatBot Apps?
eCommerce:

You can create Chatbot app for eCommerce stores that provide real-time chat support to iPhone users. 

24×7 customer support:

AI Chatbot provides consistent customer support. Businesses can use these apps to place orders anytime. Thus, it helps you keep sales growth consistent. 
Trend #7: iOS 16
iOS 16 is the upcoming advancement of the iOS mobile operating system. At Apple's Worldwide Developers Conference, the release of iOS's next version was announced. And with that announcement, Apple users have got excitement. Why? 
Because of the new iOS operating system, iOS 16 provides amazing features. Reports suggest that this operating system comes with exciting features and improvements. For example, customizable lock screens with widgets, enhanced focus modes, and messaging updates. 
So, when iOS 16 is set to release in the market. Developers and iOS app development companies have to prepare themselves for this latest release. 
Businesses can take competitive advantage of iOS 16. They can develop iOS apps that leverage the latest iOS updates and help iPhone users do more with iOS 16. Therefore, iOS 16 is projected to be a hit in the iOS app development trends. 
How You Can Benefit from iOS 16?
Help iPhone Users:

You can develop an iPhone app that assists Apple users to take advantage of the latest features and updates of iOS 16. 

Competitive advantage:

Since iOS 16 is about to release, you can develop the iOS app in advance. And thus, you can take a competitive advantage. 
To Conclude
iOS app development is connected to various business domains and technology areas. Apple constantly works on upgrading its iOS app development infrastructure and environment to provide a high-standard mobile experience to users. 
And the above iOS app development trends come with innovative and advanced capabilities that could help businesses develop amazing iOS apps. Therefore, if you want to leverage these iOS app development trends in 2022,  try to use them under the expert guidance of a reputed iOS app development company. 
How MobileCoderz Can Help You Take Advantage of iOS app development Trends in 2022
MobileCoderz is the premier name when it comes to providing high-quality iOS app development services. We have the industry's brilliant and most qualified iOS developers, programmers, and software engineers. 
We are adept at utilizing all the iOS development SDKs and technologies. If you are a startup or an individual business owner, MobileCoderz can help you drive maximum benefits from the above iOS app development trends. 
Just Schedule a Free Consultation and Speak with Our Experts