ML is the subdivision of Artificial Intelligence. This software tool can empower to envisage, explore, and learn the outcomes without any human interference. Nowadays, ML is employed in different sectors and fields. Machine Learning is aggressively used in mobile app development. 
AI and ML jointly have crafted some amazing, intelligent, and smart solutions. These tools can even understand the pattern of humans. This tool can even do behavioral analysis and develop strong algorithms. It can deploy mobile apps to interact, entertain, and deliver the best-personalized experience to the users. A mobile app development company can implement the best solutions. 
For instance, Facebook has employed this tool to understand the behavioral pattern of the users. With this, they are offering customized solutions and experiences for their users. 

Combination of Legacy: Mobile App Development and Machine Learning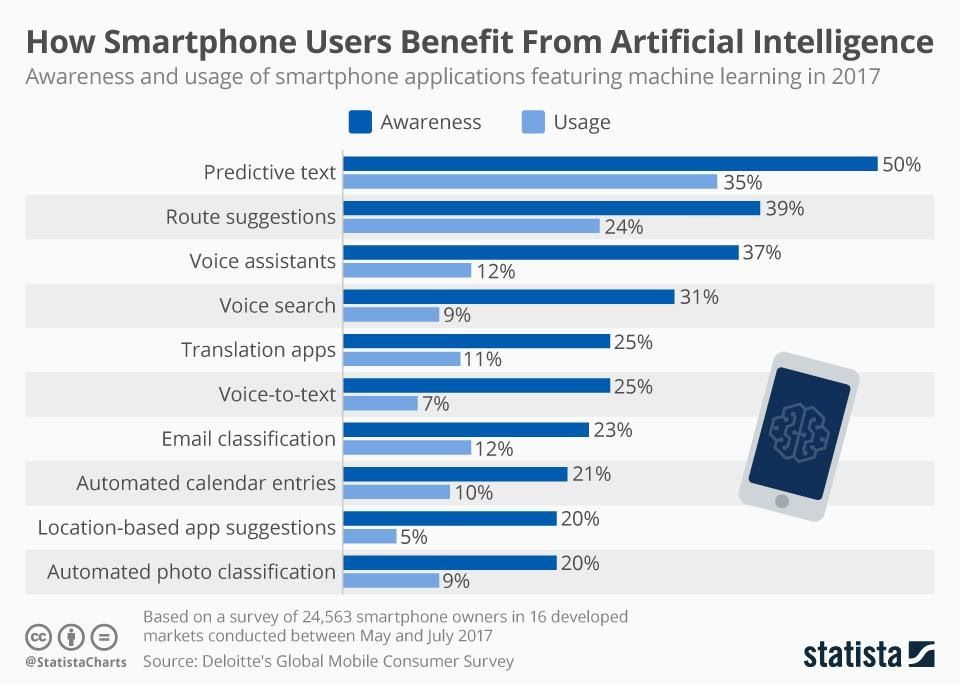 Examples of ML-Based Mobile Apps
e-Commerce mobile apps

Mobile apps for fitness and health

Apps for Fintech

Mobile apps based on Data Mining

Healthcare mobile apps

Telemedicine mobile apps

Travel and tourism mobile apps
So, why should you build a Machine Learning mobile app?
After the integration of Machine Learning, Almost 76% of enterprises saw higher sales.

This technology can predict the user behavior, process all optimization, cross-sell, and lead up the sell.

50% of business owners have applied this technology to refine the marketing issues.

Machine Learning has assisted numerous European banks in expanding the sales of the product by 10%.
These stats and facts clearly clarify that this is the right time to invest in Machine Learning mobile application development.
Types of Algorithms of Machine Learning for Android and iOS apps
This innovation can automate the algorithms for decision-making and data processing. These kinds of algorithms improvise their operation following the results of their work. Thus these tools can provide great support for Machine Learning app development. 
To develop a model that reveals all the networks, ML utilizes the below-mentioned algorithms.
The engineers will train the algorithms of ML to make quick and specific decisions from the system. ML captures all the possible outcomes to make a quick decision.
Here ML trains itself from data examples. The algorithm calculates the patterns of the data all by itself.
Like unsupervised learning, ML trains itself from data examples and associates to target the responses. The data will be enclosed with string labels or numeric values. 
This includes tags and classes. In the next level, it can be posed with other examples. Thus, it can give the correct prediction responses. 
Advantages of Machine Learning-Based Mobile Apps
Enhance the options of searching and results
The option of searches keeps evolving with the blink of an eye. This includes search engines and results. What we cannot modify is the design of mobile apps to deal with the searches.
This technology assists in automating and evolving the same. By employing ML and its subsets, the search options can display the best matching results. Even if you misspelled the keywords, Google would display the results.
When you integrate ML with mobile apps, it will understand all the patterns. The human being can barely resolve this when required.
In order to make efficient mobile apps, this innovation can assist in enhancing the results and searches. This process is not all time-consuming and hassle-free. Ml even employs behavioral and graphical data to improvise the personalized experience for the user.
ML in mobile app development has helped many businesses to identify potential threats and frauds. Security of data is a must-have feature in your mobile apps. Why? Well, your users would be sharing their personal and banking details. And you, as their partner, must secure such data.
Hre, employing ML would benefit you in a better way. This tool will train with the existing trends and patterns. And when anything "out of the pattern" arises, it will raise the alarm. 
You will be able to take all the preliminarily and preventive measures to control any such activities. It will keep the data of the user sound and secure. 
For example, an unknown transaction took place; ML will quickly alert you about this activity. You can report and get sorted with the transactions. 
The financial sector is yet another domain where this technology has showcased its potential. It will be tough to figure out the frauds in money apps, wallets, and credit cards. 
Suppose you have your business in this domain and its surfaces in your institution. If not focused on this area, it may lead to poor growth of your business and client dissatisfaction. This may lead to poor productivity.
Improvises route of Logical Development
In Machine Learning app development, there are high chances that the mobile app developers get baffled to enhance the comprehensive logic development. And this development consumes lots of energy and resources. Therefore, it will take time to amplify and deploy the app to the market. 
It will help to simplify the path of logical development. This, in turn, will help to understand all the coding aspects. ML will assist the developers in understanding different trends and patterns enclosed in the development of mobile apps. It will enhance the experience in coding and overall logic. 
Suppose you need to add new categories in your mobile app. This, otherwise, you cannot tackle without the assistance of the mobile app developer. But now, thanks to Machine Learning, you can handle that with ease.
Note:- Assure that the mobile app development company buffers you with commands and trains Machine Learning.
Essential of Machine Learning for Mobile Apps
Since by now, we already know the advantages of implementing ML in mobile apps. Let us further check some of the reasons why ML is essential for your mobile apps:-
While handling the Machine Learning app development process, the developers can even train the users who would be using the apps. They can give training to the modules of Machine Learning to strain the spam out. 
Your development team can program these intelligent machines to clear up unreliable websites and emails as these unreliable sources can overload the user's inboxes. Hence, there might be a high chance of skipping the fraudulent activities. You can overcome this by including ML with your mobile apps. 
ML can handle huge data and acquire significant calculations. It can assist in predictive analysis. This will give a personalized app experience to the users. 
Boost The Engagement of The User
You must understand that ML does not have the power to convey the real objective of your mobile app. But it has the power to expand the capacitance to enhance the engagement of the user. 
In a conclusion
Machine Learning-based mobile apps are evolving in the market at an exponential rate. This innovation is highly credited because of the reduction in time and effort, cost, and security.
Hence it is highly recommended to hire a mobile app development company. They will provide reliable and effective solutions for AI-based mobile apps. 
MobileCoderz Technologies is an efficient mobile app development company. We work on comprehensive technologies such as AI, ML, IoT, iBeacon, etc. Our team is also proficient in developing customized apps for a personalized experience.
So, what are you waiting for!!
Let us discuss and bring light to your idea.