A few years back, Facebook introduced React Native technology. At that time, everyone was not so much aware of this particular technology. Nobody was expecting that the framework would achieve enormous growth in mobile app development. Nowadays, React Native has set a new benchmark for designing fully functional and competitive mobile apps. It is the main reason why React Native App development companies in the USA have managed to gain enough popularity.
Statistics and infographics that supports React Native app development:

React Native dominates the world of mobile app development in different ways. If you want proof for it, just look at the below-given information:

The total number of mobile application development in 2020 was above 2010 billion. This is increasing 6% -7% every year.

International mobile profits have increased to 580 billion in 2020. This is expected to shoot up by 984 billion by 2023.

People use smartphones 100-150 times a day. They spend 90-92% of their time accessing applications.

Around 8 thousand people have already used React Native. 

More than 4.5 thousand individuals would prefer to use React Native again. 

Approximately,15k professionals showed their interest in using this app development platform.

Statistica reported that React Native is famous for cross-platform mobile app development. Almost 40-42% of developers across the world want to use the framework.
Graph showing the interest rate of React Native app development between 2019-2021: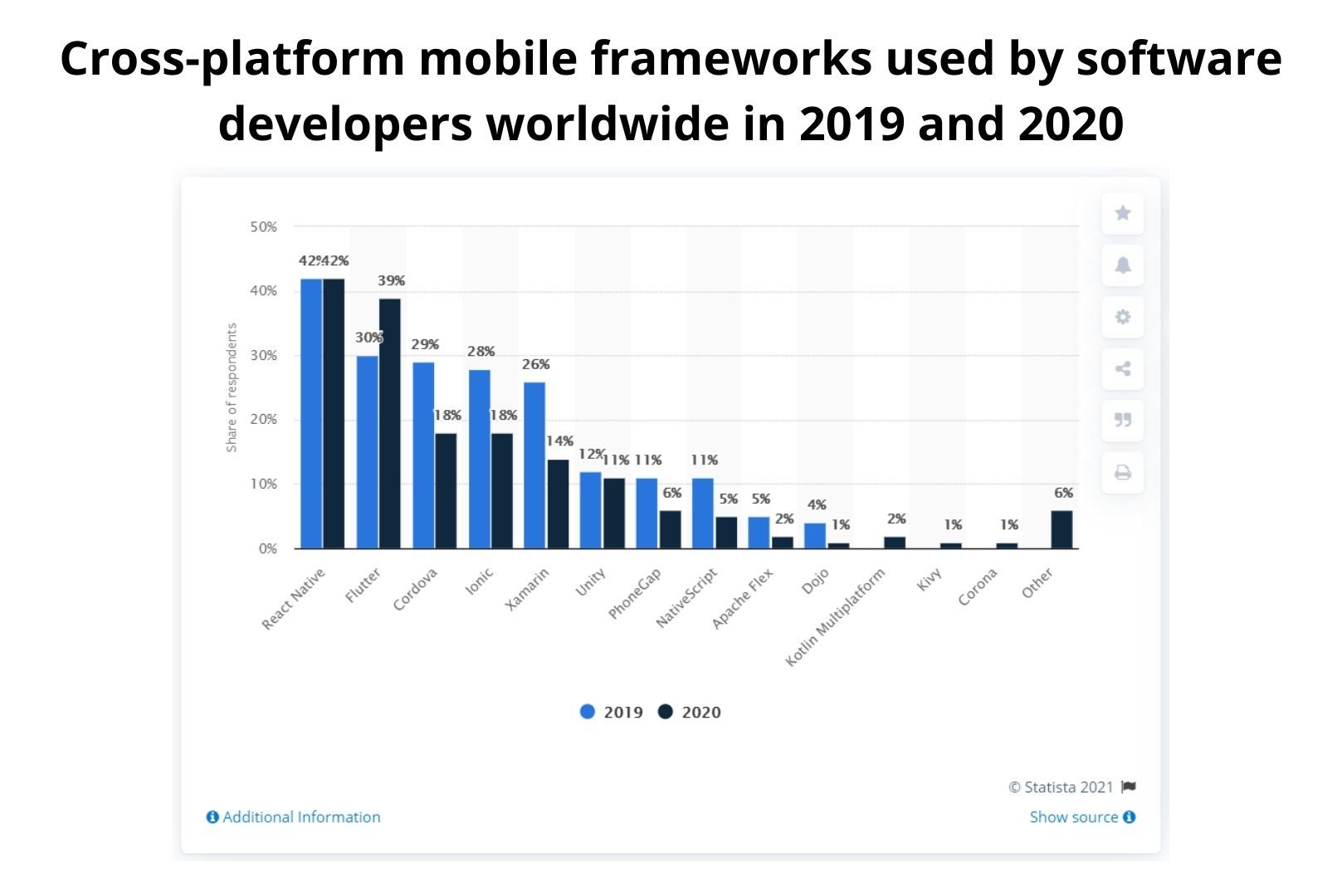 How can you choose a suitable React Native App development company in the USA?
To design a top-selling and market-winning mobile application, we know that you must be looking for well-grounded technology. To ensure success for your business, you would be eager to develop an app that guarantees better ROI. Selecting a React Native development company in the USA can help you in owning a worthwhile application for your business. So, to provide you with the best assistance, we have brought the list of leading React Native development companies for you.
List of Top 10 React Native App Development Companies in the USA:
MobileCoderz is a top React Native app development company located in the USA. It is famous for providing a wide range of mobile app development services. The company has shown its adroitness in designing cutting-edge and powerful React native applications. for all business types. Being a progressive and leading React Native development company, its clientele is located all across the world. The main priority of this company is to develop apps for different industry verticals like travel, healthcare, etc.
At MobileCoderz, the group of excellent coders makes sure to use the latest technologies. They are highly dedicated to introducing fully customized and React Native-based mobile applications. The full-fledged mobile app development services of MobileCoderz aim to deliver an unforgettable experience to the users with every single click on the app's screen. Here, the development team has a successful track record of building 200+ innovative apps. 
Apptunix is a great selection amongst React Native development companies in the USA. The company holds extensive experience in building mobile apps. Providing the best app solutions to the client is the main motive of the establishment.
This well-known organization has already developed several successful mobile applications using React Native. Designing competitive apps and ensuring a better user experience is the reason behind the success of the firm. The developers at Apptunix think that React Native framework can bring swiftness in the process of app development. It can even minimize the workload by 50%.
Quytech comes under the category of top React Native app development company. The most important thing that allows this firm to stand out from others is its unmatched expertise in app development. Here, designers, developers, and test engineers are highly passionate about their work. This means that this establishment is capable of accomplishing the demands of clients in an efficient manner. All these things have created better growth possibilities for businesses and boosted their performance. 
You don't need to think twice while approaching Quytech for React Native application development. Whether it is StartUp or an enterprise, everyone expects to get the best possible app solutions. Other than React Native, the company has exposure to working on other trending app technologies.
MindGrub is a top-notch React Native development company in the USA, based in Baltimore. The firm has obtained specialization in providing customized solutions. Apart from React Native, this establishment has a spectacular portfolio of building hundreds of mobile applications using other competitive frameworks.
From the time, this leading React Native development company came into existence, it has delivered convoluted app solutions to its clients. This has served various domains like Healthcare, Travel, Finance, etc. Besides React Native, the versatile group of developers has even got hands-on experience in other emerging technologies.
This is the top React Native app development company that facilitates outstanding and exceptional services concerned with app development. All applications that have been designed by WillowTree are compatible to run on all possible platforms. With the group of superior tech-nerds, the leading React Native development company has managed to bring a satisfying experience for the users. For the last 1 year, WillowTree has started to work on React Native and has already delivered multiple successful apps.
Designing mobile app products with unique features is the eventual goal of the organization. Being a recognized firm, WillowTree provides what it claims.
BHW Group is a recognized top React Native app development company situated inTexas. This organization has obtained enough fame in the technical world for its unique and extraordinarily designed mobile and web applications.
The React Native development company in the USA holds many years of experience in providing featured app development services. Its clients are present in various regions. This already shows the dominance of the firm in designing effective mobile applications.
Messapps is known for providing a complete package of app development services. It is based in New York and has a unique combination of tech savvies. This top React Native app development company facilitates app design, app development, and consulting services for every business. Also, the development team is highly efficient in designing & developing outstanding mobile applications. 
As the most creative ideas need better planning and strategy, Messapps is capable of doing such things. Transforming your ideas into a real-time app product is the main mission of this leading React Native development company.

ArcTouch helps in connecting its clients to the real world by developing conversational platforms. These platforms are compatible to work with Facebook messenger and Amazon Alexia. A top React Native app development company like ArcTouch provides effective app development services. Since 2007, the company has been associated with a group of world-class clients. Creating high-tech apps and websites with the assistance of a skillful team on the latest tech products is the main interest of this best React Native development company in the USA.
Fullstack labs is a great React Native development company in the USA. The software firm has evolved as the most reliable and genuine choice for obtaining wonderful and innovative apps. This leading React Native development company has a great force of engineers who have special expertise to work efficiently. Their involvement in using new trending technologies has always been satisfactory. It's been 1 year since FullStack Labs is working on React Native projects. They have delivered several top-notch applications to clients.
Prismetric is a reputed and emerging React Native development company in the USA with remarkable adaptability to design apps. When it is about fulfilling the client's project goals, developers show both passion and dedication. The major services offered by this top React Native app development company include AR, VR, React Native, cross-platform app development, etc. Designing interactive app solutions at budget-friendly rates is the main USP of Prismetric. A business can expect to have an outstanding cross-platform mobile application by approaching this establishment.
Wrapping Up
This post has covered up some of the recognized React Native App development companies in the USA approved by startups & enterprises. You can explore their website or look into client testimonials to get an insight into their work record. Based on your business requirements, you can select the one that suits you. 
We at MobileCoderz provide end-to-end mobile app development services for all industry verticals. If you have a desire to enjoy appealing app development services with React Native, you can hire us. Our developers are known to design featured mobile apps at cost-effective rates.
Book A Free Consultation Today!