Meditation app like Headspace and Calm has become a billion-dollar business concept.
Stress and anxiety are prominent diseases in the 21st century. Today, people look for psychologists, therapists, effective mindfulness techniques, and new mediation practices that help them relieve mental health issues. 
And Calm and Headspace were the first kind of mobile app development concept that offered the fastest and easiest digital solution to people letting them concentrate effectively and lead a better mental health life. Simply through a meditation app concept, Headspace and Calm turned into a billion-dollar company. 

The success of Headspace and Calm app proves if you know how to help people relieve stress and anxiety, and guide them to live a happy and mindful life, your mobile app can turn out into a million or even billion-dollar business concept.
So do you also aspire to build a meditation app like Headspace and Calm?
This blog will tell you-
How to create a meditation app like Headspace and Calm?

What features made Headspace and Calm successful in the market?

What is the cost to build a meditation app like Headspace and Calm?

How your meditation app can make millions of dollars like Headspace and Calm?
Don't miss this blog if you are A-
Healthcare startup

:

that wants to make a useful mobile app for the healthcare industry.

Business founder

:

who wants to establish a new business through a successful mobile app concept.

Apprenuer

:

who is aspiring to make a great problem-solving mobile application for health-conscious audience. 
Why wait then? Let's dive into
What is a Meditation App?
Meditation app is a mobile application that provides many features related to meditation and yoga practices. This app allows users to learn and practice mediation skills such as breathing exercises and mind concentration techniques. 
Now, let's move to the core topic
How to Build a Meditation App Like Headspace and Calm?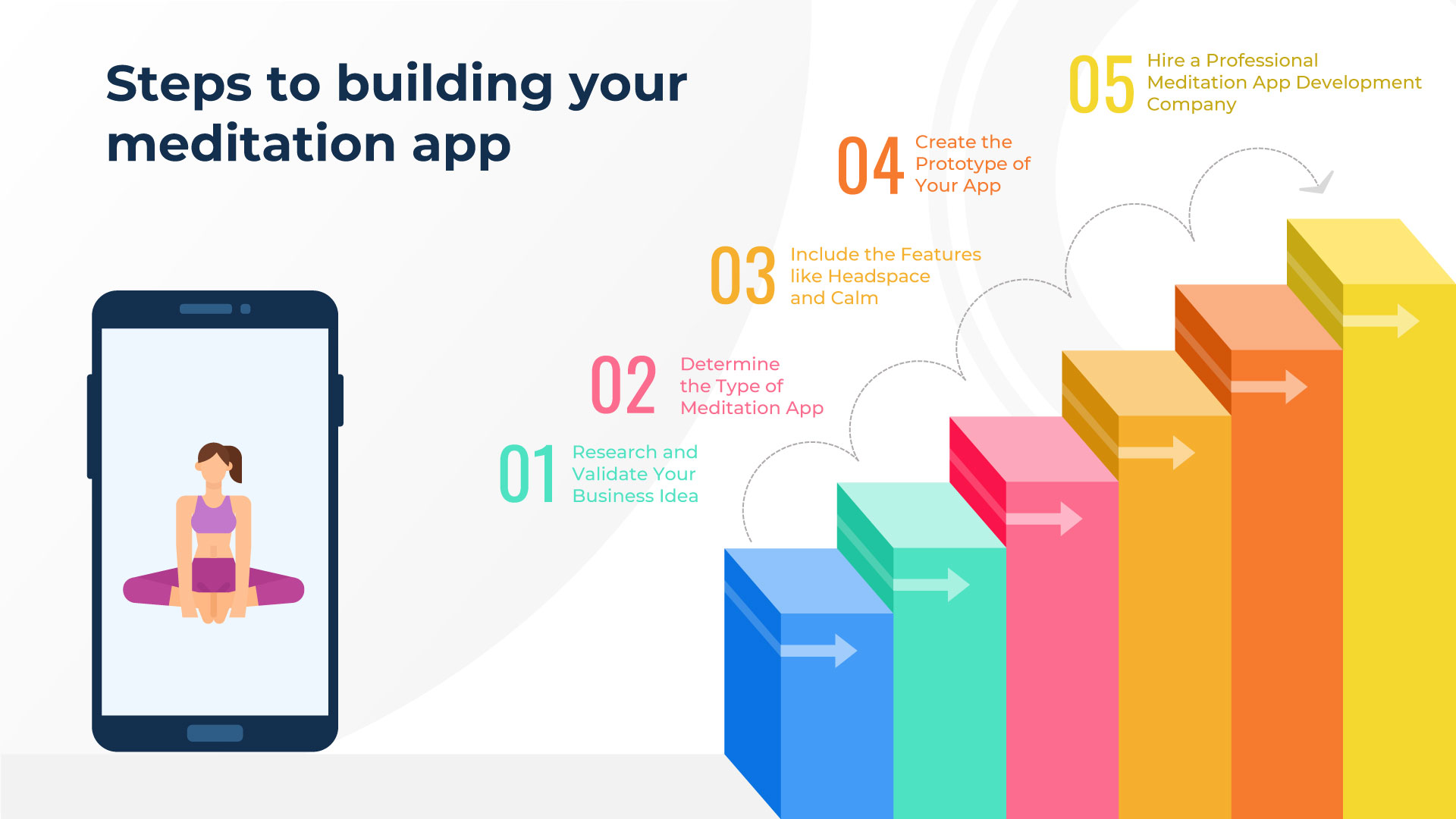 1. Research and Validate Your Business Idea
Before you decide to hire mobile app development company for your app like Headspace and Calm project, it is important to conduct deep research and validate your business idea. 
You should not forget you are going to directly compete with the two iconic brands. The current meditation app development market has become highly competitive. So you have to come up with a better idea or solution to make your meditation app unique and more useful than Headspace or Calm. 
You need to deeply analyze Headspace, Calm, and other famous mindfulness and meditation apps and how they are helping people with reducing stress and anxiety. 
2. Determine the Type of Meditation App
There are multiple types of meditation mobile apps. Some apps provide only guided sleep meditation and some offer only breathing exercises. It depends on your business goal and app functionality. Hence, you should choose the type of meditation app based on your project requirements-
Meditation app for breathing exercises

Mediation app for beginners

Meditation App for Guided Sleep

Meditation App for Weight Loss

Meditation music app

Mental health tracker app

Yoga meditation app
3. Include the Features like Headspace and Calm
The secret behind the success of Headspace and Calm app is nothing but the quality and problem-solving features that help people relieve their stress and mental health issues. While developing a meditation app, you should/t miss incorporating all those hot features that Headspace and Calm apps provide to their audience. 
Here we have listed them and you can incorporate them as per your mobile app development requirement and business goals
Features of a Meditation App like Headspace or Calm
Easy Sign Up & Login

Free Introductory programs

Customized User Profile

Onboarding tutorial 

Meditation course for beginners

Meditation library

Search and categories

Discover favorite screen

Timer

Play screen

Push notifications

Personal statistics

Live Streaming-

Sleep Stories

Free Trials

Real-time chat support
Advanced features
Integration with wearables and smartwatches

Great Stories

Gamification

Expert Meditation programs
4. Create the Prototype of Your App
After selecting the features, create the prototype of your meditation app to get an outlook of how it works and performs as per your UI/UX design. The prototype is the basic or essential version of your app that give an overview of its features, functionality, and architecture. 
5. Hire a Professional Meditation App Development Company
When you are developing a meditation app like Headspace and Calm, you should not take this task lightly since your app will compete with the two top brands. Plus, the expectations of users have also increased. They want a meditation app that provides truly helpful features for improving their mental fitness. 
Therefore, it is better to partner with a professional meditation app development company that holds proven expertise in creating mobile apps like Headspace or Calm.
What is the Cost to Develop a Meditation App like Headspace and Calm?
Well, there is no exact answer to the cost of developing a meditation app. But since you are solely focusing on Headspace and Calm, you can get a rough estimation based on the per hour rate and time required in the entire development process. However, if you plan to outsource your mobile app development project to a company from a different location, it may affect the overall cost accordingly. 
| | | |
| --- | --- | --- |
| Region | Hourly Rate | Medium level Meditation app |
| USA | $100-180 | $80,000-160,000 |
| Western Europe | $90-165 | $130,000-160,000 |
| Eastern Europe | $30-70 | $40,000-55,000 |
| India | $25-30 | $20,000-30,000 |
At MobileCoderz, we charge $25 per hour rate for building an app like Headspace or Calm with essential features. So the average cost to develop a meditation app like Headspace and Calm is $20,000 for Android and iOS platform with a slight difference depending on your app nature. 
Why the Demand for Meditation Apps is Increasing?
Meditation is believed to be a highly beneficial health practice that keeps a person's mind and body in a harmonized state and produces positive energy. By practicing meditation, a person can get into a positive mental state and tranquilize his mind. And this activity eventually helps people focus on their daily work better and relieve stress caused due to the hectic modern lifestyle. 
And that is why the demand for meditation apps is growing tremendously. According to NCCIH (National Center for Complementary and Integrative Health) Report, around 8% of the total global adult population use mediation apps to relieve stress and manage mental health.
The meditation app development industry is projected to surpass USD 4377.95 million by 2027 at a 41.3% CAGR. The meditation market in the USA is alone expected to reach $2.08 billion by 2022.
How Meditation App Helps People?
If you have ever experienced stress, tension, or anxiety, you must have downloaded Headspace or Calm app. These apps guide people to improve their attention and concentration power and remove mental problems via guided mediation techniques. 
You can simply switch to the app and select your required meditation or mindfulness tutorial or training session in different types of content like video, articles, music, stories, and more. And it is worth noting that these features truly help people relive mental health issues. 
A study conducted by the researchers at Unieyevry of California revealed that people reported a greater amount of positive emotions after using mindfulness and meditation applications. As per their research, it helps people in the following ways: 
Reduce stress

Improve sleep

Help remove addictions

Decrease blood pressure

Make better social relationships

Improve memory power

Enhance focus and concentration power

Reduce aggressive behavior

Improve overall positive emotions
What features made Headspace and Calm successful?- Things you should learn

 
Are you dreaming to build the next million-dollar mobile app like Calm or Headspace? Well, it may sound like a fancy dream but if you analyze the success of Headspace and Calm, you will realize your app can also be successful in this domain. 
Headspace was launched long back in 2010 by  Andy Puddicombe (a Buddhist monk). The first version of app started with 365 mediation sessions which are solely recorded and voiced by Andy Puddicombe. 
And in 2022, Headspace app has more than 70 million members and 2 million paid subscribers across the globe on Android and iOS platforms. Headspace is one of the top meditation apps that gained 3.34 million downloads worldwide. Today, the total valuation of Headspace in 2021 surmounts to $3 billion. 
On the other side, Calm app serves the same feature to the audience who wants digital solutions to easily and effectively relieve their stress. Calm provides a full suite of meditation solutions for users. Calm entered the meditation app market in 2012 after Headspace. It initially started with a website and then later launched with a dedicated mobile app version. 
Calm stands out as a perfect mindfulness app for people who want effective and good mediation solutions. It offers a wide range of features like sleeping stories, melodious music, breathing exercises, mood tracker, and guided meditation techniques that help people live a healthy mental life. 
Through these services, Calm has managed to produce around 200 USD million in 2020 with 4 million subscribers. 
Our mobile app developers and business analysts at MobileCoderz deeply analyzed the features and overall functionality of Headspace and Calm. And they found the below key features and services which made Headspace and Calm highly successful in the market. 
Free introductory features

User-friendly interface with customizable content

Engaging animations to explain concepts

Offline capability of session

Accurately focus on the target audience

Ease of use and user experience

Great relevance of content

Ease of account management

Scientific basis

Qualitative review of program efficacy

Budget-friendly solutions
How Your Meditation App Can Make Million Dollars
Headspace and Calm are popular mediation apps. They have been working in the market for many years and provide a good quality feature that is they are able to make huge in-app revenues. However, you can incorporate an effective app monetization model in your app to generate revenues. Here are the ways to monetize your meditation app:
#. Pay Per Download
Example: Buddhify – $4.99 for iOS and $2.99 for Android.
#. Subscription
Example: Headspace $12.99/month and $399.99/lifetime
Calm $12.99/month and $299.99/lifetime
#. In-App Purchases
Example: The Insight Timer app allows users to buy separate collections for $2-$3.
Conclusion: Partner with MobileCoderz
Developing a mobile app like Headspace and Calm sounds easy and lucrative on paper. But when it comes to reality, you have to face many challenges. Your app must provide unique and high-standard features that grab the audience's attention. 
Since people are already using Headspace, Calm, and other popular apps, you need professional guidance on how to intelligently create the app and effectively launch it to the market. 
And this is where MobileCoderz, the top mobile app development company in India, can help you build a successful Meditation app like Headspace and Calm. We have qualified developers and designers who can infuse something incredible into your app and let you win in the competition. 
If you feel interested to talk 
Book a Free Consultation Now and Discuss Your Project