How much does it cost to develop a meditation app like Calm is a million-dollar question. 
Why?
In Oct 2021, Calm was the top-grossing meditation and mindfulness mobile app globally. It generated over 7 million dollars as in-app revenues. Female health and period tracker Flo ranked second with 5.4 million US dollars and Headspace ranked third with earning 4.9 million dollars as in-app revenues. 
And you would be surprised to know the cost of developing a meditation app like Calm is USD 30,000. 

The success of Calm app simply teaches that if you are ready to invest thousands of dollars in building a meditation app, you can make millions or even billions of dollars. So if you are considering making an app like Calm, you have made a good decision.
While you are planning your app development project, you must want to know how much does it cost to build an app like Calm. This question is important because it will help you analyze your budget and make a well-informed decision in meditation app development.
To guide you on this, we will tell you what is the cost of developing an app like Calm. We will discuss what are the key factors that you should take into consideration so that you can properly utilize your resources and money. 
Cost of Developing Meditation App Like Calm
Type of Hiring Model
Rate
Time Required
Cost (USD)
Hire a local agency

US: $150 to $250

600 hours

$40,000

Set up an in-house team

Full stack developer: $98,000 per year

6-12 months

$80,000

Hire freelancers

US: $50/hour

Asia: $15-$30/hour

3-5 months

$20,000-$50,000

Outsource app development

India: $25/hour

600-800 hours

$30,000-$40,000
As we told you earlier, the average cost of developing an app like Calm goes up to $30,000-$40,000. Now we will discuss in detail what are the factors behind it and what elements you should focus on to save your money.

Factors That Affect the Cost of Meditation App like Calm
1. Complexity of the app
How much a mobile app is complex determines how much time a developer or mobile app development company will take to build the app. If your app has simple architecture and layout, developers won't take much time and eventually, the cost would be reduced. But if your app requires some advanced features or functionalities, it would increase the cost.
Since we are focusing on an app like Calm developers already have an idea of the overall design and app architecture so they won't take a long time in healthcare app development.
2. Number of Features
The cost of any type of mobile app mainly depends on the time required to build the features. The more features your app has, the higher time it takes, and eventually the cost increases. In meditation app development like Calm, you need to create many features with modern technologies. In some cases, you have to integrate various APIs to enable the specific services. We would tell you the list of features later in the below section from where and you can choose them based on your project requirements and business goals.
3. Mobile OS Platform
There are mainly two popular mobile operating systems in the market- Android and iOS. For each platform, there are specific app development requirements. Here, you need to choose which mobile OS platform you want to build your mobile app. This factor is important because the cost of developing mobile app for Android and iOS is entirely different. However, if you are focusing on cross-platform app development it won't make much difference. 
4. Location of the Meditation App Development Company
You will either hire freelance developer or a reliable meditation app development company for your app project. In every case, the location of the developer or company directly impacts your budget since every country has different rates of app development services. 
A company from USA would charge you around $80-$150 per hour rate for developing an app like Calm. And if your choose to hire an app development company from India, they would charge you a $25 per hour rate. Hence, how much does it cost to build an app like Clam is directly affected by the location of the developer or mobile app development company that you hire. 
5. UI/UX Design
The design of a meditation app must be user-centric. You need to provide users with easy navigation and a simple UI design that gives them an engaging and simple mobile app experience. The UI/UX design of your app determines what tools & technologies developers will need. Plus, how much time and effort the design takes also affect the final app development costs. Hence, the more simple it is, the less time would be required. 
6. Tech Stack to Build Meditation App Like Calm
Tech stack consists of all required programming languages, development frameworks, and UI/UX design tools for creating a mobile application. While most of the tools are open source you need to invest in certain technologies. 
The tech stack you choose matters a lot in the future maintenance and improvement of the app.  You need to check whether you can afford the expensive tools or technologies for developing the meditation mobile app or not. To give you a brief idea,  below we have listed the tech stack to develop meditation app like Calm: 
Programming Languages:

Kotlin, JavaScript, Swift, HTML

Cross-platform frameworks:

React Native, Flutter, Ionic, Phonegap, Apache Cordova

Push Notifications:

Firebase

Utilities:

Google Analytics, Twilio, SendGrid

Business Tools:

G Suite

DevOps:

Parcel

Database:

Node js, Amazon S3, Amazon EC2

Payment gateway:

Stripe, Braintree PayPal
7. Size of the Team
The size of the mobile app development team directly affects the cost. If your app requires advanced features and functionalities you will need to incorporate more developers and engineers. Here are the required professionals that an app development team consists of-
Project manager –               [1]

Business analyst-                [1]

UI/UX designer                   [1-2]

Front end developers –        [2]

Back end developers-          [2]

QA engineers-                    [1-2]

Features To Consider in a Meditation App Like Calm
Calm is a meditation and mindfulness mobile application. It provides a wide array of mental health-related services and tips like breathing exercises, mind relaxing music and sleep stories, and much more. These features require significant time and effort during the mobile app development process. Some features are common while some features require different technologies that may affect your budget. 
Here, we have listed down the most common as well as advanced features that your meditation app requires. This will give you an idea of how much time it takes to make all the features and what would be the cost associated with this.
User Panel Features 
Sign up and Sign in

Breathing Exercise Sessions

Audio/Video Guide

Introductory course

Gamification

In-App Purchases

Select Level of Meditation sessions (beginner, intermediate or advanced)

Sleep Stories

Content search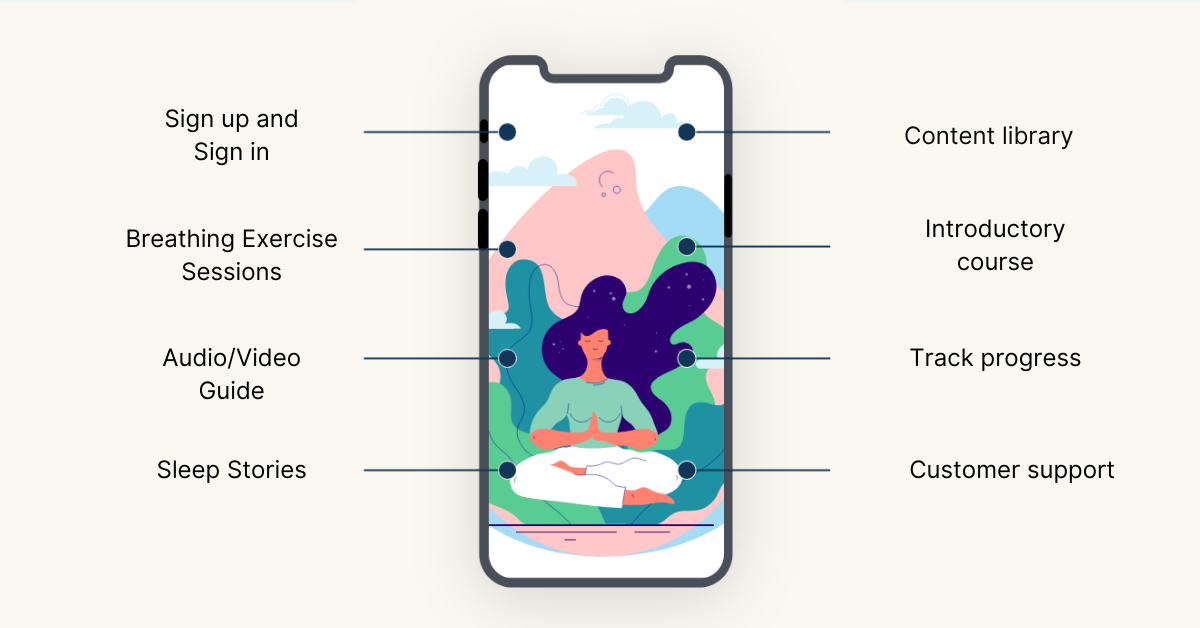 Admin Panel features
Sign in

Management of mediation programs

Users and meditation sessions management

Manage Audio and videos for meditation programs

App analytics and report

Manage ratings and reviews

manage subscriptions, discounts, and offers
Advanced Features
How Much Does It Cost To Develop a Meditation App Like Calm
The cost of any type of mobile app development is-  the number of developing hours x per hour rate (as charged by the app development company). 
If your app requires 800 hours in the entire development process with a $25 per hour rate the final cost would be $20,000. Take a look at the below picture.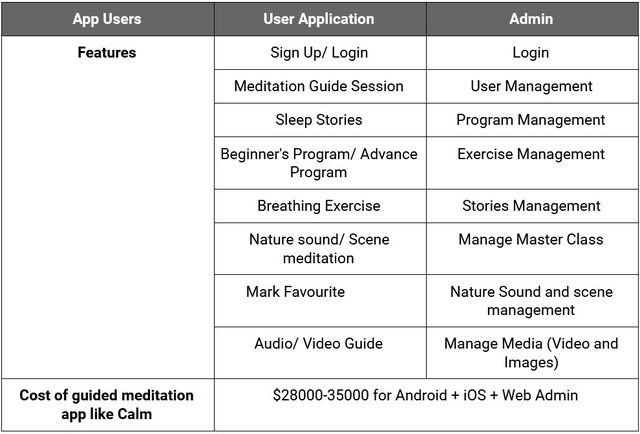 However, this is a universal method of calculating the price. As we discuss above the final figure depends on many factors the overall cost may vary depending on your app requirements. On average, the cost of developing a meditation app like Calm goes around $30,000-$35,000. 
What makes Calm a popular meditation app?
Calm is a meditation and mindfulness mobile application that provides many features for helping people cope with anxiety, stress, depression, insomnia, and mental health relates issues. 
It provides daily meditation and breathing exercises, sleep stories, mind-soothing music, expert meditation tips given by therapies, and useful information. 
These features help people in getting relief from anxiety, stress, depression, and other mental health issues. Therefore, people find Calm app helpful and due to this, it has become a successful model in the meditation app development field. 
If you see the statistics, you will realize why businesses want to develop a meditation app like Calm:
As per App Annie, Calm is the most-grossing meditation mobile application on iOS.

According to Statista report 2022, it has generated more than 7 million US dollars in Oct 2021. 

Calm app has been valued at $2 billion in its recent funding round.

Calm app has over 4 million users around the world and more than 100 million paid subscribers. 
Why Choose MobileCoderz for Developing a Meditation App?
MobileCoderz is a global mobile app development company that has highly experienced developers, software engineers, and UI/UX designers who can build simple to advanced mobile apps. We use latest tools & technologies to develop health and fitness apps like Calm, Headspace, and more. When you choose MobileCoderz, you get-
Timely delivery

Certified developers

Freedom to choose from a large pool of developers

Great app maintenance support
If you any further assistance or want to enquire something related to your mobile app project, 
Book a Free Consultation Now and Speak with Our Experts