No doubt, the year 2020 was a year of blocks!! Ever since COVID-19 triggered the outbreak globally, many individuals anticipated a healthy lifestyle. Apps across different niches have seen a remarkable surge in sessions and installations. Fitness and health are no exception. As fitness and gym studios closed their service in March, the installation of fitness applications skyrocketed by 67%. 
The Rise of Fitness Application
Home Fitness and health apps have given shapes to our lives and our glutens-long before this pandemic. But their prominence has surged totally. This has been noticed off lately.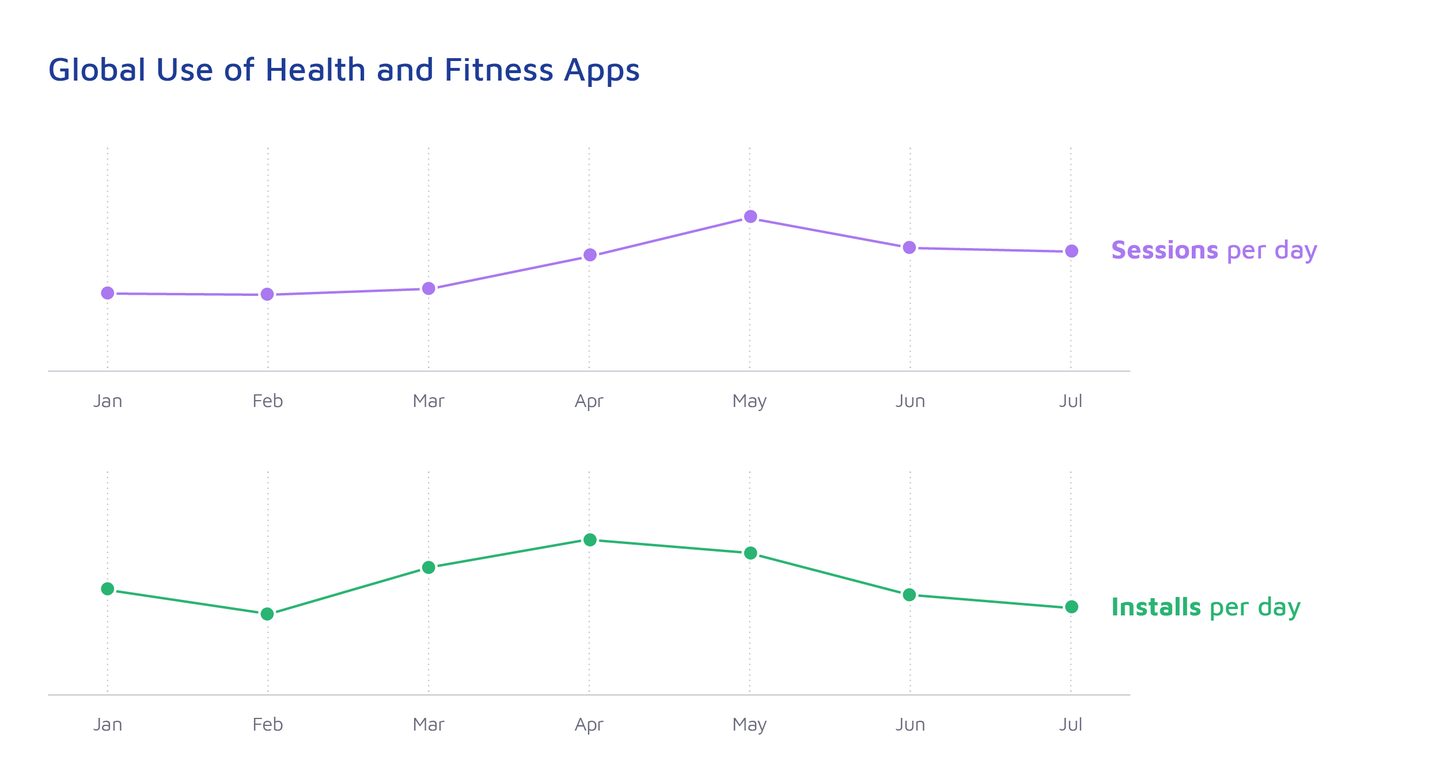 Source: adjust

Regional Findings in 2021
So, what do think are the best regions that have drive this growth? Will its popularity fade when the pandemic gets over?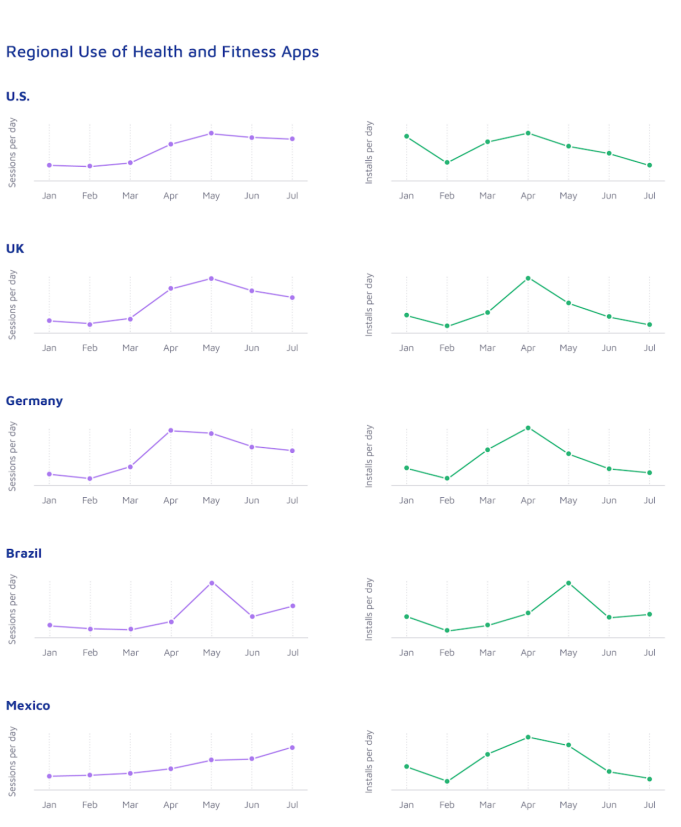 Source: adjust
This data offers us awareness of the regional trends. It directly shows the correlation between the purpose of fitness and health apps. 
We can see in the graph that the United States saw a powerful escalation in installation as the restrictions came into being. 
In Germany alone, we saw a dramatic spike and this was almost 865 higher than the average 2020. This session tripled between the months of January-April. Even though we can see a steep decline in May, the slope increased by 67%. This gave a pure indication that it has sustained its uptake. 
Brazil did amazingly well from April and performed 73% higher. This session picked up well after the installation.
Likewise, Mexico saw a great spike and performed 54% better than average.
Will it be used for the short-term or create a new order?
It seems that businesses have adopted this culture of working from home. According to the resources, 82.8% of individuals in America prefer to workout virtually. This certainly indicates a long-term shift in the habit of consumers, as reported by Gympass
According to Bloomberg, this type of long-lasting shift will have significant ramifications for organizations such as Apple. This giant company has developed a subscription service or membership plan to lure people for virtual fitness classes. 
Codenamed "Seymour," the contribution probably would turn into a huge opponent to active apparel brand Nike and gym equipment developer Peloton that either has exercise applications or host live-streamed exercise classes. Apple would give more noteworthy impetuses to individuals to pursue the virtual exercises by packaging them with other subscription/ membership services such as Apple TV, Apple Music, and Apple Arcade.
Marshall Porter, US CEO at Gympass quoted
  "There is an increasing need now more than ever before to not only take care of our physical fitness but also our mental wellbeing, and employers play an essential role in making sure their employees have access to these critical resources" 
It is speculated that this might increase the usage of fitness applications. Lockdowns differ by state and might be reimposed on gyms or fitness studios. If the chain of Coronavirus strain further breaks out, as California did a few months ago in many of its hardest-hit countries, as reported by Financial Times. There are high chances people will depend on mobile apps.
Among the other considerably populated states, the officials of New York claimed that the fitness studio and gym would reopen by Aug 24 at a 33% limit. 
Reuters announced. Nonetheless, the reopening of the gym will not decline the app usage. As still there are around 17% of the U.S fitness freaks who feel safe going to work out. 
Pranay Aggarwal, CEO at MobileCoderz Technologies Pvt Limited stated " You have an extraordinary idea about the mobile app related to fitness applications and health app. Then it should be implemented with the right strategies. You should introduce it as the next utility that every individual must use or the next stage of social expression. 
You must present it greatly and you should strategize well to get everyone's hand on your app. 
For this, it is essential to implement the ideas well. You may have knowledge about the basics. But to get through the smallest of details you need a partner who can build you a fantastic app. Hence, it is vital to take time and hire an experienced mobile app developer.
About MobileCoderz Technologies Pvt Ltd
MobileCoderz is the leading web and app development agency. We have got a strong presence all across the globe. We know that these days start-ups and A-lister brands search for advanced business strategies with fuel development that can build up their brand among the competitors. 
At MobileCoderz, our creative solutions and agile methodologies can assist businesses to expand their presumptive worth in the digital era. We incorporate the recent progressions, accelerators, and key organizers to modernize the business applications.