Nowadays, fitness apps are considered the top-rated type of mobile health service. They are an excellent source of income. According to Statista, the fitness market global size was estimated at $4.4 billion by 2020. It is predicted to grow by 21% between 2022 and 2030.
Gone are those days when fitness and health were just for those who attended the gym. Nowadays, everyone is striving to live a healthy life and makes an effort to exercise frequently. This health awareness among people has created a huge market for best fitness apps.
So, what app budget should you have to be able to afford to create a cost of  fitness app? 

Here, we'll examine how to create a fitness app, what features you need to include, and the cost to develop a fitness app you'll require. 
Learn how to get the attention of your audience and save money by fitness app development cost. Let's get started!
Factors that Determine The Fitness App Development Cost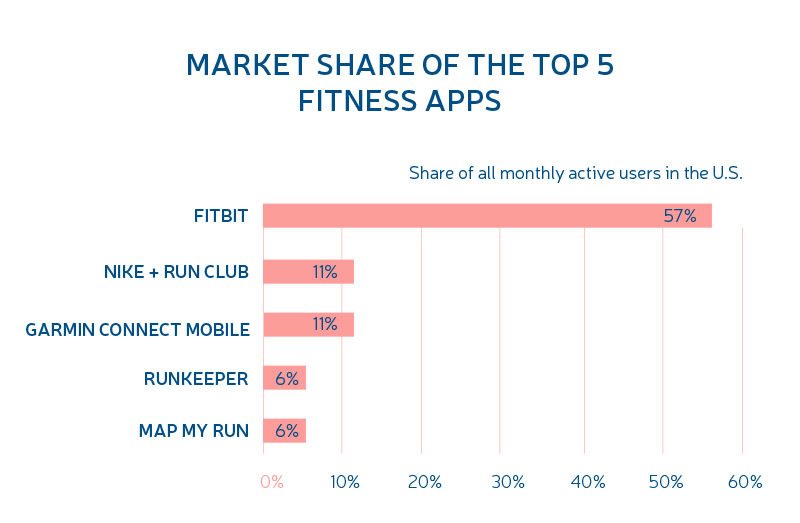 To answer the question "how much will it cost to develop a fitness app" it is necessary to take a look at the following cost determinants:  
Integrations with Tools
The integration of a fitness app with web services, multiple servers, payment solutions, or even external information sources (and even a basic Facebook integration) adds complexity to the application. 
This means that your fitness app will incur development and maintenance costs. There are also other risks that it could cause. E.g., instances where the application you wish to integrate might not have the appropriate API in place.
So before you get straight into the process of creating an app you can hire a mobile app development company.
Features You Add
If you estimate the fitness app development cost,  you must be certain of the features you wish to include. This will significantly influence the amount of time needed by the developer. 
Consider the various filters and push notifications, search engines, training suggestions and login to the user's account, payment, and so on. 
Certain features may only require some time, while others may take weeks. Furthermore, if requirements require specialization from skilled app developers, this can also affect the cost.
Do you wish to incorporate an AI-powered feature in your fitness app? A recommendation system that suggests learning based on user behavior and prediction models will certainly give you an advantage in the market. Keep in mind that AI development services are expensive (around $10.000-25.000 to begin with an initial Proof of Concept) & will require the right amount of information in advance.

| | | | |
| --- | --- | --- | --- |
| Features | Backend development | iOS development | Android development |
| Registration and login | 29 hours | 32 hours | 32 hours |
| Workouts | 42 hours | 106 hours | 106 hours |
| Nutrition | 45 hours | 100 hours | 100 hours |
| Fitness routing tracking | 40 hours | 78 hours | 78 hours |
| User profile | 44 hours | 62 hours | 62 hours |
| Payments | 14 hours | 35 hours | 35 hours |
| Push notification | 14 hours | 14 hours | 14 hours |
| Total time | 228 hours | 427 hours | 427 hours |
Fitness App Development Types: Web App, Mobile App, or Both?
There are a variety of possibilities when it comes down to the kind of app you're looking to create, and each has cost implications of its own. 
In general, you can select between web-based apps (either Accelerated Mobile Pages (AMP) or native mobile apps (iOS & Android apps) and Progressive Web Apps (PWA).
Design Complexity
The complexity of design is an aspect that you must consider in your  fitness app development. If you're satisfied with the interface for your app by simply using the existing design templates, you can save money on this.
However, if you're looking to create something unique, with a flair that differentiates your brand, you'll need to invest in hiring app developers for a stunning design and feature-rich application.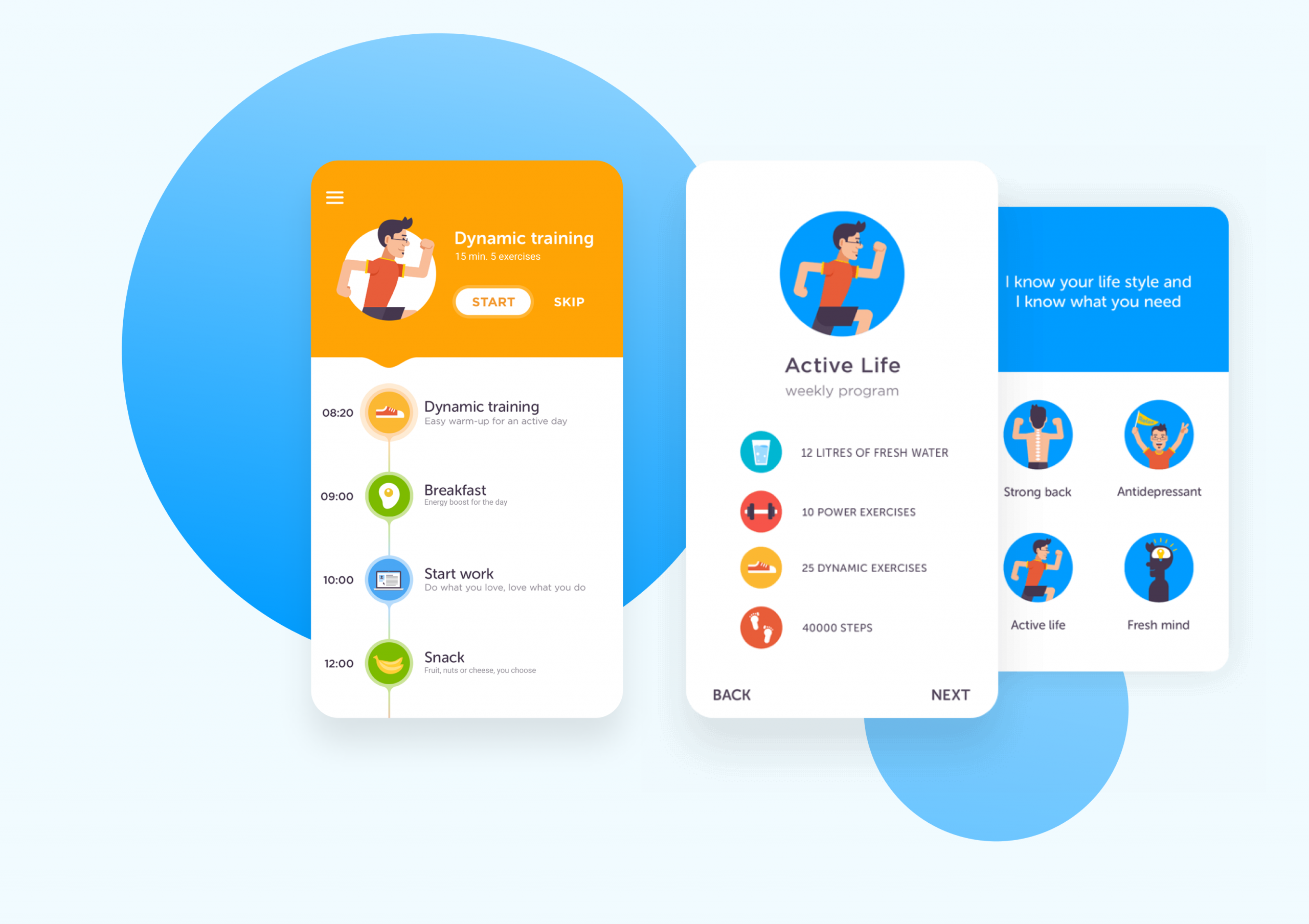 Another important element is how engaging you wish your app to be and the kind of animations that could be included. These factors impact the entire design price. The more complicated your app, the more expensive your fitness app development budget will be.
Below, you will find an approximate fitness app development cost and time. To estimate an accurate price, it is necessary to understand the project's requirements.
| | | | |
| --- | --- | --- | --- |
| Work Type | Backend development | iOS development | Android development |
| Features | 269 hrs. | 438 hrs. | 438 hrs. |
| Quality assurance | 218 hrs. | 343 hrs. | 343 hrs. |
| UI/UX design | ……….. | 120 hrs. | 120 hrs. |
| Project management | 124 hrs. | 218 hrs. | 218 hrs. |
| DevOps | 35 hrs. | 62 hrs. | 62 hrs. |
| Frameworks & libraries integration | 34 hrs. | 36 hrs. | 36 hrs. |
| Total time | 680 hrs. | 1206 hrs. | 1206 hrs. |
Location of the Mobile App Development Company & Developers
For best fitness apps such as Calm and MyFitnessPal, you require an expert team composed of a Project Manager, an iOS developer, a quality assurance, a business analyst, an best  Android  app developer, and a UX/UI designer. The typical cost for hiring an entire development team is between $24 and $150 plus per hour.
Developers from various regions can offer different hourly rates for fitness app development services. For instance, the USA and Australia are the most expensive places to find software developers. Developers from India have the lowest costs. Also, the cost per hour of a developer can greatly impact the final fitness app development cost.
| | | | | |
| --- | --- | --- | --- | --- |
| Region | US | UK | Canada | India |
| Web Developers | $75-$120 | $65-$130 | $45-$80 | $15-$50 |
| Android | $130-$150 | $120-$200 | $65-$85 | $15-$40 |
| iOS | $100-$220 | $110-$200 | $75-$95 | $15-$45 |
| Average Fitness App Development Cost | $100- $490 | $95 – $176 | $61 – $86 | $15 – $55 |
Overall Cost Of Building A Fitness Mobile App
The cost of the best fitness apps depends on the number of features and complexity. Taking into account the above elements, a mobile app development company can break down the price of a fitness app using the following factors:
When you add all the above components, the health and fitness app can cost around 25k-30k USD on the iOS & Android platform  
How to Cut the Cost of Developing Apps?
Provide All Project Requirements. Before you begin your fitness app development project, outline the functional requirements as clearly as possible. If you don't meet these requirements, it could result in the app not being able to satisfy customers' needs (as well as working hours & missed deadlines).
Make the app less functional. If you are looking to cut down on fitness app development cost, begin with the prototype model. Software Prototyping can help clarify the customer's requirements early on. Additionally, this model facilitates interaction between designers, developers, users & customers. 
Benefits of Software Prototyping include:
Well-coordinated communication, fewer mistakes, and less rework

Good mutual engagement;

developers commit more than half of the time to avoid rework for projects. Correcting mistakes at the final development phase may be much m

Involving the user in the process
Select the developer team carefully

.
Consider all the advantages and disadvantages and choose a fitness app development company with expertise and significant experience. Professionals with experience perform faster and more efficiently. With a reputable fitness app development company, you will be able to achieve the best cost-effectiveness and also receive an excellent product.
Keep track of mistakes and rework

.
As IEEE points out in their study "Why Software Fails," ore costly (up to 100x or more). A developer will need around five hours to resolve bugs at the coding stage, while the time could increase to 15 hours in the final stage ("The Economic Effects of a Poor Infrastructure to Support Software Testing, 2002"). Resolving bugs that arise the moment they happen is less painful and more affordable than trying to fix bugs within the finished version application. So it is advisable to keep checking your fitness app development services errors and bugs from time to time. 
Don't cut corners to your QA team

.
A well-trained QA team will conduct the necessary tests and ensure that the product is bug-free, saving you money. Engage with the team working on the development. Remember that the creating any product requires the interaction between two parties involved: developers and end-user. The more frequently such an interaction takes place, the more the team can comprehend the client's vision for the project.
Why Choose Us?
If you choose an experienced mobile app development company, you'll be working with a team having an established, trusted development process and the necessary skills and knowledge.
Through our experience as a trusted fitness app development company too, you can access the latest technology available. A developer partnered with a top agency offers the advantage over a freelance developer or an in-house team.
We utilize cutting-edge technology to offer our clients only efficient services. Our goal is to create digital products. We have the most advanced technologies available on the market. As a user, you get the advantage that your application is secure for the future.
Some Last Words
As we conclude this blog, it is evident that the industry of fitness apps is extremely competitive. Yet, there is a chance to succeed if you can develop innovative and distinctive features that you can offer users. Remember the rule to get success is delivering the best fitness app development services to all users.
Before you begin the process, it's worthwhile to hire a skilled mobile app development company like MobileCoderz to develop fitness apps. We conduct an extensive market research process, identify the audience that you want to reach, and integrate the best technology. Contact us today!