The rise of digital transformation and the smartphone revolution made a significant impact on the global retail and online shopping industry. Did you know that the retail eCommerce revenue in the US has reached $768 billion? This clearly shows the potential of the eCommerce industry. 
Due to stiff competition, many businesses were forced to transform their operations entirely. For this reason, many of them started investing in eCommerce app development services to build their own online stores. 
In this blog, we are going to learn about the :-

What is an eCommerce Platform?

best eCommerce platforms

Benefits of Using an eCommerce Platform in your business

How to choose the best e-commerce platform?

Conclusion
Let's discuss a little bit about eCommerce platform before we start the list; 
What is an eCommerce Platform?
An eCommerce platform is a digital platform that enables businesses to build an eCommerce website with ready-to-use tools, themes, and frameworks. Furthermore, these platforms are very useful for businesses to create an online communication channel with their customers. Digital technology is helping businesses to utilize resources and gain new business opportunities. 
Let's about the leading eCommerce platforms in 2022
Top 10 eCommerce Platforms in 2022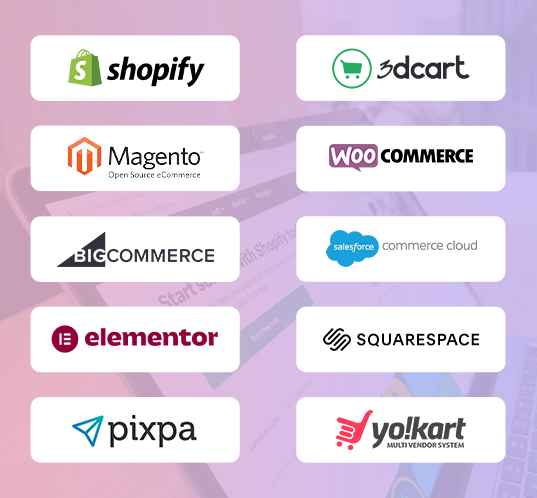 1. Shopify

 
Shopify is one of the most prominent eCommerce platforms used by both emerging and established businesses. Above all, even amateurs are able to create feature-rich online stores by using its web application. Moreover, there are tons of templates, which are highly customizable.
Let's Discuss some of the Significant Features of Shopify:
Users don't really need to have any technical or designing expertise to use Shopify for developing their online store.

The users don't need to worry about the security of payment gateways as it has level 1 PCI compliance and 256-bit SSL

security encryption. Interestingly, the platform supports almost every credit and debit card. 

A very powerful CMS is given to the users that helps them to manage every functionality and layout of their online store. 

Users also have a Shopify mobile app, which allows users to manage their online store on the go. 

It is advisable to take the help of the best eCommerce web development company in India to build your online store. They will enable you to take full advantage of this fully responsive platform and effectively track, manage, and modify the store from anywhere.

Users enjoy the convenience and the fast development pace, which makes Shopify the most trusted platform for developing an eCommerce website. By using Shopify, you can sell your products almost everywhere including online stores, online marketplaces, social media, and even retail locations. 

Even if you are running a brick-and-mortar store, Shopify could be the right platform to help your business go online. 
2. Magento eCommerce 
Magento is also another well-known eCommerce platforms around the world. However, unlike Shopify, Magento is known for being incredibly complex. Above all, the launch of Magento 2 meant a significant improvement in developing effective solutions for B2-B companies. 
Let's Discuss some of the Significant Features of Magento eCommerce:
The backend of Magento helps in effective eCommerce web development. In fact, eCommerce owners are able to build and fully customize the features of their stores.

The amazing user interface of Magento is highly compatible and responsive for smartphones, tablets, and other mobile devices. Thus, it becomes super easy for making the online store accessible for mobile devices. 

SEO is an important factor for eCommerce websites to rank higher and attract more customers. Above all, Magento provides high-level SEO optimization to help businesses to rank better on Google, Bing, and more. 

The robust infrastructure of Magento is powerful enough to list up to 500,000 products and manage 80,000 orders per hour. Moreover, by using Magento, you easily integrate third-party modules to improve the functionality of your store. 

Users can enjoy multiple levels of permissions, internal access, and more to ensure the site's safety. Thus, it becomes an ideal choice for both small and big businesses. 

Since Magento is an open-source platform. Thus, several extensions allow users to share multiple Magento accounts with ease. Moreover, by building eCommerce with Magento, you can customize your stores with different languages and currencies with ease.

 
3. BigCommerce
BigCommerce is another popular platform known for being the world's leading cloud eCommerce platform. Developing your eCommerce store is relatively cost-effective with BigCommerce. You can hire a mobile app development company to develop your eCommerce website with BigCommerce. 
Let's Discuss some of the Significant Features of BigCommerce:
As a user, you will find comprehensive eCommerce tools that help in integrating a variety of features and options. 

Users can also integrate out-of-the-box solutions for your eCommerce website. 

The platform makes it a lot easier for both B-2B and B2C users to create different price lists and catalogs. 

Big Commerce also features tons of highly flexible APIs and enables users to implement amazing functionalities.
4. Elementor

 
WordPress is the most widely used CMS platform for developing websites and blogs. Moreover, it is also a very popular choice for building eCommerce websites. In fact, WooCommerce, WordPress' eCommerce plugin is widely used in 23.5% of online stores. 
However, you will require some level of coding skills for building a website with WooCommerce. Using Elementor for WordPress could be the best choice if you are planning to build a powerful WordPress website for online shopping.
Let's Discuss some of the Significant Features of Elementor:
Users don't have to write a single line of code when using Elementor for web development.

Elementor can be a great platform for comprehensive eCommerce development. You will find tons of features and widgets to create a very unique and feature-rich online store. 

The entire process of eCommerce development becomes smooth and streamlined. For this reason, it recognized in the list of top eCommerce platforms in 2022
5. Pixpa
It is another popular eCommerce platform that can be used by businesses to sell their products, services, and digital content. Above all, the platform provides a beginner-friendly interface that helps users to create a fully-functional professional eCommerce website without even writing a single line of code. 
Let's Discuss some of the Significant Features of Pixpa:
The pricing plans are quite flexible for new businesses starting from just $7/month. 

There are tons of templates, which makes the development process a breeze. 

With Pixpa, it becomes a lot easier to manage inventory, abandoned cart recovery, discount management, and more.

The store owners can sell their products, services, or digital downloads all in one place. 

Not just retail businesses, even photographers, artists, and creative professionals can benefit from this eCommerce platform. 

There is a complete blogging platform with a WYSIWYG editor that helps you create, schedule, and easily publish blogs. 

You also have comprehensive SEO tools that enable you to manage metadata, generate automatic sitemaps, and completely optimize your eCommerce website.
6. 3DCart
3DCart is one of the oldest and most secure eCommerce platforms used by over 22,000 online businesses. The platform helps online merchants in building effective online stores and selling more through online services. 
Let's Discuss some of the Significant Features of 3DCart:
The 3Dcart consists of over 200 built-in features, 50 free themes, tons of SEO tools, and supports more than 100 payment processing portals.

For effective mCommerce, the platform features intuitive mobile-ready themes, the latest SEO tricks, and marketing eCommerce tools.

This helps businesses improve their conversion rates and retain more customers than ever before. You can hire a top eCommerce app development company to learn about eCommerce app development costs. 

The platform is also known for providing the best customer experience with high-quality images and proper product details.

It is also possible for sellers to use 3DCart to sell on social media, marketplaces, and other channels. This makes it one of the leading eCommerce platforms in 2022.

High-level security is ensured with PCI Certification, HTTPS, two-factor authentication, and anti-fraud tools. 
7. WooCommerce
WooCommerce is a WordPress plugin that allows site owners to open their own eCommerce stores with ease. Above all, there are tons of paid and free features that completely streamline the functionality of the shopping cart. 
Let's Discuss some of the Significant Features of WooCommerce:
This open-source platform is an ideal solution for emerging businesses to quickly develop their online stores. 

Top-level security is ensured with its highly secured payment processor, PCI compliance, and secure communication. 

It is possible to add additional functionalities to your eCommerce store. However, it might slow down the performance due to heavy themes, plugins, or products. 

An eCommerce app development company can rescue you by choosing the right add-ons for your eCommerce project. 

You can also choose the right hosting environment to improve the speed of your eCommerce website. 

You have to be very careful while installing plugins, themes, and tools because they can have a significant impact on your online store's performance. 
 8. Salesforce Commerce Cloud
Salesforce has become a global enterprise known for developing cutting-edge CRM solutions. Moreover, the company has been experimenting heavily with AI to improve the relations between customers and businesses. Their Salesforce Commerce Cloud is an innovative cloud-based eCommerce platform that helps both B2C and B2B merchants in developing cutting-edge online stores.
Let's Discuss some of the Significant Features of Salesforce Commerce Cloud: 
Being a part of the Salesforce product suite, it integrates well with its other CRM and marketing services. Thus, you get an ultimate suite to manage and build your business with amazing customer relationships. 

Salesforce Commerce Cloud is known for supporting features such as eCommerce personalization with AI, order management, global solutions for international enterprises, and custom solutions. 

It is a highly personalizable tool for businesses of any type, needs, industry, etc.

Even if you are dealing in a very unique niche, Salesforce Commerce Cloud could be the ideal platform for your platform. Ultimately, it competes well to become one of the leading eCommerce platforms in 2022 on our list.
9. Squarespace
Squarespace is an amazingly easy-to-use and stunning eCommerce platform for businesses. Individuals using Squarespace are to develop their own online store without any coding or technical expertise. 
Let's Discuss some of the Significant Features of SquareSpace: 
It is essentially an all-in-one platform that enables you with every essential tool to run and grow your business website. 

There are tons of innovative features and tools for building a proper feature-rich eCommerce website with Squarespace. In fact, they also provide proper hostings in all their available packages. 

The platform is already well known for its award-winning designs, which makes it a prominent leader in the world of web designing and development. 

There are tons of templates and intuitive drag-and-drop tools that make website development easier for even amateurs. 
10. Yo!Kart
Yo!Kart is a very powerful multi-vendor eCommerce platform for business owners to develop their online marketplaces like Amazon, eBay, etc. More than 1000 businesses use this platform and some of them even belong to Fortune 500 companies.
Let's Discuss some of the Significant Features of Yo!Kart: 
The fully customizable eCommerce platform enables businesses to scale their online business as per their requirements. 

Users are able to enjoy tons of features and functionalities to launch their multi-vendor eCommerce stores. 

The latest version of Yo!Kart, the V9.3.0 consists of extended features like pick up at a store, payment splitting, Geolocation, and Pre-integrated APIs for shipping and taxes management. These tools are very useful for businesses to stand in a competitive eCommerce landscape. 

You can use Yo!Kart to develop both mobile apps and progressive web apps. However, unlike Shopify, it hosts its services on its own. 

Users are able to get a multi-vendor platform with zero recurring fees and a lifetime license. 

Hiring a mobile app development company can help you take advantage of this innovative multi-vendor platform. With Yo!Kart, you will get free installation and 1-year of free technical support on all the packages. 

Benefits of Using an eCommerce Platform
Building an online store with an eCommerce platform can provide you with multiple benefits for your business. In the competitive age, it has become very important to embrace digital transformation to remain relevant. These are some noteworthy benefits of developing an eCommerce store with an eCommerce platform; 
1. Improved Brand Recognition 
Developing your eCommerce store helps you build stronger connections between your customers and your business. Thus, you are able to build a better brand image and recognition among the target audience. However, this might not be possible with traditional brick-and-mortar businesses. 
2. Enhanced Market Reach

 
By running a retail business from a brick-and-mortar store, you are only able to focus on a limited area. Whereas, eCommerce development enables you to conquer even the international markets with your presence. Thus, you have a wider market reach when you move your business online. 
3. Improved Customer Experience

 
Today, customers love businesses that provide them with the best experience and customer journey. The experience is very limited with a traditional brick-and-mortar store. Building an eCommerce website or app allows businesses to personalize the customer experience and provide them with the best buying experience. This is only possible by learning from customer behavior and purchasing experiences. 
4. Increased Loyal Customers

 
Customers today prefer businesses that have embraced digital transformation. Thus, building an online store with a mobile app development company creates faith and trust in your business. Ultimately, you are able to improve your loyal customers. You can run customer loyalty programs and provide 24×7 customer support to keep your user base engaged. 
How to Choose the Perfect eCommerce Platform for Your Business?
Let's learn what factors you have to consider while choosing an eCommerce platform for your business; 
Expertise and Experience of the Vendor
You must ensure that your chosen vendor has relevant experience and skills to fulfill your technical and business requirements. In fact, the vendor must understand the industry of your business domain. You can learn this by analyzing their case studies, customer reviews, and work experience. 
There's no guarantee that things will go perfect after developing your eCommerce project. For this reason, you might need constant support from the chosen vendor to resolve your problems immediately. There should be smooth communication through emails, web chats, or even phone calls. 
You might be expecting to grow your eCommerce business over time. Thus, your chosen platform should also scale according to your future demands. Moreover, a rigid platform might create a hindrance to your business growth. 
SEO is everything when it comes to ranking your business website. Thus, the eCommerce platform must have robust in-built SEO tools that would help you to rank better in the search engine results. 
Mobile-Friendliness of the Platform
You must know that mobile users tend to spend more on eCommerce portals than desktop users. Therefore, it is very important for the platform to support mobile devices to help you improve your online sales. 
An eCommerce website must have a robust and secure infrastructure for the users. Thus, the platform must facilitate the most secure architecture for financial payments. It should also follow all the necessary protocols in one single place. 
Conclusion
There are so many ready-to-use tools available in the market for building eCommerce stores. It is still quite hard to build a unique and secure online store to gain a competitive edge in the market. Thus, it makes complete sense to hire web developers to work on eCommerce app development and develop an innovative product for the market. 
MobileCoderz is a leading mobile and web app development company that can help you build fully scalable and secure eCommerce solutions. We have an extensive portfolio of eCommerce clients coming from different industry verticals. Plus, our team consists of skilled and certified developers, designers, QA professionals, and project managers. Together, they ensure the smooth and timely delivery of your eCommerce project.