Let's say you have a dollar that you would like to exchange with your buddy. Upon exchanging, the value of your dollar remains the same, and your friend will also have one dollar.
The situation changes dramatically, however, if you decide to exchange an NFT with your friend. The NFT you receive after the exchange will no longer be the same as the NFT you gave away. 
The reason for this is that NFTs are non-fungible by definition: they are unique, distinct, cannot be replaced, and they cannot be divided in half. Each NFT is composed of algorithms and meta-data, making it individual and unique. When you have an NFT, that entity is only yours, in the whole world.

I hope you are now ready to take full advantage of this finest business opportunity. To do this, you must make your platform more robust and full of features.
Here is a blog we would like you to explore about what NFT is? And what are some of the NFT Marketplace Development features? 
What Are NFTs?
Every digital file can be an intangible token. NFTs are data files that are tracked using this same technology which supports cryptocurrency such as Bitcoin & Ethereum. This technique lets sellers and buyers keep an accurate record of ownership for the file.
Most importantly, every NFT is digitally distinct. Although people are able to copy images, possession of original files is safe. In this way, NFTs are akin to a visit to an original piece of art in an art gallery. It is possible that you will find it enjoyable enough that you decide to visit the museum's store to purchase prints for your own home, but the original artwork will remain on display.
Below we can see the rise of NFT marketplace transactions & sales as per Statista 2022.
Many NFTs gained traction during the summer of 2021, resulting in an increase in transactions. Several of these transactions likely involved the Axie Infinity Video game, which was the world's most coveted NFT item in September 2021. 
Since then, its sales have declined. Among non-fungible token (NFT) markets in 2020, the gaming segment had the highest revenue, over six times that of sports projects. According to that year's figures, this segment contributed roughly 23 % of the total revenue generated by the NFT market.
Source: www.statista.com
NFT Marketplace: An Overview
The NFT marketplace is the place to trade, purchase and make digital assets. It allows you to store NFTs, trade and mint them quickly.
Usually, tokens are auctioned or bought at a fixed cost. Investors or buyers must have a crypto wallet to perform transactions through any NFT marketplace.
Investors are able to store tokens on the wallet. Each marketplace, however, supports particular tokens, or is a separate token or NFTs. Make sure you have funds in your crypto wallet prior to and then bid.
NFT Marketplace Development: Which Items Can We List?
As NFT popularity increases, NFT developers have been busy developing markets for the files. Certain markets currently are general-purpose trading platforms for all kinds of NFTs. Other marketplaces are geared towards the top-end art market or handle files related to certain online games or specific niche subjects.
Moreover, we can list with NFT Marketplace Development:
NFT Marketplace Development: How Does It Work?
The table below will showcase how NFT marketplace works:
Step 1

A user creates an account

Step 2

Cryptocurrency wallets are linked to accounts

Step 3

The

NFT marketplace

allows users to create their own NFT

Step 4

There is a NFT configuration for this market

Step 5

A listing for NFT is available

Step 6

NFT listings and the marketplace are moderated

Step 7

In the marketplace, NFTs appear for sale

Step 8

The NFT is put out to bid

Step 9

The top bidder wins NFT
In the background the marketplace generates blockchain-based contracts for every listed NFT. The tokens are added to a unique metadata data form and, from there, the specific parameters are added to the NFT to make it distinct.
Now you will move onto the NFT Marketplace Development Guide.
NFT Marketplace Development Features: Top 7 You Need To Know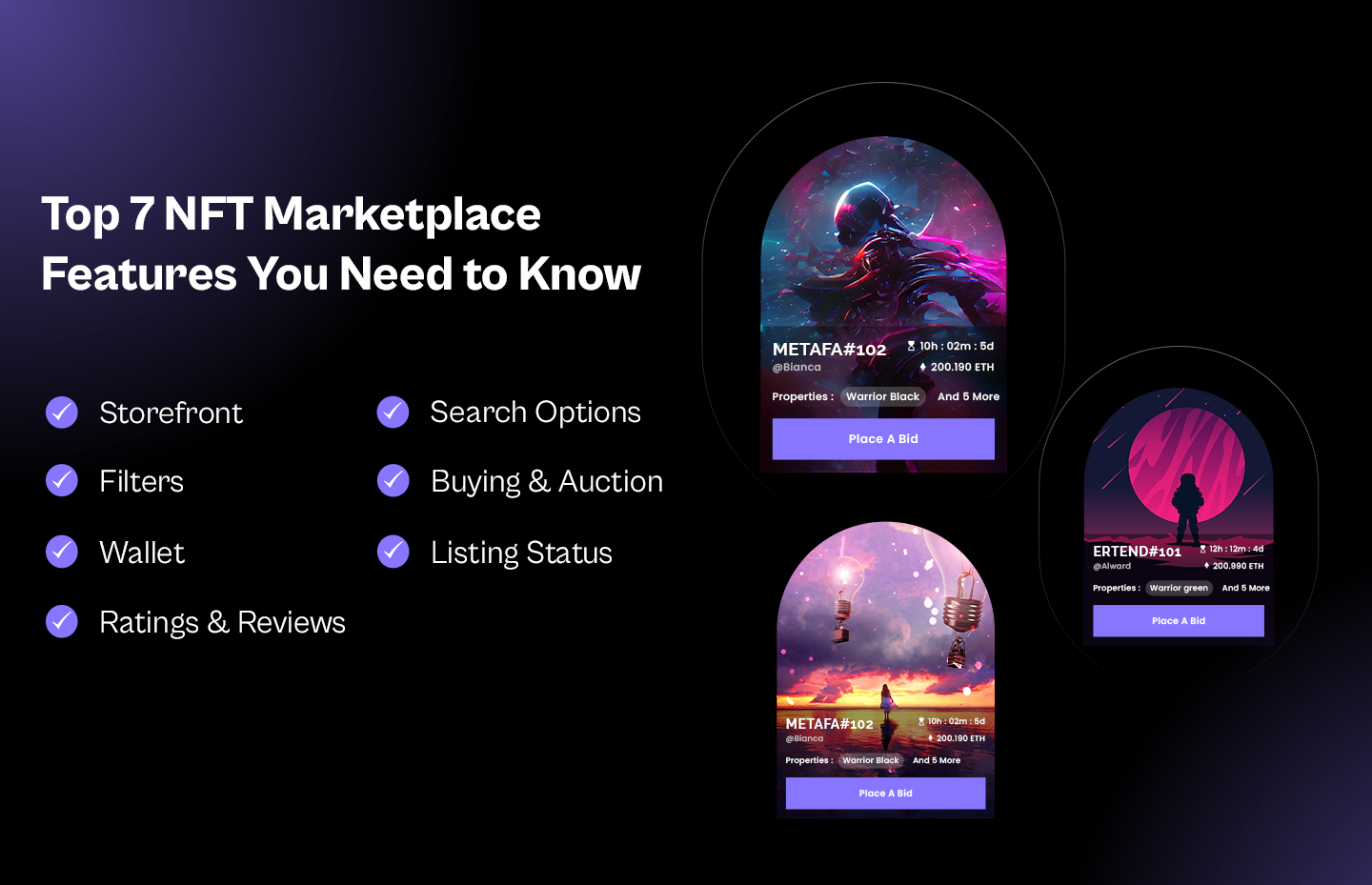 1. Storefront
The concept of an NFT marketplace is similar to an online store. It requires a storefront which is attractive & easy to navigate. The administrator has to decide on the amount of information to show on each file. Similar to collectors of physical art, NFT buyers will want to know the origin as well as the authenticity of the documents.
In addition, they must provide details of the rareness in their respective NFTs. While you aren't able to duplicate a private NFT, artists can publish several NFTs of the same art.
2. Search Options
The NFT marketplace must have an extensive features-rich and efficient search engine that allows users to easily search for their preferred NFTs in relation to music, video photographs, art memes, gaming characters & much more. The search engine will be able detect the intention and purpose of the user and present the relevant information in real-time.
3. Filters
The goal of the filtering option on the website is to simplify your search process. It is possible to divide the products according to various categories, with prices that aid customers in making their decisions. Certain filter options could also be hot-offers, most popular, & other recent additions to the site.
4. Buying & Auction
NFT developers can equip your website with a variety of selling tools. Artists with a following typically get the most affordable prices by using auctions that are timed because the market can increase the price quickly.
But the work behind running an auction is more difficult than normal sales. Particularly near the close of the auction, the bids may be intense and the auction site should provide live information on the auction procedure.
Direct selling and buying is an easier process. However, the use of smart contracts on Blockchain will require more work than payment gateways on traditional e-commerce websites.
5. Wallet
People always seek safe places to store their NFTs. There is nothing more satisfying to their security concerns than a wallet's creation. This is the reason NFT marketplaces first choose to insert wallets to save and submit tokens.
It also allows users to quickly sign up with their preferred wallet, rather than signing up for other online wallets. Also, use the most effective methods to store, transfer, & receive tokens.
6. Listing Status
Each party who participates in the NFT marketplace transaction requires details about the process. For sellers and buyers, the marketplace will provide information about the percentage of users who have seen the file along with bids made in an auction.
The file can also alert users when they make an offer. Buyers should be aware that the file is subject to an expertly crafted authentication procedure before making the sale. The more authentic items stand out to collectors.
7. Ratings & Reviews
This is a problem for those who are new to the system. The novice may not know what to begin with or how the system functions and how to pick items quickly. Checking out a seller's rating to determine if other customers consider this seller reliable might suffice.
With the help of the system's ratings, participants can give feedback to others & rate them. It helps others understand the level of trust. People with the highest scores get impressive rewards.

NFT Marketplace Development: A Booming Success!!
The NFT's popularity is expected to continue to climb up with the passage of time. There will always be enthusiastic collectors willing to go to any lengths to find the missing components of their collections, whether it involves trading cards or artworks. With regard to the present situation, a good idea is to introduce NFT platforms or apps.
If you're planning to start your own NFT marketplace and are looking for professional NFT marketplace developers. Then MobileCoderz will be able to assist you immediately. Contact our knowledgeable NFT app developers today, and begin the first step toward dominating the growing NFT market.
Why We?
MobileCoderz Technologies is a technology giant, setting the standard for NFT marketplace development. We are the leading Blockchain Development Company in the industry in terms of technical expertise for the development of Blockchains & Cryptos. Additionally, we have extensive expertise in the field of direct communication between customers and the technical team, a strong security team, proven results, & an affordable price.