In February 2021, the total market capitalization of huge NFT technology projects grew by 2,200 percent. In the past year, this market has grown by 400 percent. The majority of NFTs are sold out immediately and the most well-known NFTs are sold for $75 million. This craze is reinforced by celebrities who tokenize their paintings, music memes, short videos, memes logos, computer code, and many more.
The primary buyers of the NFT marketplace are the platforms that give users the most simple and secure experience they can get when buying or selling NFTs. In this article we'll briefly discuss the basics of what NFT technology marketplaces are about, the best way they can be developed, and NFT marketplace development cost.
What Is NFT Marketplace?
NFT is a distinct digital asset or product with a digital certificate that can be traced back to the ownership of digital assets. Furthermore, unlike the fungible tokens, it is not possible to directly trade NFTs. This requires a specific marketplace. Buyers can visit the marketplace similar to OpenSea and purchase virtual goods with cryptocurrencies like Ethereum and Bitcoin. If you look at the recent data about the top NFT marketplaces in terms of various scales, you will observe how fast NFT is taking the digital world by storm:

Top NFT Marketplaces (in terms of)
S.N.
Highest Trading Volume
Sales (Highest)
Highest Number of Traders

1

OpenSea ($1.45 million)

CryptoKitties (2,879,359)

AtomicMarket (20,585)

2

Axie Infinity ($1.26 million)

Gods Unchained (572,996)

NBA Top Shot (19,380)

3

NBA Top Shot ($1.06 million)

Sorare (382,410)

Axie Infinity (2860)

4

AtomicMarket ($850,840)

Ethereum Name Service (154,146)

OpenSea (2569)

5

Decentraland ($789,670)

Decentraland (126,268)

Sorare (1979)
Types of NFT Marketplace Platforms
Universal Non-Fungible Tokens
Every type of cryptocurrency asset is able to be traded through Universal NFT Marketplace Platforms. This can include anything from digital art up to a domain name.
Niche Peer to Peer Marketplaces
These NFT marketplace platforms are designed to offer certain digital assets i.e. the assets which belong to a specific niche. It's essentially an exchange platform to buy and sell tweets. Another illustration could be Glass Factory, where users can buy digital Holograms.
NFT Marketplace: How does it Work?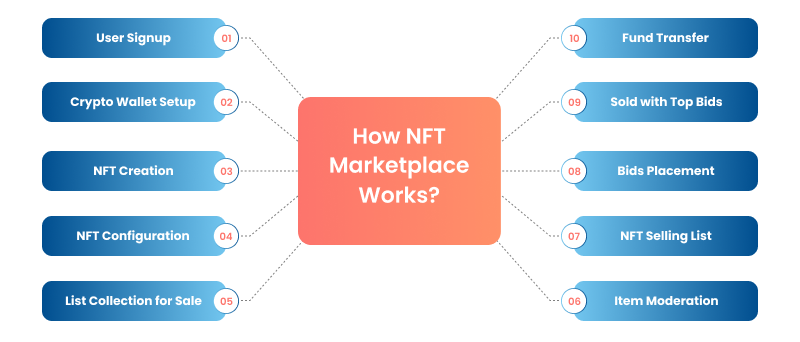 NFT Technology Marketplace is an adaptive online platform that gives access to discounts to purchase and sell in non-fungible currency tokens. To buy and sell NFTs, it is necessary to use special platforms that permit you to issue exchange, store, and purchase non-fungible tokens. In present, the market is heavily dominated by OpenSea, Superfarm, Rarible and Mintable. These marketplaces make NFTs by using smart contracts, which provide unique parameters and information to tokens.
A properly designed NFT marketplace allows you to create a closer connection between the seller and buyer. It's possible to make secure and quick transactions. Non-fungible tokens are sold at a fixed cost or via auctions.
An NFT Technology marketplace operates like a similar online shop. Customers sign up on the marketplace and then create an online wallet which. Then, it can be used to store NFTs and other cryptocurrencies.
What should be considered when creating NFT marketplaces?
NFT is a product or digital asset which contains an electronic token and can track back the digital asset owner. In addition, unlike the fungible tokens, NFTs are not able to be exchanged directly. They require a unique marketplace platform.
Buyers can utilize cryptocurrencies like Ethereum as well as Bitcoin to buy virtual goods through different marketplaces. The total amount of transaction the purchased NFT is charged a fixed price by the marketplaces.
The NFT marketplace development has blown away the world with its vast possibilities for the future. The rapid growth in NFT marketplace development as well as the growing interest of millennials have spurred NFT marketplace owners and creators to take action.
# NFT Metadata
It lets you look up the owners of an NFT. For instance, when you search to find the owner for token 212022 within the smart contract of any NFT, it will show the token 212022's owner as 'ABC'. This can then be verified using NFT marketplaces such as OpenSea. However, the question is which platforms such as OpenSea know what 212022 means and its distinctive characteristics? 
This is exactly why metadata plays a role. It is also known as an ID such as descriptions, photos or any other additional characteristics.
# Non-Fungible Token Standard
You're trying to create an efficient NFT marketplace that assures users the assets you offer on your app behave in a specific way. Standards can also help users understand how they should communicate with NFTs. There are two standards up to be considered for NFT creators. You must take this into consideration in the development of your NFT Marketplace development.
# ERC721
This standard is required to monitor and transfer NFTs. It offers certification or ERC-721 tokens for items that aren't divisible. Every standard token in ERC-721 holds data in its own customized smart contracts. They contain details about the owner and the identity of a specific asset.
# ERC1155
For instance, if you trade multiple artifacts to the same video game, your set of ERC721 tokens may not be sufficient. In this case, ERC1155, also called the multi-token standard of the next generation, could be huge assistance in the creation of such NFTs.
The standard to choose is based on the type of NFTs you trade in your market. Let's look at the ways in which an NFT marketplace development functions. It can help you put your ideas and provide a list of features to incorporate into your NFT marketplace platform.
Key features of NFT Marketplace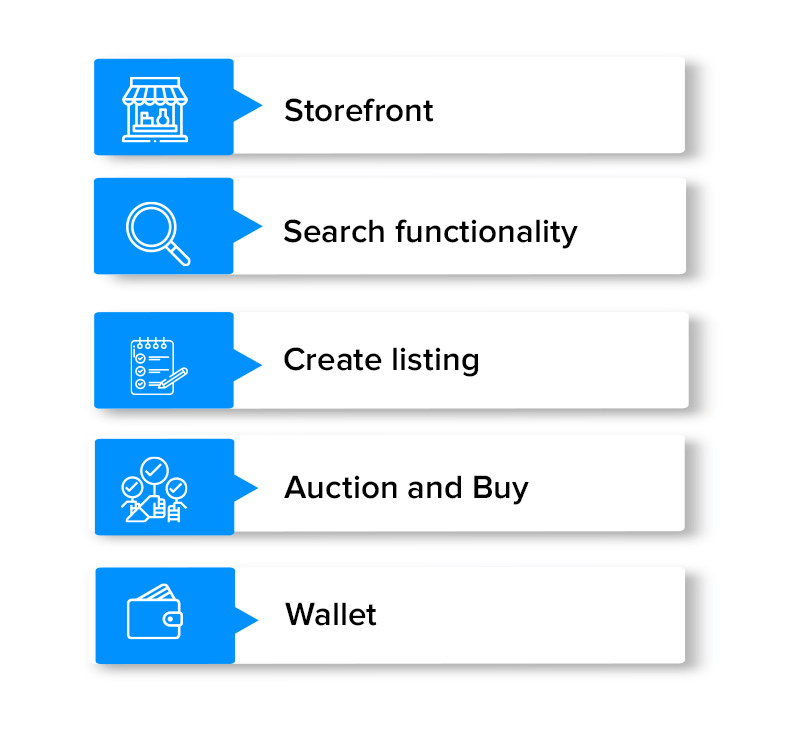 Key features of NFT Marketplace include Storefront, Filters, Search Results, Listings, Status of Listing, Auctions and Buying, Wallet & Rating. Let's understand each of the features in detail; 
Storefront
The Storefront is the actual dashboard of the NFT marketplace where every user will start their journey. It should be very informative and tells everything about the assets. The storefront should generally include; 
Owner of the asset 

Asset information 

Previous bids 

Price history 

And more. 
Search Functionality 
A successful NFT marketplace features complete support for category division and management features. The main purpose is to make it easier for the users to search for items available for purchase. 
Create Listing 
An NFT marketplace is mainly focused on the convenience of the sellers. Thus, it easily enables the sellers to create their listings and add NFT details. 
Auction and Buy

 
An NFT marketplace must have an NFT buying system that would allow the users to enter bid amounts, a watchlist for the details of the bidder, and an expiration date. This would create an efficient buying system. 
Wallet
The integration of a wallet allows the users to pay, receive, or store NFTs and cryptocurrencies. For this feature, you can either develop your own custom wallet or integrate existing wallets into your NFT marketplace and make it hassle-free. 
How to Build an NFT Marketplace App? 
There is always a need to separate the product into smaller steps in the app development process. These are some of the most critical stages involved in the development of an NFT marketplace to determine the NFT marketplace development cost. 
Identify Your Niche 
The first step is all about identifying your market niche where you will be establishing your NFT marketplace. It could be the gaming, sports, luxury, or entertainment industry where you want to establish your dominance. This would help you to better define the requirement for your NFT marketplace. 
Designing App Panels 
You have to define the app panels based on the different categories of users. In any usual NFT marketplace, you will find three types of users; 
Buyers or users who are interested in purchasing digital artworks or other assets 

Content creators that design and create digital assets that are tokenized in the form of NFTs 

Administrators who basically run the NFT platforms and ensure proper transactions of funds between buyers and sellers. They also need to oversee the ownership transfers of digital assets. 
Documentation
The project documentation is a very critical stage to starting the actual development process. The paperwork behind the NFT marketplace will determine the estimated cost to build the final product. A proper document should consist of these details; 
Describe the user flow on the marketplace

Features to be included 

Quality elements that you need in the marketplace

Defining the functional and non-functional needs 
The documentation part is useful for defining the software architecture by evaluating the app's various use cases and functionalities. It should cover all the existing requirements and possible functional issues. 
Prototyping Apps
Consult an NFT marketplace development company because it would help you to deliver an efficient product. The prototyping process will help you understand that providing a quality experience is more important than delivering a functional product. 
The look and feel of the app are critical if you consider the competitive marketplace. Thus, experimenting with a lot of user interfaces and screen mockups is essential before diving into the coding and development process. 
Stages of Development 
In the development stage, the NFT development company will be using the right frameworks and APIs for the project. They will be using a dedicated SDK (Software Development Kit) to ensure that the platform runs efficiently without any hassle. This could be a great approach to improving the performance and reliability of NFT marketplace development. By using the right framework, they start implementing the app's functional requirements. 
Create Token Generators 
Once the development process begins, the token generators have to build tiny contracts known as smart contracts. These contracts are self-executing contracts meaning that no third party has to intervene to ensure their fulfilment. They have some predetermined terms and conditions to which the vendors and buyers have to agree. Later, the code is released through a decentralized blockchain network, which ensures the logic of the NFT generation. 
Execute and Test
The testing stage is very important for any application or program. This stage helps the developers to identify and rectify critical errors, bugs, or glitches. Furthermore, testing the NFT ensure that it satisfies the needs of the project criteria. Developers are also able to ensure that the developed solution ensures dependability, performance, and security. 
Breakdown of NFT Marketplace Development Cost
NFT marketplace development cost is contingent on a myriad of factors. Making an NFT marketplace platform starting from scratch takes considerable time and significant investment. A few of the major reasons that affect the NFT marketplace development cost are described below:
Efficiency

Performance

Simple to use 

Safety

Adaptability
Below is the NFT marketplace development Cost Breakdown.
# UX/UI Development $2395 – $5040 (Approx. cost)
Creating a positive user experience (UX) is all about satisfying the needs of your users on your NFT Marketplace. 
# Authorization & Security $3285 – $8640 (Approx. cost)
As a culmination of blockchain technology, NFT marketplace development must incorporate security measures such as two-factor authentication and smart contracts.
# Resources and User Profiles $2385 – $5040 (Approx. cost)
A resource is an item saved in a user's account, accessible through access control. Id allows you to identify tokens, so NFTs need to be identifiable.
# Home page $3645 – $10,080 (Approx. cost)
Homepages are essential tools for a business, and they often serve as the first impression to customers. This is just one of many important aspects of effective web design.  NFT marketplace development cost with respect to homepage ranges from $3645 – $10080. 
# Search and filters $4005 – $11,520 (Approx. cost)
Filters also play a key role in enhancing the user experience. Users can drill down to the exact needs of their search with ease, eliminating the need to use extra search queries. In turn, customer loyalty and retention are improved.
# Product Page $2385 – $5040 (Approx. cost)
You need product pages on your store to inform your customers about your products and to entice them to make a purchase. Build your product pages effectively to increase traffic as well as conversions. NFT marketplace development cost with respect to product page ranges from $2385 – $5040. 
# Reviews & Ratings $2565 – $5760 (Approx. cost)
Your digital reputation increasingly depends on your reviews & ratings. The reviews you write can improve your business, lead to more sales, improve your product sales, inform your customers, and convince them to buy your products and services.
# Shopping cart $2565 – $5760 (Approx. cost)
The NFT Markets are an online exchange for NFTs. It resembles some other e-commerce platforms.
# Payments $2385 – $5040 (Approx. cost)
Integration of Crypto Wallets. In order to process NFT payments using cryptocurrencies, the NFT marketplace needs a reliable and secure method of integrating crypto wallets. NFT marketplace development cost with respect to payment options ranges from $2385 – $5040. 
# Notifications $2085 – $3840 (Approx. cost)
In order for a user to be notified when an NFT is bought, he needs to list it for sale. You can utilize the push notifications in numerous ways.
# Ethereum incorporation $4005 – $11,520 (Approx. cost)
Blockchain technology-based implementation of currencies and commissions for sale and purchase operations.
# NFT management $4005 – $11,520 (Approx. cost)
Management for the NFT should oversee everything related to the NFT for the site, including all of the transactions for purchasing and selling and uploading of artwork.
# Inventory management $2385 – $5040 (Approx. cost)
In addition to tracking what has sold, the website should also feature what should be added to showcase the work. Inventory management is necessary for this task. The cost of NFT development for this task ranges from $2385 – $5040.
# Buyer panel $3045 – $7680 (Approx. cost)
You can manage all of the tasks that need to be completed on a separate page for buyers in the NFT marketplace.
# Author panel $5085 – $15.840 (Approx. cost)
It is designed to meet the needs of the people who produce the digital work being sold on the site.
# Admin panel $3775 – $10,200 (Approx. cost)
From the admin panel, you can manage everything on NFT.
| | | |
| --- | --- | --- |
| S.no. | Features | Cost (Per Hour Rate $15-$60 x Time) |
| 1 | Resources and User Profiles | $2385 – $5040 |
| 2 | Authorization & Security | $3285 – $8640 |
| 3 | UX/UI Development | $2395 – $5040 |
| 4 | Product Page | $2385 – $5040 |
| 5 | Search and filters | $4005 – $11,520 |
| 6 | Home page | $3645 – $10,080 |
| 7 | Payments | $2385 – $5040 |
| 8 | Shopping cart | $2565 – $5760 |
| 9 | Notifications | $2085 – $3840 |
| 10 | Ethereum incorporation | $4005 – $11,520 |
| 11 | Buyer panel | $3045 – $7680 |
| 12 | Inventory management | $2385 – $5040 |
| 13 | NFT management | $4005 – $11,520 |
| 14 | Admin panel | $3775 – $10,200 |
| 15 | Author panel | $5085 – $15.840 |
| 16 | Reviews & Ratings | $2565 – $5760 |
|   | Final Cost | $60,000 – $116,040 |
So, Total NFT Marketplace Development Cost

(Approx.) $60,000 – $116,040.
This is the total NFT marketplace development cost

Build An NFT Marketplace With Best Technology Partner MobileCoderz
So ultimately, you are the one who knows how the NFT marketplace works, its features, and the NFT marketplace development cost.  Besides developing your own custom NFT marketplace platform, Top IT Consulting Company also helps you develop NFTs for specifically meeting the goals of your brand and enhancing your revenue. 
Once you have a grasp of the NFT marketplace's features, you should look into its technical aspects. In this regard, one of the best NFT marketplace development companies, MobileCoderz can help you. Their front-ends cater to the intent of buyers and content creators while being user-friendly and offering NFT marketplace development services. If you want to create your own NFT marketplace, we can turn your dream into a reality with our team of experts.
FAQs
Q1. What's the price to develop an NFT market?
The NFT marketplace is accessible through many app development companies. This competitive marketplace lets you develop at a fair cost. And the NFT marketplace development cost ranges from $15,000 to $65,000.
Q2. How much will it cost to design an NFT?
They can range from almost nothing to a heavy amount as per the platform you're using. But, there's an important law: the NFT market is constantly evolving and certain platforms permit you to delay costs of minting, or you can mint an NFT supported by Blockchain technology that doesn't take charges.
Q3. How much time does it take to develop an NFT app? 
Ans: The total development cost of an NFT token depends on your requirements. However, usually, it takes around 40-45 days of development.
Q4. How long will NFT take to dominate the cryptocurrency market?
Ans: The NFTs have already established a significant position in the gaming and luxury industries. It has also started growing in the sports and entertainment industries. NFTs will see more maturity in the near future with acceptance in more industries. 
Q5. What can I tokenize to NFT?
Ans: It is possible to tokenize almost anything to NFT. It is up to the users to sell and buy it from the marketplace. 
Q6. Why NFTs are getting popular

NFTs provide the opportunity to make a lot of money 

Digital assets are full of excitement and volatility 

The massive popularity of the cryptocurrencies in trading 

Mainstream media 
 Q7.

Can NFTs be copied?

 
Ans: No, NFTSs cannot be copied because they rely on blockchain technology which focuses on various security factors. An individual cannot fake the exact creator's NFT to create a duplicate. The code of the NFTs is stored in the blockchain in an immutable form.