Telemedicine app is becoming the most promising business concept. Startups and entrepreneurs are tremendously investing in telemedicine app development due to increased demand. 
Today, telemedicine apps have become the need of the hour. With the growing innovations and adoption of new technologies in the healthcare industry, telemedicine app development is taking a fast pace.  
In the US alone, the telemedicine app market is projected to reach USD 250 Billion by 2027 and USD 559 billion globally. MDLIVE, Lemonaid, Doctor on Demand, Amwell are the popular telemedicine apps that are generating million-dollar revenues. 

So if you are planning to develop a telemedicine mobile app you are investing in a worthwhile business idea. But before you begin, are you aware of the essential things about telemedicine apps?
If you are a healthcare startup, healthcare professional, doctor, or a medical institution, you need to have the right knowledge. And this blog tells you the key aspects of telemedicine app development. You will learn how you can effectively utilize all your resources and ensure you develop a successful telemedicine mobile application. 
So let's dive into
What is a Telemedicine App?
A telemedicine app is a type of healthcare mobile application.  It provides online features and access to important healthcare and medical services. For example booking online appointments with doctors or medical professionals, remote patient caring, on-demand medicine delivery, and more.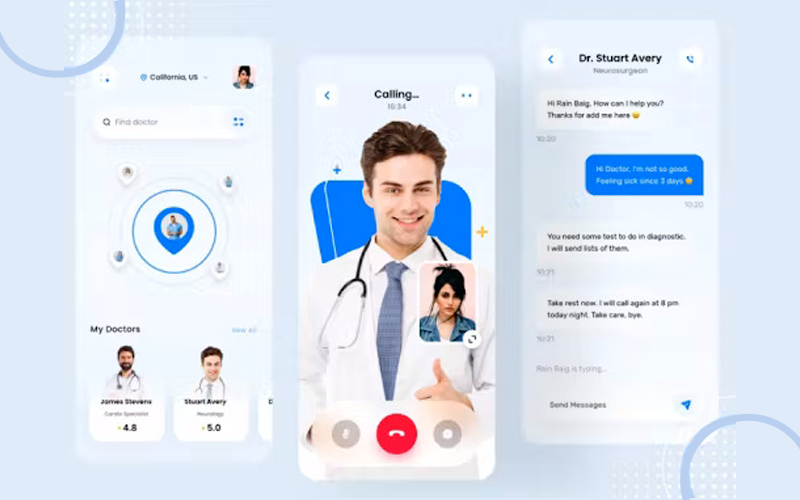 Types of Telemedicine Apps
There are primarily three types of telemedicine apps. Each of them plays a certain role in providing effective and instant healthcare services to patients.
Store-and-forward is an asynchronous telemedicine app. This type of app is used by healthcare service providers. They share the patient's medical data with a physician or doctor at a different location. And doctors then provide medical prescriptions or diagnosis through the app based on the shared patient medical reports. 
Example: CirrusMD
Remote Patient monitoring
Remote patient monitoring telemedicine app is an online patient tracking system. It enables doctors and healthcare professionals to remotely monitor or track their patients. This type of app is used for monitoring patients through different locations. 
Example: Gyant
This is an online video conferencing app.  It provides real-time interactive healthcare services for patients and doctors. This telemedicine app allows patients to book an appointment online and meet online virtually with the chosen doctor. 
Example: Lemonaid 
Cost to Develop A Telemedicine App
The average cost of telemedicine app development generally goes between $60,000-$200,000. 
The exact price depends on various factors such as the type of mobile app, number of services it offers, advanced functionalities, and so on. We advise you to read a separate guide for mobile app development cost if you want detailed information. However, you can take a look at the below table to get an overview of telemedicine app development cost. 
| | | |
| --- | --- | --- |
| Type of Telemedicine App | Average Cost | Examples |
| Real-time Interaction | $75,000-$150,000 | Lemonaid, MirrorFly, Siilo, HealthTap |
| Remote Monitoring | $50,000-$80,000 | |
| Store-and-Forward | $25,000-$50,000 | CirrusMD, Medisafe, MyTherapy |
At MobileCoderz, the cost of developing a full-fledged telemedicine app lies between $30,000-$50,000. However, the price of enterprise-scale apps can further increase. 
Why You Should Develop a Telemedicine App: Major Benefits
Telemedicine app is a digital healthcare solution. It allows people to access essential healthcare services on their mobile devices or smartphones. It offers great advantages to both patients and medical professionals. People can access healthcare specialists anywhere anytime and save a lot of time and money. 
Therefore, telemedicine apps have become a highly-profitable mobile app development concept for startups, entrepreneurs, and business ventures. Mobile app developers in India have witnessed huge demand in the number of healthcare app development projects especially in telemedicine.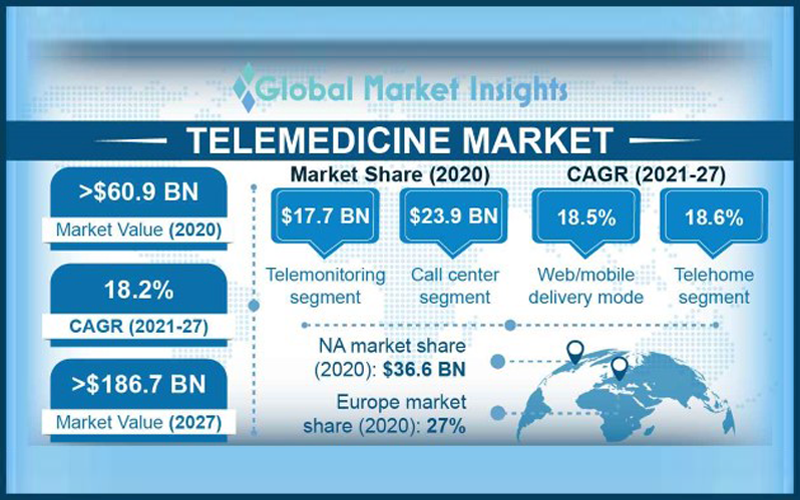 Source: Gminsights.com
And what to say more when data is already showing the proof.
According to a report released from McKinsey & Company, a well-known US-based management consulting company says that 83% of healthcare companies have plans to invest in telehealth care. And 84% can enhance their reach and include more areas in their telehealth domain. Read the detailed report here.
And this massive growth is because of the benefits of a telemedicine app that it provides to both doctors and patients.

Benefits of Telemedicine App for Patients
Zero Transportation Cost and Time
In the current medical system, patients have to physically visit hospitals or clinics in every situation. Even for a normal routine checkup. But with a telemedicine app, patients can meet their doctors online from any location. They don't need to visit physically except for serious or urgent cases. As a result, it saves valuable time, effort, and money for patients.
No Need to Take Medical Leave
Medical leave is a common senior in everyone's life. People have to take leave from their office or company for medical checkups or appointments. With a telemedicine app, they can virtually meet the doctors even from the office and save their time. 
On-Demand Doctor Appointment
When you need a doctor or physician for any health issue, you start searching on the Internet. And it is truly a difficult task to find the right one from tons of website lists. But, patients can easily find their required doctor with an on-demand doctor app. 
Faster and Easier Accessibility to Specialists
Healthcare always requires an instant and quick solution. And the traditional healthcare and medical industry lack in both cases. People have to face a long wait and multiple rounds of checkups. This causes great inconveniences to patients. 
By using telemedicine apps, patients can get access to any medical specialists easily and quickly. During the covid-19 pandemic, people start looking for solutions that could provide them instant access to healthcare services. 
Benefits of Telemedicine App for Doctors
Efficient Patient Monitoring
Telemedicine mobile apps empower doctors to remotely monitor their patients from any location. Doctors can track patients' health improvement and keep a record of all medical history in a private window. 
The digital healthcare system allows people to connect with doctors globally. And for doctors and healthcare professionals, it works like a global platform. They can reach any patients sitting in any part of the world such as remote locations, villages, etc. 
Better Patient Engagement
During the physical appointment, doctors have less time for the patient. They have to serve patients in just a few minutes. However, with the telemedicine app, doctors can easily and instantly meet with their patients. They can give enough time for personal or face-to-face appointments online. 
Reduced Medical Overhead Costs
One of the top advantages of telemedicine app development is it reduces the overhead costs of maintenance and management of medical services. Since this app works digitally, it eliminates the need for physical infrastructure. Doctors can virtually manage a clinic or provide service while sitting at their home or any place. 
Tips for Developing a Successful Telemedicine App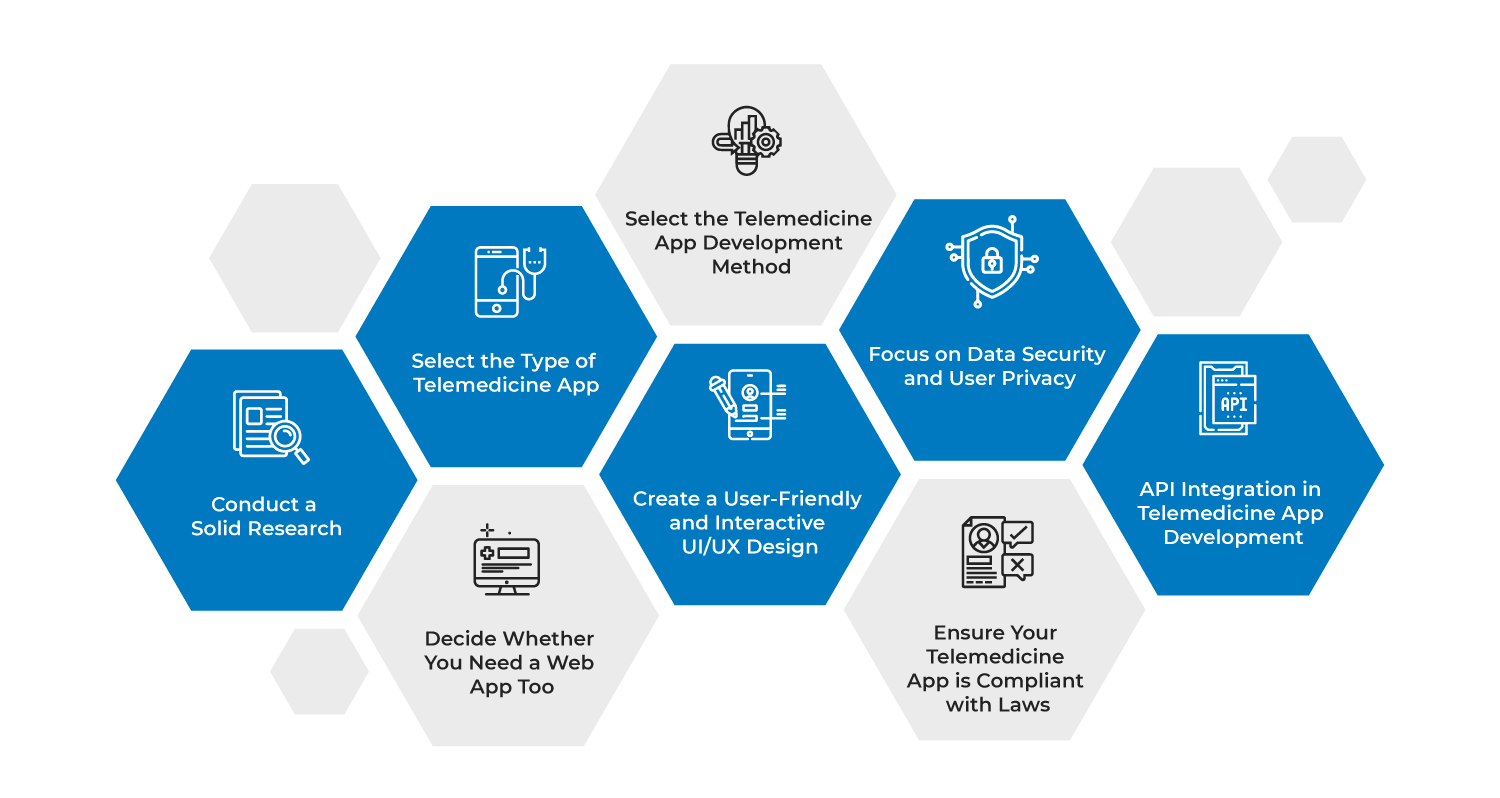 1. Conduct a Solid Research
Telemedicine is a broad domain and caters to public health. It deals with people's sensitive health information and critical issues that have a direct impact on a patient's life. Therefore, before you outsource your telemedicine app project to a mobile app development company. You need to conduct in-depth research and accurately understand your project requirements. 
Create a well-defined work plan that includes your app goals, deadlines, features, budget expectations, etc. 
For example, at MobileCoderz, our team conducts multiple rounds of sessions with the client to create comprehensive project requirement details. And this allows us to correctly develop the app without making any big changes.
Hence, you should have proper documentation of your project requirement in detail. It should contain everything about your telemedicine app. 
2. Select the Type of Telemedicine App
As we discussed above, there are mainly three types of telemedicine apps in healthcare. And based on your business goal and model, you need to select the suitable type of app. For startups, it might be a daunting task. However, they can simply pick up the app which has better future scope and provides effective solutions to public health. 
3. Decide Whether You Need a Web App Too
Since you are solely focusing on telemedicine app development your audience is mostly mobile or smartphone users. But, here you need to decide whether you need a web application or portal of your telemedicine solution. 
There are some situations when patients may need a large screen size or computer screen. They may need to see a broad view, or large-scale patient monitoring. In this case, you need a telemedicine web app. Therefore, you have to check with your telemedicine app development company whether they can also develop this application or not. 
4. Select the Telemedicine App Development Method
There are different methods of mobile app development such as native, hybrid, and cross-platform apps. And every method requires a certain app development approach and strategy. If you want to build a separate app for Android or iOS, then you have to go with the native app development approach. 
And if you want to create the app for all mobile OS platforms with a single codebase, then your cross-platform app development is required. Native provides a rich user experience but its cost is very expensive. But cross-platform apps use only a single codebase and thus incurs low costs. Therefore, most businesses choose this method in telemedicine and other healthcare app development areas. 
5. Create a User-Friendly and Interactive UI/UX Design
Healthcare is a sensitive and essential service. Your app may provide tons of problem-solving features to the audience. But if the design of a telemedicine app fails to meet user expectations and requirements, your app won't generate even sufficient ROI. 
It is because users always expect fast, simple, and smooth navigation, a simple user interface, and seamless UX design. You should note that the primary goal of UI/UX design in telemedicine apps. It should offer all the required information instantly available for both patients and doctors. 
You should focus on creating a user-friendly and interactive UI/UX design that ensures engaging user experience. Here are the below UI/UX design tips that you can include in your telemedicine app development
6. Focus on Data Security and User Privacy
Patient data is highly sensitive information. A telemedicine app will collect tons of personal and medical information from people. Any kind of security breach or data leakage may lead to the loss of patient critical data and damage your company's reputation. 
Therefore, it is important to incorporate the best mobile app security practices to ensure data protection and user privacy. Below are the useful security tips that you can include in telemedicine app development
Multi-step user authentication

Data encryption

Restricted access to data

Robust end-to-end encryption

Reliable data backup and recovery

Regular testing
7. Ensure Your Telemedicine App is Compliant with Laws
Telemedicine app development is not entirely a technical process. It requires compliance with all regulatory laws concerning telehealth services. For example, if you are focusing on US citizens for your telemedicine app services, then your app must be HIPPA compliant.  
And if your app also serves European citizens, then your app should be GDPR compliant. Here we have mentioned the most common laws and regulations that you telemedicine app needs to be compliant with
HIPPA-For USA

GDPR- For  EU

PIPEDA- For Canada

IMLC-For USA
8. API Integration in Telemedicine App Development
Your telemedicine app will need the integration of APIs to provide some specific services which could be not possible by common app features. These APIs will empower your app and solve user problems effectively. At MobileCoderz, we can integrate the below popular APIs in your telemedicine app development. 
Human API- For iOS 

Patient360 API- For data backup 

CometChat API- For live streaming

HealthTap APIs- For data integration

Eligible API-For medical billing

VSee SDK- For HIPAA compliant video & chat communication

WebRTC- For real-time voice- and video communication

Vidyo- For real-time communication
To Conclude
Telemedicine app is working as a digital hospital. It is empowering the healthcare and medical industry to provide faster, instant, and efficient healthcare services to any location. People from rural ears or underprivileged areas can take the highest benefits from this healthcare solution. 
Therefore, telemedicine app development is the best business concept for startups and entrepreneurs who want to establish their ventures in the healthcare sector and make good revenues. 
But the telemedicine app requires a complex development process and well-researched planning.  You should try to collaborate with a dedicated telemedicine app development company that can help you build a successful telemedicine app. 
Why Partner with MobileCoderz for Telemedicine App Development
MobileCoderz is a professional mobile app development company. We provide world-class telemedicine app development services for startups and healthcare professionals. 
We have brilliant developers and software engineers. Our team can build any type of healthcare mobile application including telemedicine with premium features at the most affordable prices. 
Plus, MobileCoderz holds real-life industry experience in healthcare digital solutions. So we know how to create an effective app that helps you grow your business and beat the competition. If you have any type of healthcare app concept. 
Contact Us Now and Consult with Our Experts for Free