Not all travel enthusiasts plan their vacations with a tour planner or agent. The versatility of planning your holidays on online portals & mobile apps is much more convenient and quick than offline bookings. If you're one of those hardcore travelers then you must have taken advantage of switching to online platforms instead of approaching a travel agency. The tremendous popularity of travel apps like MakeMyTrip, Goibibo, Yatra, etc. also reflects that mobile apps are the budding future of the tour & travel industry. As per a report, more than 30% of people use travel apps to plan their trips & that's why the demand for travel booking app development is increasing expeditiously in the market.
Why Your Business Needs a Travel Booking App?
According to a report by Statista, the number of app store downloads has been on the abrupt rise for the past 5 years and it is also predicted that this count will increase to 210 billion for the Google Play store by the end of 2021.
More and more travel companies are interested to create a travel app to multiply their earnings with double-fold profits. Investing in travel booking app development will surely give wings to your offline travel business with a wider reach across the worldwide customers.

Insights of Travel App Statistics
If you're starting with your travel business then launching a mobile app like Airbnb, Flyin, Kayak, MMT, etc. for customers shall do wonders for you.
There is no doubt that travel apps are scattering across the wider horizons of travel landscape and that's why investing in travel & hotel app development will be a fruitful step to kick start your journey to the travel industry.
So, just take a deep breath before rushing over the idea of getting a travel app. Let's go through some interesting stats before elaborating on the ins and outs of how to make a successful travel app.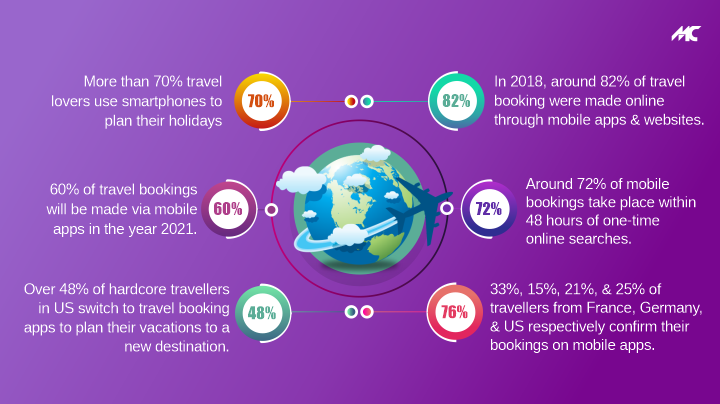 More than 70% of travel lovers use smartphones to plan their holidays
Over 48% of hardcore travelers in the US switch to travel booking apps to plan their vacations to a new destination.
In 2018, around 82% of travel booking was made online through mobile apps & websites.
60% of travel bookings will be made via mobile apps in the year 2021.
Around 72% of mobile bookings take place within 48 hours of one-time online searches.
33%, 15%, 21%, & 25% of travelers from France, Germany, & the US respectively confirm their bookings on mobile apps.
Travelers are unstoppable with their booking preferences on travel apps. Even though websites brought a great boom to travel agencies, more & more startups are interested to invest in on-demand travel booking app development for these reasons:
One-click access to on-demand travel booking
Tour planning advice from travel experts
Holiday packages as per budget
Flight & hotel booking with attractive tour packages
Complimentary options with worldwide destination
Offers & discounts during seasonal vacations
Secure online payment gateways
Instant notification on booking, cancellation, & refunds
Ofcourse, getting a mobile app from a top travel app development company for your travel business worth your investment to escalate your profits.
Learn How To Build a Travel Booking App in 5 Steps
 Step 1: Decide Your App Type
The top players in the travel industry provide combined facilities for hotel/flight/bus/ train booking for travel planning. If your business demands a travel booking app development for specific service then you must decide your app type first. The main types of travel apps used by most travelers are:
Hotel & flight booking- Flyin app
Trip planner- Trip it
Ticket booking for flights, bus, & train
Weather forecast- Open weather map
Translator- Google Translator
Guidebook- Guides by lonely planet
Ride-hailing service app
Navigation apps
Step 2: Know Your Competitors
The first rule of successful travel booking app development is competitor research. Determine existing names in the travel industry and analyze their potential growth factors in the market. Know their advantages and disadvantages, how they're interacting with their customers and what their strategies are.
Step 3: Outline Key MVP Features For Your Travel App
The idea of presenting a user-friendly travel app with useful features goes well with the needs of customers who're fond of traveling. Think about integrating the best travel app features to engage customers with the best user experience and services. Want to know the top features of popular travel apps like Airbnb, Citymapper, Goibibo, & KAYAK? Here is a list for you:
Single-step login/registration
Filtered search for a location, time, budget, more
List of tour packages with key details of destinations
Chatbots for quotations & assistance
Secure payment options for cashless transactions
In-app itinerary or booking history
Review & feedback section
Step 4: Strategize For the Discovery Phase
Whether you've hired an independent developer or a reputed travel app development company, you must step into the discovery phase to make a clear picture of your travel app. You should discuss the current market trends and ask for project scope & milestones to get the initial knowledge of the projected success score of your app.
Step 5: UI Design & Development Process
A feature-rich travel app with captivating UI/UX attracts better user engagement with high potential to turn leads into profits. The key phases of travel booking app development revolve around the designing & development steps alongside technologies used for coding & customization.
Now the question arises that how much does it cost to develop a travel booking app? With tons of features & functionalities, travel app development cost varies with the complexities and technologies used. Hiring a dedicated developer will cost you more & if you need a cross-platform then you will be charged accordingly. The location of your mobile app development service provider is one factor behind the varying costs of getting your app developed by a reputed agency. So, it is suggested to do some research work to know the current pricing structure for the mobile app development project.