There is a steady rise of mobile app users all across the globe. As predicted by Statista, the number of smartphone users was estimated to cross 2.87 billion by the year 2020. To fulfill the demands of modern clients, eCommerce business owners must implement strategies that offer an easy, seamless, and fast mobile shopping experience. This is the reason (demand of the user) why Progressive web App development and native mobile apps have earned prominence among business owners and brands.
So, which approach will give your business the right dimension? A native mobile app or a PWA. To settle on a reformed choice, you must have an idea about the drawbacks and pros of each approach. 
To simplify things more precisely, we have composed this guide about the differences between native apps and PWAs, and how business owners can earn maximum ROI from each approach. 

Progressive Web Applications
A Progressive web app is like a website that mimics more like a native mobile application. The principal contrast between a PWA and a native mobile app is that a PWA works in a browser. Hence, your user does not have to take any extra steps to install the app.
Because of service workers, Progressive Web Apps can save the information on a user's gadget by employing a cache. This will allow the user to stay updated consistently, regardless of the internet connection.
Note: Make sure you get in touch with the adroit PWA Development Company. They will come up with the best solutions that can help your business.
For instance, Twitter has a Progressive Web Application even though they have native mobile applications for Android and iOS. Below we have highlighted PWA Development Pros and cons.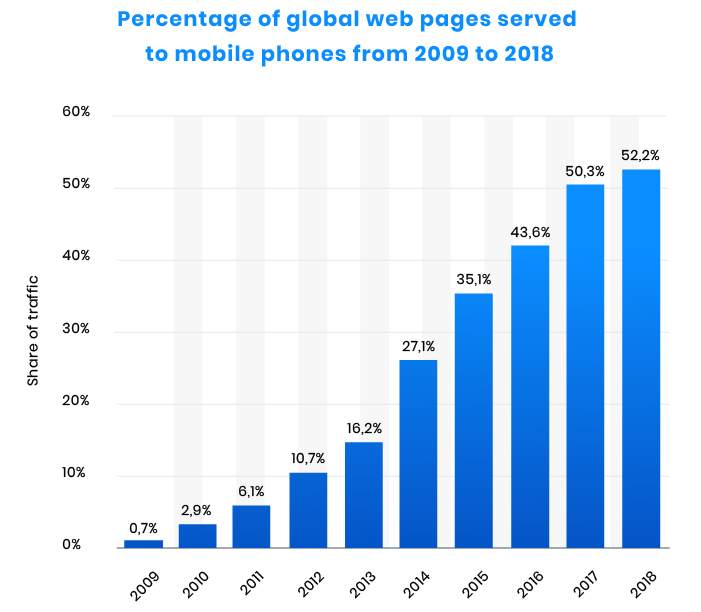 Source: Ruby Garage
Benefits of Progressive Web Applications
An extraordinary benefit of Progressive Web Apps over native applications is that you do not need an application store to establish your online business. As per the sources, there are almost 25% of smartphone users delete mobile apps because of lack of storage space. In the case of the PWA, the user does not have to install PWAs and utilize the space.
A PWA can operate smoothly in an offline mode, giving the access to users to visit the online store whenever and wherever. Hence, the user can always stay abreast with the latest product/ service launch.
PWAs have URLs and, thus, are indexed by Google. This implies that the users can undoubtedly discover a PWA with the help of a Search engine.
Fast and Cheap Development
These advanced technologies are easy, cheap, and faster to build than native apps. Constructing the native apps from scratch demands technologies that are specific for both platforms. In the case of Progressive Web Apps, the app will operate well by just employing JavaScript, CSS, and HTML.

Drawbacks of Progressive Web Applications
Featuring The Limitations
PWAs are just like the half applications, their functionalities are restricted. There are hardly a few features that Progressive Web Apps cannot utilize. For example, PWAs do not have any accessibility to contacts, alarms, bookmarking the browser, and alerts. Additionally, a PWA cannot intercept calls or SMS, get the phone number of the user, etc. 
No Geolocation For The Indoors
Progressive Web Applications cannot be accessed on Bluetooth, which is vital for indoor geolocation. 
Limited Support of Web Browser
Not all web browsers support this technology. PWAs are Android-driven, and they do not work well on Safari, a graphical web browser. Considering the fact that Safari is the main browser in the US, there is a huge risk of losing a huge mobile app audience if you are only using PWA. 
In comparison to native mobile apps, Progressive web applications do not have any access to the data of the consumer which includes social and contact profiles.
You cannot push notifications for the users of iOS and thus would be definite to the Android crowd. 
Due to this reason, e-store business owners can lose a huge set of targeted audiences.
What's more, with the PWA is that the users of iOS have to deal with issues such as limited space of storage. To set simply straight, the users of iOS have to download PWA on their home screen. This data will be stored offline for a maximum period of two weeks. 
After this, the cache would be removed. 
Native Mobile Applications 
These types of mobile apps are built to ideally operate on Android and iOS operating systems. It can utilize an absolute range of functionalities that a device can provide. To begin with native apps, you can easily install them from stores such as App Store or Google Play store. In the case of PWA, you do not have to go through a similar hurdle, but they (PWA) do not have unique features for the iOS operating system users.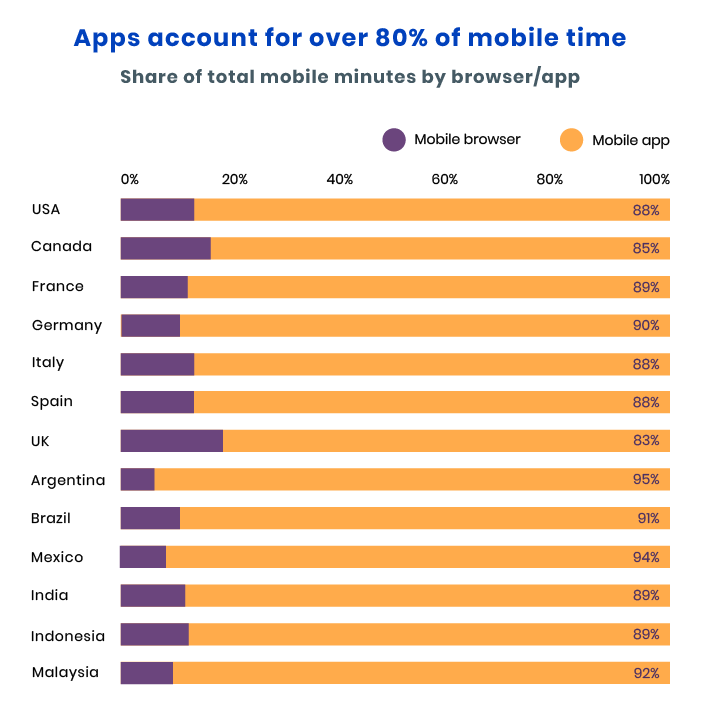 Source: Ruby Garage
Benefits of Native Mobile Apps
Extraordinary Performance

 
Since native apps are optimized and built for a precise platform, they offer an excellent level of performance. You can install native mobile apps directly on your smartphone. It allows the software to use the processing speed of the device. Since the data would already be stored on the device, the application can be loaded faster.
Remarkable User Experience
An application is a great hit among the users when it operates or works great. If you as a business owner want to publish your app on the app store then you must ensure that it is compiled as per the guidelines of Apple's human design for the launch.
A native app can interact well with other apps, which means that you can quickly get services from a third-party platform: from shipping via FedEx to authorization through Facebook. You can easily integrate the service with external platforms. 
In contrast to PWAs, a native app can utilize the features of the core operating system like geofencing. Using this feature, you can send push notifications to your potential users when they access the location.
Native apps offer excellent freedom in terms of user experience and interface. An e-store business owner can customize the store according to their requirement and establish themselves among their competitors by implementing exclusive features. 

The Cons of Native Apps
It is a very complex process to develop native apps. Hence, the development cost is very much high in comparison to PWA. You have to build an app for each store and operating system. Apart from that, you have to take your time for regular maintenance.
The user has to install the native apps to use it. This is an extra step for an online shopper. Hence, the shoppers may find PWA better. 
Progressive Web Apps vs Native app: Which one to opt for?
Both these approaches have their own drawbacks as well as strength. When choosing one of these platforms for your next project, give a thought on the below-mentioned aspects that each outdoes, and how can they fit with your vision:-
Consider Progressive Web Apps if:
You are just a start-up and looking for an app that is simple and engaging for your potential users: Your valued user does not have to install the app on their device and you as a business owner can easily interact with them by sending push notifications.

You are on a constraint on budget as well as time: it will hardly take any time and money to launch and develop the app.

You want to improvise the SEO and create awareness about your brand: PWAs are very much identical to websites. Hence, you can reach a wider audience.
Consider Native Apps When

 
You are planning to build the credibility of your business: Launching apps on the app store expands the reliability of your brand. These apps are more secure.

You want to use the feature of a progressive smartphone: If geofencing and detection or sensor are essential for your business then you must ensure that your app provides a great user experience. Other than this, when you have a product that needs more power of computing then you can opt for this option.

In a nutshell!!
As mentioned above, both PWA and Native apps have their benefits as well as disadvantages. Both are going to stay for a prolonged time. And regarding the choice, well, it is purely dependent upon your goals and the availability of the resource for your project. 
At MobileCoderz, our developers are trained exceptionally for both PWA and native app developments. We offer our esteemed clients a state-of-the-art solution for mobile and web. We aim to offer our clients realistic goals and achieve them within promised deadlines for satisfactory and guaranteed results. Our clientele encompasses brands such as Hyundai, Flyin, Somany, etc. 
Book a free demo with us today and see your project in action!!