In the world today, there are 6.378 billion people with smartphones, so you probably already know how important a mobile device is to your everyday life. 
The majority of Millennials and Gen Z carry their smartphones with them all the time. Before bed, we use our phones to watch our favorite TV shows and scroll through social media. We check messages and emails first thing in the morning, then email and catch up on news. 
Mobile commerce has evolved dramatically in recent years. Smartphone penetration has turned a mobile device into a new marketplace for businesses to reach their customers.

Businesses are now investing in mcommerce app development more than ever. Amazon, Capital One, Denny's, Domino's, Orbitz, Whole Foods are the popular brands that are making huge sales through the power of mobile commerce apps
On top of all that, our smartphones allow us to perform even the tiniest tasks throughout the day, including checking the weather, paying our bills, & getting directions. Recent years have seen mobile devices become popular platforms for online shopping – and that's when mobile commerce came into play.
The future of m-commerce is something retailers must keep an eye on. This is because we live in an age where consumers are using only  their smartphones and other mobile gadgets to browse and buy items. Hence mCommerce app development today is more essential than ever.  
Mobile commerce refers to the shopping, browsing, and selling of items and services via mobile devices. It's a smooth online shopping experience on tablets or mobile phones. In the M-commerce apps, you as a business owner have endless options to offer products to your customers and make revenue. 
Since nearly everyone has their mobile in their pocket, M-commerce seems logical. So, you can say that mobile-based commerce is the new leader for mobile industries. Let's find out more reasons why an mCommerce app is essential for your business.  
What is Mobile Commerce?
An electronic transaction completed with the aid of a mobile device, like a cell phone or a tablet, is called mobile commerce, or m-commerce. 
Through mobile commerce, people can buy and sell almost anything using their smartphone or tablet device regardless of location. Mobile commerce is, however, more than just electronic commerce in a mobile device.
According to projections, mobile ecommerce sales will account for 6% of all retail sales in the United States. According to Statista, by 2025, m-commerce sales will account for over 10% of all retail sales in the US, which represents an increase of 7 percentage points.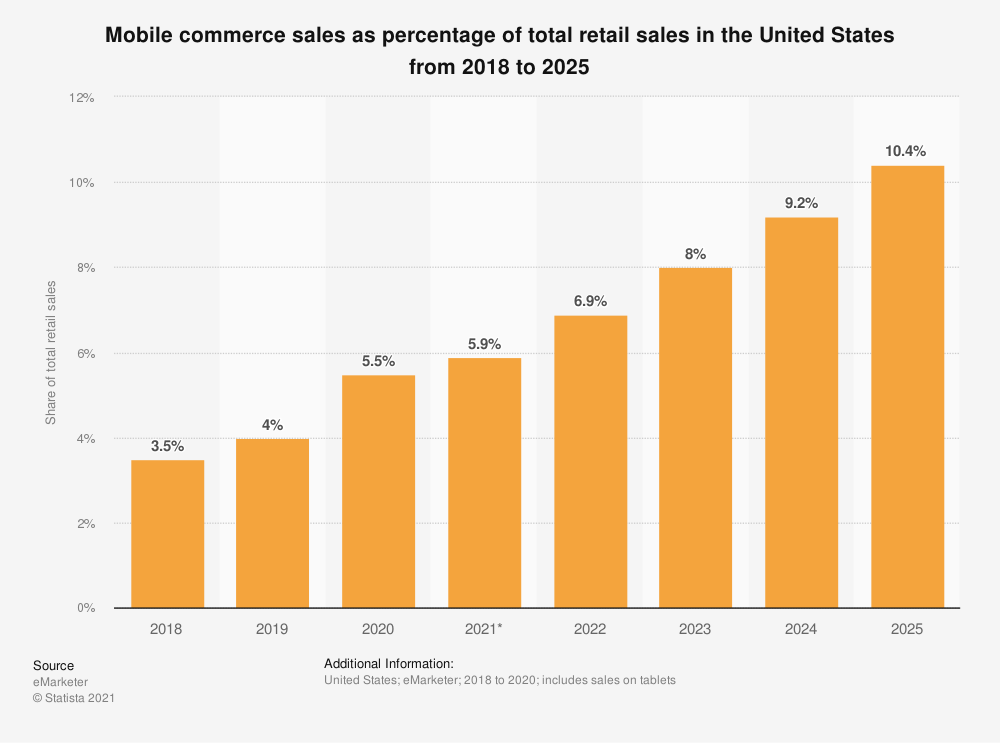 Why The World is Embracing Mobile Commerce Apps | Is It The Future Now?
In recent years, the use of mobile commerce (m-commerce) has grown faster than it has ever been before, which provides a new set of possibilities for businesses. 
This is a unique opportunity for businesses to boost their growth. So all businesses have now jumped on this bandwagon. This has started a mCommerce app development race.
1. Mobile Commerce is Growing
Mobile-based commerce is an incredibly expanding market with a lot of potential for companies. In 2022, it's predicted that 82% of eCommerce transactions will happen using only mobile devices.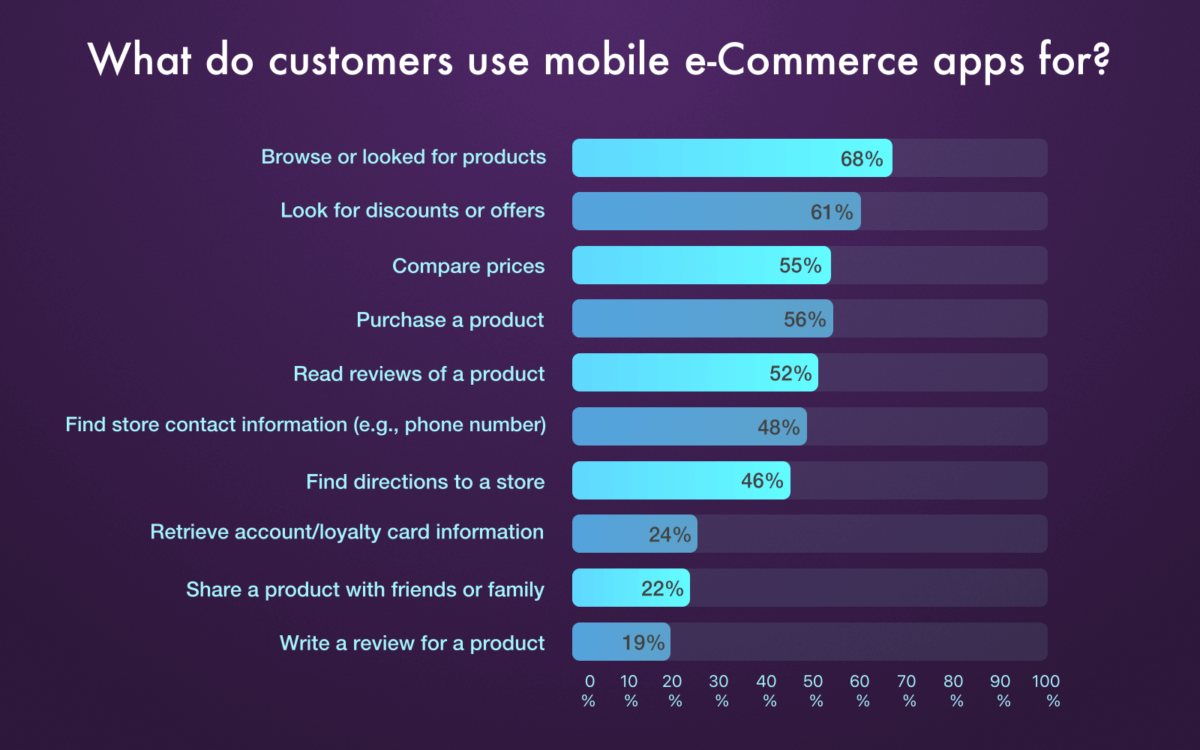 Due to its ease of use and convenience, mCommerce development is expected to rise in the coming years. It's an efficient way for companies to take a piece of this pie.
Of course, some will say that their sites are sufficient, but when compared, the mobile apps have more advantages as you can carry your mobile phone everywhere but not laptops or PCs.
2. Personalized Customer Experience
Mobile app development services are far better at retaining your customers. You no longer have to sign in to your customers' accounts and then complete a lengthy form every time they wish to pay. All information they require to purchase, including name, address, and payment details, are easily remembered and automatically entered to make shopping quick and simple.
Additionally, mobile apps will provide product recommendations based on buyers' past purchases. This can encourage customers to browse other options and could improve your profitability. So don't wait and hire a mCommerce app development company like MobileCoderz to get a personalized app experience.
3. More Marketing Channel
M Commerce app development gives you a powerful marketing tool to connect with your clients and guarantee a 100% rate. How? By using push notifications 
Push notification is a noticeable and efficient tool for grabbing users' attention and can only be utilized within mobile applications. Additionally, the combination of customer geo-targeting and push notification lets you instantly make special offers available to people near your company.
Install it for your customers to notify them in real-time regarding their purchases or a sale that is specifically designed for customers. Inform them of a special event or flash sale whenever they are close to your shop. Around 91% of customers consider these messages useful.
So, make sure your mobile app development company or developer adds push notifications feature. Through this, you can contact your customer at any point that you want, creating more personalized and thereby increasing mobile user engagement.

4. Improve Customer Service
Mobile apps allow businesses to assist their clients through direct communication, including live chat and messaging centers for managing customer relations. Customers can contact you via just a single tap instead of searching the site to locate the contact number.
With these features provided by mobile apps, businesses can interact with their clients at any point in their customer journey. Around 73% of consumers said that the support they receive from the business encourages them to buy more than they planned!
5. Improve Customer's Loyalty
The biggest benefit with mCommerce app development is that businesses can add features to attract more customers and build their loyalty.
As per Google research, around 58% of smartphone users use mobile apps to find discounts or offers. Also, 34% of users love to find some unique reward that comes with using an app.
Businesses can provide their customers with different loyalty plans through Mobile app development services. Customers can earn loyalty points when they make their purchases. The accumulation of points or exclusive discount codes could reward your most loyal customers and provide new customers with an incentive to purchase and keep coming back.
You can mix rewarding points with referral programs since customers are known to share their favorites and offer suggestions, particularly when they're recognized for their efforts! These loyalty programs will quickly grow your mobile user base and transform it into a marketing force for your business.
6. Engaging UX
An easy, quick, and enjoyable buying experience is what customers want and only the best mobile app development company can deliver it. According to an earlier Google study, of those who have made purchases using their mobile devices, 41% would prefer to purchase through apps for mobile devices, but the percentage of sites is just 34 percent. So, this is why all businesses must have their apps for mobile commerce.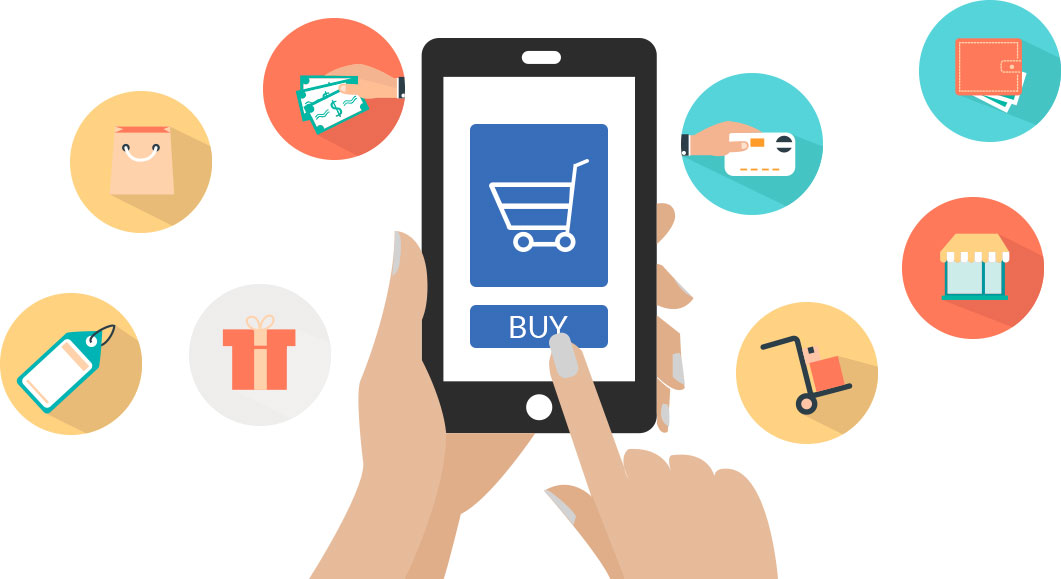 Mobile apps integrate with devices' built-in features. They feature mobile-friendly interfaces that work with all screen sizes while delivering speedy performance across multiple devices. Compared to responsive websites apps, apps are simpler to use and perform faster on mobile devices, allowing you to give your customers a seamless shopping experience.
A simple checkout process is vitally important. The simpler it is for shoppers to complete their purchase, the more they're motivated to complete the transaction. While mobile and desktop websites have average abandonment rates of 68 and 97%, respectively, However, the percentage for mobile apps is less than 20 percent!
Also, mCommerce app development protects customers' data. Due to the strict guidelines of the major application stores, the mobile applications must ensure their customers of absolute security receive approval and assistance from these stores.
When your customers interact with your company via the application, they aren't at risk of being exposed to any third party. This means greater protection for customers and, consequently, more trustworthiness for your company.
7. High Retention Rate
In traditional eCommerce sites, users return only when they are actually required to purchase something, and then you have to wait for the event to occur. But it isn't such a case with mobile shopping apps.
49.43% of users still use the app for a full month after downloading it, and after three months, the number is 35.31%. This is still quite satisfactory. Compared to just 37% of users retained for one month after downloading the apps in 2015, the figure is now really high.
Push notifications also can be effective in keeping customers. Send out push notifications of sales and promotions to keep customers back and encourage customers to spend more. This isn't a possibility for a site that is solely a mobile or desktop website.
10 MCommerce Apps Essential for Mobile Industries
Let's take a look at the top ten uses of M-commerce. You'll surely be impressed by the way mCommerce development operates and the significance of mobile phones.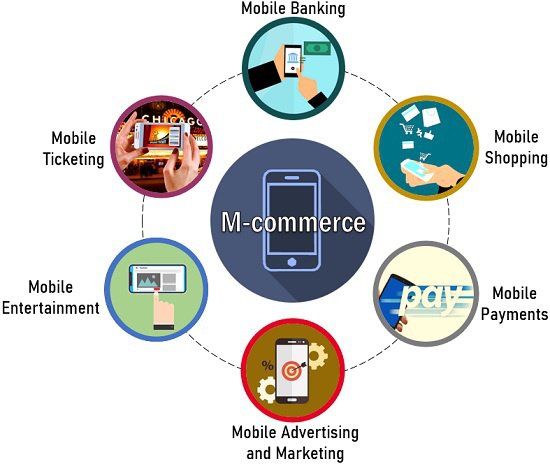 1. Mobile marketing and M-commerce: Businesses can promote their services and products by sending SMS messages to customers. Additionally, they can offer reward points to their customers to boost sales.
2. Transaction – People using mobile app development services can conduct transactions at any time and from any place. Even if they must pay for something, they can complete the transaction and be issued a receipt for the transaction. 
Customers can browse the product online for after-sales and retail services and get the cost and specifications. Additionally, they can purchase items or ask for assistance on the internet.
3. Reservations at hotels – You can reserve hotel rooms via smartphones online, making it easier for the customer.
4. Medicine and Healthcare: In addition to ordering medical equipment online, patients can communicate their health status to their doctor and receive assistance, making it simpler for people over 65 to access healthcare.
5. For Intraoffice Communications – Salespeople often have to look up the most recent prices and deals on the company's products even though they are not in the office. With mCommerce, they can access all information on their phones.
6. For Gaming– Online games are gaining popularity these times. Multiplayer games are accessible via smartphones.
7. For Information – Users can look up the latest news, cricket scores, and more. And students can check their exam results easily.
8. Mobile entertainment – People can access thousands of television programs, Web series, and films, all on their mobile phones.
9. Mobile Ticketing: You can book the tickets of trains or flights online without hassle traveling and waiting in line using only smartphones.
10. Retail M-commerce: Businesses use mCommerce development to support many retail apps also. If you run a business and are considering breaking into the world of M-commerce, you could make an online catalog of products to sell so that your customers can view it and purchase the products. 
This is a fantastic method for businesses to utilize M-commerce to gain the maximum when it comes to retail and mobile phones. You can hire a mCommerce app development company to carry out this project. 
mCommerce Apps are Now the Future of Commerce | Here's Why
If you are convinced or not, people's fascination with mobile applications has dramatically grown over the years. According to Statista reports, the number of downloads for apps was 204 billion in 2019. And the number is just increasing. 
This same report also claims that as of 2022, there will be over 3 million mobile applications accessible on the Google play store. This is 2 million on the Apple App Store. This shows that consumers are interested in mobile apps. So, the M Commerce app development is really essential for the mobile industry. 
A smooth user experience is another reason people prefer mobile apps over mobile-responsive websites. Mobile websites are great, but they're not the most effective. There are better alternatives that provide the experience that customers would like when they shop online. 
Progressive web applications (PWAs) and Native mobile applications are in this category.
In the case where PWAs are the most cost-effective choice for small-scale businesses, native mobile apps offer customers the fastest and most seamless mobile experience.
Some Last Words
Don't be left behind, and get onto the mobile commerce train this year. 2022 is a landmark year for those companies who want to invest in mCommerce. And if you want only the best mCommerce app development company and developers, please get in touch with MobileCoderz Technologies.
We are a reputed mCommerce app development company delivering mobile commerce apps and solutions to customers worldwide and helping them get more audience and profits.