The mobile application development industry presently is growing at a high speed. Technology is evolving each year at a faster pace, as a result, more new mobile app development trends are emerging. To be successful and survive in the digital age, businesses must remain ahead in learning the top mobile app development trends.
This article provides a detailed overview of the mobile app development trends that are boom in 2022. IoT, 5g, and AR & VR. Are you ready to explore the mobile app development industry?
Being up-to-date on the most current mobile app development trends helps you in developing a feature-rich and successful app.  By staying updated with the latest trends, you can attract customers and encourage them to use your mobile app regularly.

In this post, we will learn the top 10 mobile app development trends that will rule in 2022. These latest mobile app trends will help you stay ahead of your competitors and get maximum benefits from your app. Let's begin. 
What are the Top Mobile App Trends for 2022?
There are many innovative mobile app development trends that we have listed after doing extensive facts-based research. Let's go through them in detail.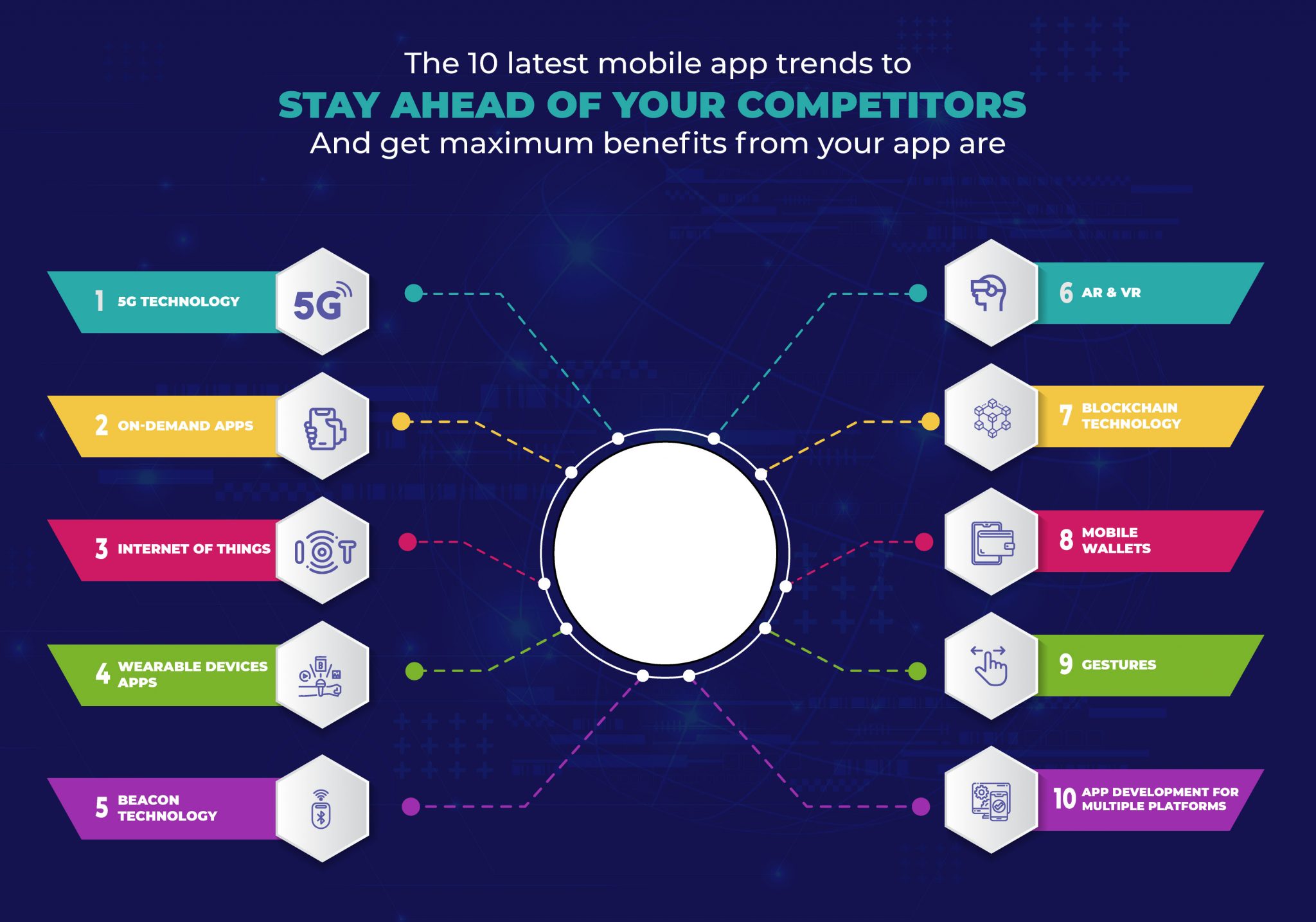 5G Technology
5G is already the talk of the town and is one of the most crucial mobile app development trends. It is a term that we hear often which is in the minds of everyone nowadays. 5G technology could also be a major influence on the industry of apps. 
The mobile application development trends will change the ways apps are developed and used. The number of connections to 5G is expected to triple in the upcoming year. Hence, this trend is likely to only increase.
For mobile app developers, 5G technology means creating faster, more effective, and adaptable applications that reflect the latest trend. It also means testing them at 5G speed at various stages of development. The development of this technology will enable developers to include more features in their mobile apps.
On-Demand Apps
It's always a classic in the current mobile app development trends and it is evolving each day to reflect the upcoming trends. We believe that all the mobile application development trends that we have listed in this article will be incorporated into the on-demand application and improve them. Thus, on-demand processors are regarded as the trend that will be the most talked about in 2022.
Delivery apps for groceries, food, alcohol, laundry and pharmaceuticals, clothing electronics, and many more are among the most popular on-demand solutions for 2022. Furthermore, service providers like plumbers, mechanics, carpenters, and electricians will be able to provide services when needed, through their usage. So, these mobile application development trends are surely important.
Internet of Things
The IoT is not a new concept when we discuss the mobile application development trends. It has, however, profound implications for the mobile app development market. This is why we include it on this list.
App development for mobile app devices is growing in popularity at the moment. A large number of contemporary buyers prefer to purchase smart electronic devices that one can control from smartphones using specially designed IoT applications.
The world is becoming increasingly connected with smart cars, home lighting, machines and so on. Naturally, we can predict how dominant IOT apps will be in the near future. This mobile app development trends for 2022 is something that all businesses must follow.
Wearable Devices Apps
Wearable devices are an aspect of the electronic consumer that suggests that users carry them around with them. Common examples include a smartwatch, a pair of headphones, a fitness tracker, and many more. 
Wearable devices aren't a new trend. However the significance and demand for this type of app are so mature that we've to mention these apps here. Wearables are continuing to transform the mobile app development market. 
In 2022, more mobile apps will be developed with wearable technology in mind. In the present, we see a growing number of app integrations that integrate wearables. Therefore, definitely, it's among the dominating mobile app development trends for 2022 for all industries.
Beacon Technology
Beacon technology is used in many different industries. It was first developed in 2013, and it has become one of the more fascinating mobile application development trends currently. Furthermore, the technology has found its application in nearly every industry from hospitality to healthcare and retail.
It works like this – If you're a reseller of a mobile app who develops mobile apps especially for retailers, your clients will be able to install beacons that connect to the phone of the user through Bluetooth. It's an excellent marketing tool that allows brands to improve the experience of customers.
Augmented and Virtual Reality Integration
The AL and VL integration is one of the most intriguing mobile app development trends for 2022. As you are aware social distancing technology has been booming since the year 2020 when COVID-19 began impacting industries.
But, did you realize that mobile apps have grown in popularity even more since then and are widely used in industries? It is because through these apps vendors and service providers can interact with their customers more intimately.
By these mobile app development trends, companies can present their services and products in the most efficient way. Additionally, consumers can view how an item would appear before buying it. Therefore, AR as well as VR are beneficial for both buyers and sellers. Hence these mobile application development trends must be followed by all businesses. 
Blockchain
Blockchain technology is among the top mobile app development trends that will rule in 2022. There's always been a major worry among users about the security of their data and how it can be misused. Luckily, blockchain solves these issues.
This technology permits you to develop decentralized databases. This is why it's becoming a trend. Simply put it doesn't require an individual service firm or service provider to act in the role of gatekeeper.
Because of its features and its characteristics, applications that utilize this type of technology are more secure. This is because nobody can alter the databases of users to access confidential information.
Mobile Wallets
One among many emerging mobile application trends includes digital money which is becoming increasingly well-known in the digital age. For a safe and secure alternative to make purchases, digital wallets are increasingly popular with modern-day customers.
You've probably heard of MobilePay, PayPal, ApplePay, and GooglePay and know how well-known they are. Also, you can recruit a mobile application development company to take more guidance on mobile wallets.
Nowadays, most banks have their own mobile apps wallets which allow you to perform any financial transaction including bill payments, online transfers, online shopping. You can even use your digital wallet in grocery stores and physical stores to substitute for your credit card.
Gestures
Gestures are one of the biggest mobile application trends that can enhance your experience as a user by prompting clear actions. They allow interactive navigation, which frees up the space on your phone. With this, you can focus on the content you are reading without getting distracted.
Moreover, in the coming years, animated gestures will create an app UX more dynamic. The growth of facial recognition is drawing much interest. Using this as an option to tapping and swipe gestures on the app's interface can make a big impact on people.
App Development for Multiple Platforms
We're always coming back to the topic of cross-platform development, isn't it? Well just to remind you, the development of cross-platform apps helps to create mobile applications that are compatible with different operating systems without modifying the codebase. 
In simple language, you can choose a mobile application development company and make an app that works on all operating systems. And all this is possible by using a single codebase to match the native look and feel of every platform.
Furthermore, by using cross-platform applications, you get a large audience. Not only this, multi-tasking allows users to select the device they want to launch the application on. So, this trend is surely a dominant trend that businesses must follow.
Last Words
There are over 6+ million apps available on Apple and Google combined. So, how can you ensure your app is visible to the users? Your app will not be successful unless you know the latest mobile app development trends to develop a solid feature-rich app.
So, to grow your business in today's technologically advanced and modern times, it's essential to keep current trends in mind. You can seek out the best services via a top mobile application development company.
You can contact MobileCoderz, an established mobile application development company that provides high-quality iOS, Android, and Hybrid mobile app services. Contact us today to get a feature-rich and intuitive app.
Hire us!!
MobileCoderz Technologies is an established mobile app development company with all its presence all across the globe. We are known for a high 98% retention rate. Our developers are extremely professional with the proper expertise.
Contact us and get a free quote today!!