Do you know how machine learning in blockchain & cryptocurrency is bringing a new phase?
Type "machine learning crypto trading bots" on Google, and see what did you find in the search results?
There are over 5 million search results. If you scroll down the page, you would see the page is filled with topics like using machine learning in blockchain and cryptocurrency trading. 

In 2018, the world's iconic car brand Porsche used machine learning with blockchain in their cars to allow users to trade data more securely. This ML integrated blockchain application gives better features for charging, parking, and improved accessibility to their car. 
CoinMarketCap is a popular price tracking web application for cryptocurrency. It not only gives accurate information about cryptocurrency price and but its predictability feature also allows users to discover new crypto assets. 
While blockchain and cryptocurrency are becoming a hot topic in the current market, machine learning is giving new power to these emerging technologies. ML has great abilities to simplify a process. If it is used in blockchain applications, it can empower the app to work better and when it is applied in cryptocurrency, it can predict the future price of a cryptocurrency and enable investors to make an informed decision. 
Feeling interested to know how useful is machine learning in blockchain & cryptocurrency? In this blog, you will learn this. But before that, let us understand…
How Machine Learning Works in Blockchain-Based Applications
ML algorithms are used in blockchain development to make the chain strong and secure. Through its computational power,  blockchain developers can make robust data sharing routes. ML models are applied in the blockchain network in the data stored which gives the existing system predictability and data analysis power. This is called a smart blockchain-based application where data is collected from multiple sources like IoT devices, sensors, and other smart devices to provide real-time data analytics or predictions.
Integrating machine learning and blockchain gives a web or mobile application more capabilities to use the data for different purposes like cryptocurrency price predictions, making a more secure system, etc. Here in the below picture, you can see how ML models are applied in blockchain-based applications.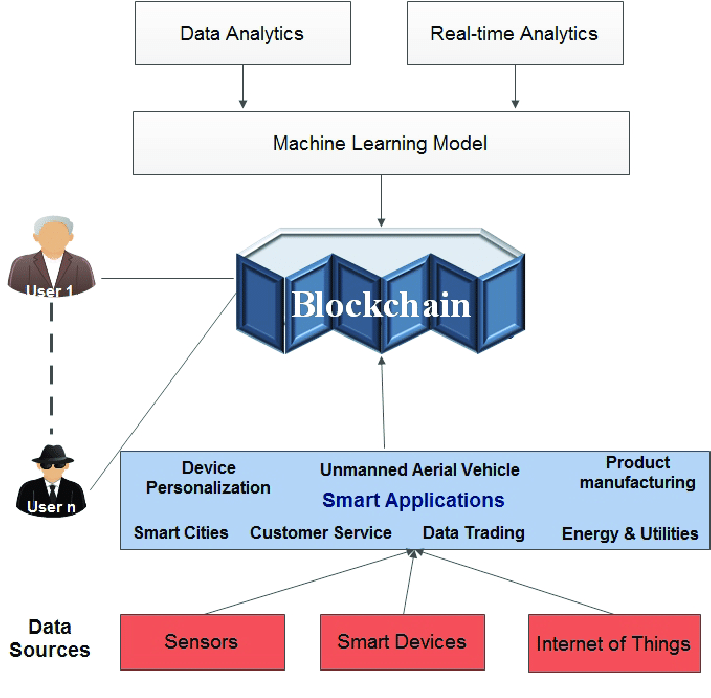 How Machine Learning Works in Cryptocurrency Trading
Cryptocurrency is built on a decentralized application using cryptography. Because it uses the blockchain to decentralize its data process, machine learning algorithms enable it to perform the next level of data processing like deep data analysis. For this, ML uses the following types of learning analytics that give a system enhanced predictability and security features. 
Supervised learning

Unsupervised learning

Semisupervised learning

Reinforcement learning
These machine learning algorithms are employed in the system for cryptocurrency trading. As per the recent study conducted by the University of Coimbra in Portugal, the most general kinds of ML models are mostly used for three trending cryptocurrencies-Bitcoin, Ethereum, and Litecoin.
This trend and research clearly show that with the right expertise and computational power machine learning can be successfully applied in cryptocurrency trading which will eventually give huge benefits to NFT collectors, cryptocurrency investors, and traders. And here are the following- 
Benefits of Using Machine Learning in Blockchain & Cryptocurrency
1. Better Customer Service
Employing ML algorithms in blockchain-based applications improves its functioning and provide enhanced features to any company or organization to serve their customer better. ML turns a blockchain application into an AutoML framework which makes the services work more efficiently by giving it automated capability. 
2. Product Manufacturing
Blockchain technology has already enabled manufacturing industries to produce with improved manufacturing planning and strategy. Integrating ML algorithms with blockchain-based applications allows engineers to make flexible plans for the maintenance of the machinery and manufacturing units. 
3. Data Trading
Blockchain development firms are using blockchain for data trading. They are not only able to manage the trading routes of the data easily but also use them for data validation and end-to-end encryption. And this is because of ML models being employed in the blockchain. 
4. Enhanced Surveillance System
Blockchain technology is known for its security capability that makes any system work securely while ensuring data protection. While blockchain allows industries, companies, agencies, and organizations to create a robust surveillance system for security monitoring, ML gives additional power to analyze the stored data for further analysis and drive useful insights to improve the surveillance system. 
5. Safe Payment Networks
Blockchain is based on a decentralized concept that allows frictionless payments at low transaction costs. As blockchain requires a set of private and public keys, the chances of theft or fraud are still possible in the system. 
However, by implementing the machine learning-based algorithms in the blockchain solutions, the existing system becomes robust and gets an additional layer of security that ensures the financial transactions are completely safe from both sides- seller and buyer. Some blockchain development companies also use AI & ML together in cryptocurrency transactions to make the cross-border payment system highly safe and eliminate all possible security vulnerabilities. 
6. Fast Financial Services with Better ROI
The FinTech industry is leveraging blockchain technology to provide speedy and safer financial services to their clients. As FinTech companies develop blockchain applications to offer blockchain-based SaaS products to businesses with ranging financial services, ML makes these products advanced by giving it automation capability. 
By integrating machine learning into blockchain-based products, companies are able to offer greater and faster financial services to their clients with better returns on investment. Take a look at the below data. As per the Deloitte report, 57% of organizations observed a considerable amount of saving in their costs due to the benefits of using machine learning in the blockchain.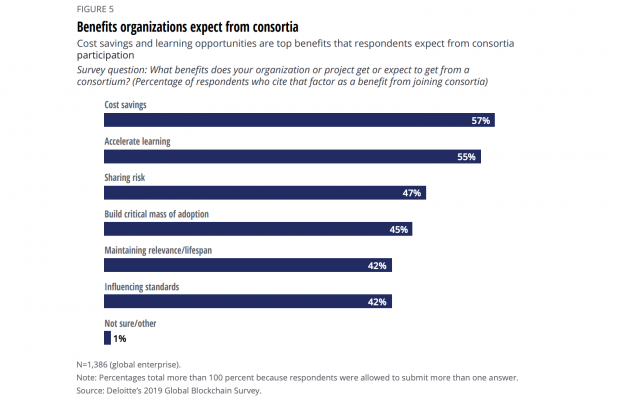 7. Intercepting Cryptojacking
Anything that goes digital gets prone to be hacked. And blockchain is no exception to it. Cryptojacking is one of those security enemies that steals important resources which are conducive to mining cryptocurrencies. Cryptojacking is the act of malicious or unauthorized mining of cryptocurrency. It is among the common cyber or hacking attacks in the age of growing blockchain trends.  
Today, when people are investing and transacting in cryptocurrencies more than ever, the need to make a secure cryptocurrency transaction or wallet is the hot concern for every company or individual investor. Here, ML comes like a savior for cryptocurrency in order to tackle Cryptojacking. 
A research team from the United States of America developed a method of detecting the presence of Cryptojacking or any malicious activities intended to hijack cryptocurrency resources called 'SiCaGCN'. 
The team found that by using deep learning techniques in the existing system they are able to detect the foreign bitcoin mining code. So ML could be highly useful in protecting a cryptocurrency from crypto hacking and other hacking attempts. 
Conclusion
Machine learning has great capability to empower any system. When it is used in blockchain and cryptocurrency, the existing system becomes highly safe and efficient. As the blockchain trends are growing across different industries, businesses are now looking for additional features that could provide them with secure and profitable blockchain-based solutions. 
Machine learning here gives advanced features with lots of benefits. It allows large to small companies to use blockchain and cryptocurrency more confidently and efficiently. If you want to develop such a blockchain-based application or make your cryptocurrency wallet and transactions safer and faster, MobileCoderz a top blockchain development company can assist you in this. 
We have a big team consisting of AI specialists, ML programmers, blockchain developers, and engineers who together work to create an advanced-scale blockchain solution with modern features that could help you generate high ROI. 
Just Schedule a Call Now and Speak with Our Experts