The season of joy, love, laughter, happiness is round the corner!!
Marked by splendor occasions like Halloween, Black Friday, Thanksgiving, Hanukkah, Christmas, and New Year, cue the calendar of celebrations. People on the phone might have already started discussing the niceties of the forthcoming Holiday season. This is a ripe period for both offline and online retailers to ramp up the best sales. Do you have plans or strategies to boost your sales? Marvel with eCommerce app development during this holiday season!!
Outrageous discounts and sales would be the flavor of this season. All the player-big, small, and middle-scale businesses will leave no stones unturned to boost their revenue. 

eMarketer shares, eCommerce via mobile phones will boom in the US this year. This is because young shoppers are tech-savvy. According to the graph (displayed below), the trend of mCommerce sales has expanded exponentially. 
Hence, you need to implement alluring characteristics for your eCommerce apps. An e-Commerce app development company can help you with holiday-ready strategies and ideas. They will assist you to join the bandwagon where your eCommerce business app will be searched, installed, and shopped more at. 
Let us first understand why you should go for eCommerce app development during the holiday season!! Check the graph below:-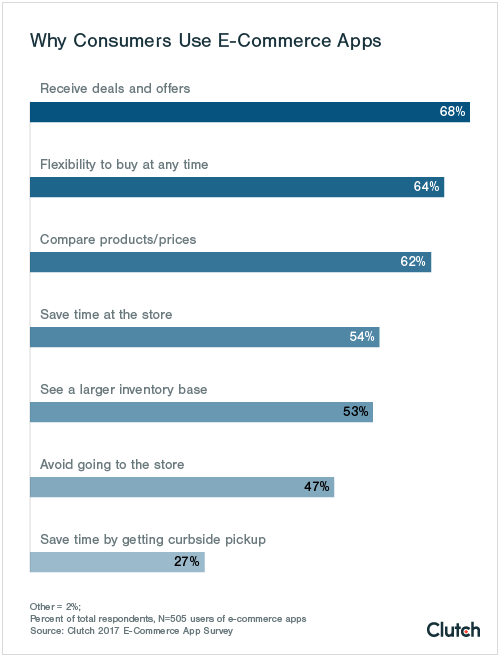 But it is highly disappointing that most eCommerce apps are deleted during the holiday season. As per the study by Alligatortek:–
e-Commerce is the fourth in line to be the most deleted apps after AI, health, and productivity.

So once the user deletes the app, 62% rarely turn back to those apps and download it again.
So, it is high time that you as a retailer give great incentives for your users. As many individuals would be using mobile apps to place their orders. 
Don't brainstorm your mind to think about the incentives at the last minute. You can give great discounts and deals in the form of a lucky draw. You can even give a bumper prize for unlocking the features like voice search and AR.
The Elementary Things That You Must Ponder Upon
So, before you develop your eCommerce apps, you must map your potential audience and the Operating System they are using. For example, the majority of the population loves using iOS phones followed by Android in the United States. 
Likewise, you must do local research about the audience where you have the plans to launch your app. Choose an experienced iOS app developer or hire an Android app developer from an established Android app development company. 
Here we have highlighted the best ways to develop your eCommerce apps for the holiday season:
Strategies for eCommerce App Development for The Holiday Season
Yes, you need to design your app according to the vibe of the holiday season. Make sure to go for an eCommerce app development that compels the customers towards your app. This denotes that you must certainly design holiday-specific categories. For instance, if your business offers the best quality diamond and gold jewelry then you must highlight it with special holiday discounts. 
Closely design your homepage. The best mobile app development company will provide customer-centric e-Commerce solutions in accordance with the holiday season. Without a doubt, we can say that your clients will be harmonized to use such eCommerce solution apps.
Implement features that give a holiday vibe
Features are the key elements that attract users to an eCommerce app. Hence, focus more on this while going for eCommerce app development. 
If you already have an eCommerce solution app, ensure to update the features. Hence, the users would be enforced to click on and purchase your product/ services. 
You must develop an eCommerce app for your users. If not, there won't be any purpose for them to stopover. Therefore, do detailed user and market research.
Make a point to run the contest. It is an excellent approach to attract a user to your online store. The best eCommerce app development company will share great strategies for conversion rate optimization. This can help you bag maximum sales this holiday season.
This is yet another strategy that can help you earn maximum sales. Customers tend to go through the notifications on their smartphones. According to the sources, Push Notifications have raised the bar for promotions and sales.
To stay ahead of your competitors, you need to evolve with this strategy and grab maximum conversions. The holiday season will give you a great opportunity to establish yourself as a mobile-ready brand. You can hire the best eCommerce app development company and get detailed insight into this strategy. 
Plan the return policy today
Even though this can be a deadly thing for your business. There is no doubt that this can affect the profit margins and gut the conversion rates. Hence, a great threat to your business. 
So, before you hire the eCommerce mobile app development company, have a detailed plan of action with your team. 
You must certainly include it for your eCommerce app development. This conversational eCommerce solution has raised 8x times the conversion rate. Massive brands such as Pizza Hut, Starbucks, etc., have implemented this feature to have human-like and interactive conversations. 
So, make sure to hire an e-Commerce app development company that is adept with Chatbots. 
Improve the loading speed of the app
This is the first thing that you must concentrate on. Make sure to have a detailed discussion with the mobile app development company. 
The users will leave your app if your eCommerce solution app takes a long time to load. The best eCommerce app development company will ensure to optimize the content and implement lighter elements.  They will have knowledge about the holiday season spike. Thus, they will develop an eCommerce app that is interactive and user-friendly.
This is the recent trend that has spiked the attention of the user. So, why miss this for eCommerce app development this holiday season. The users might have questions related to your services or products. You can solve all their queries by using this feature. 
Ask the eCommerce app development company to display your best product/ services and feature them uniquely.
Simple controls for navigation
The best eCommerce app development companies will help your users to have a cakewalk experience while navigating through your app. They will use a distinct type of contextual analysis to improve the navigation.
So, get the best mobile app development services today and expand your conversion rate and customer base.
MobileCoderz Technologies is an ISO 9001:2015 certified and the best eCommerce app development company. Our procedure driven has helped us to earn a remarkable name in the global market. We are known for our agile methodology and quality measures for eCommerce app development. 
Our team is proficient to develop and launch industry-leading products. We are adept in working with advanced innovations like AR/VR, Blockchain, etc. Our professionals can help you launch business-driven eCommerce apps on different platforms. We offer:-
web app development services

iOS app development services

Cross-platform development services

Android app development services
Get in touch with us today and develop/ update your eCommerce apps at reasonable rates.