Today, the estimated costs of any mobile app project seem to vary between the ranges of $100,000 to $1,000,000 as per the data collected from a past few years. Since the mobile app market continues to expand at an expeditious rate, more & more businesses are desperately examining the consequences of a significant rise in mobile app development cost in 2020. Although mobile app users are all around most of the businesses restrict themselves from investing in a mobile app project due to insufficient details & insights of the required budget. While most of the people prefer switching to apps for gaming, communicating, food ordering, taxi booking, sports, entertainment, & more, estimating the precise cost of getting a mobile app is a big matter for many budding businesses in the market.
Before making a final decision for getting a mobile app, you might be in the dilemma of whether to invest in it or not. Think about a simple app with standard features, all of the efforts & time required for its creation will decide its costing. It can be said that the costs of mobile app development project depend on the complexity of its development process and resources used for its progress. Therefore, if you're looking for a mobile app development service provider to get an app with stunning design and engaging features & out-of-box functionalities then you must consider all important factors to estimate the precise costs of your project & here are they.
Also Read: A 5-Point Checklist of Product Pricing Strategies for Mobile App

Project requirements- The costing depends on the platform, features, & functionality of the app.
Simple & complex- The estimated pricing of a complex app exceeds $1,000,000 which is higher than simple apps that usually cost around $25,000.
Freelancer VS agency: A reputed mobile app development agency will cost you more as compared to a freelancer or newbie. It's your choice whether to pay for quality or go for the low-budget project.
Scope of a project: Full-scale app development starts from scratch and goes through the phases of designing, development, testing, maintenance & support, & marketing. Therefore, the overall costs depend on the project's scope & services availed by the client.
Apps that use back-end servers demand multiple integrations resulting in more expense.
The above factors are important considerations for pricing app development as costs vary from project to project. It depends on your preference to choose between an offshore development company like MobileCoderz and an independent developer for your dream project. There is a drastic difference b/w the costs breakdown of an app based on back-end server & one with integrated APIs.
Some surprising statistics to refine our study on mobile app development cost
According to a study by Jason Calacanis, startups raise over $750,000 in the first round of funding for a mobile app. He further explains that this funding is being defined on the basis of the involvement of a team of four or five experts who're focused on completing the app project within four or six months.  As far as the summation of monthly charges of a development team is considered, the estimated costs will vary b/w $140,000 to $210,000 in the year 2020.
One more mobile app market analyst suggests that approx $50,000 are spent on building initial prototypes along with team working on a project that will add on to a projected product budget range of $90,000 to $140,000.
Apps like Uber demand initial funding of around $1,500,000 as their architectural designing & development process goes around the integration of a robust back-end server. Though the apps build for tablet & smartphone need the complex user interface to compel users, their UI/UX designing will cost you b/w $250,000 to $1,500,000.
Categorizing app types to estimate app development cost
From zero to uncertainly high rates reaching to millions, iOS & Android app development costs in 2020 will depend on the complexity & timeline for project completion. Hence I categorize the types of apps into 3 groups (simple, moderate, & complex) to predict their average development costs.
Simple apps (More than $40,000):
With the simplest user interface, these apps showcase features standard features like an email subscription, calendar, social login, user profile, & more. API integration, back-end, & standard UI elements are absent.
Moderate apps (More than $80,000):
They feature custom UI, payment gateways, API integration, back-end server, headsets & tablets responsiveness, & more add-ons.
Complex apps ($150,000 approx.):
They're leveraged with multilingual support, fully-customized graphics, complicated back-end server, real-time functionalities, third-party integrations, etc.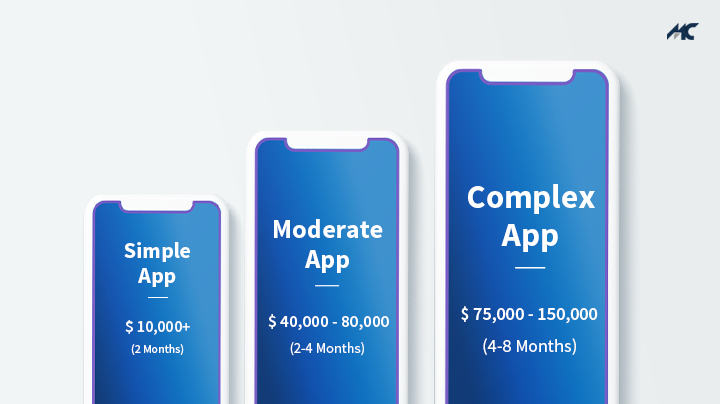 The above classification of app type doesn't end here as I can elaborate one more list of the type of apps to let you estimate the app development costs in 2020. Let us go ahead with the further insights of costs of apps from different categories enlisted below:
Native apps:
They're high-performing apps with large & bulky architecture to meet the highest standards of inescapable user experience, scalability, & optimization. They use the device's APIs to provide uninterrupted access to the extraordinary feature. Most of the app to business, media & entertainment, education industries are native. Native app development is a costly affair as they're exceptionally developed to run on a specific platform and they involve a huge team of mobile app developers working on a single project.
Hybrid apps:
Referred to as cross-platform apps, most of the entrepreneurs invest in their development to connect to a wider user base at a time. The mobile app development cost for hybrid apps is lesser as compared to native apps as developers use a single code base to build them. Many small & medium communication apps are lesser optimized and they don't need access to APIs.
Database-powered apps:
These types of complex apps are leveraged with advanced functionalities & demand the storage of massive data in the webserver & device memory. Several native apps are there that use the device's memory for data storage & integrated with features like internet connections, camera, & other add-ons.
Gaming apps:
High-quality gaming apps with 3D graphics, AR support, user ratings, & social media integration. It is obvious that complex games cost more & you can't estimate exactly how much an app project will cost you. For example, the mobile development cost of Angry birds costs nearly $140,000 and it generated around $70 million in the first year of its launch.
Conclusion
According to a report by Outsystems as State of app development in 2017, 80% of mobile apps are built in 3 months while 40% of applications are fully developed in 6 months or more. Well, developing an app is a time-consuming task & the mobile app development costs in 2020 will vary as per the required functionalities & features to be integrated. If your project demands some exclusive features such as user login, push notifications, navigation, media content, Geolocation, messaging, geolocation, in-app purchases, streaming, & more, then development charges will vary accordingly!