The moment your idea of investing in a mobile app project surpasses beyond the development part, the actual phase of product pricing comes at a center stage. On the verge of brand promotion for establishing your business, every entrepreneur strategizes to make money not only by creating a mobile app but also by outlining the right product pricing strategies for mobile app to yield maximum revenues in minimal timeline.
The majority of Appreneurs laid down all of their focus on the key phases of mobile app development that significantly revolves around ideation, wireframing, designing, prototyping, development, testing, & deployment. However, pricing your product is one of the crucial aspects of generating high revenues via mobile app. Product pricing sounds interesting but determining its right value is tougher than you can imagine.
So, if you're stuck at this point, we will throw some lights on some key product pricing strategies that are crucial for gathering initial traction & presence on both the app stores.

An Overview of Product Pricing Strategies for Mobile App
Pricing strategy is all about making money from your app. Even though you've cultivated an out-of-box app idea in mind, it won't yield designated profits without a business model. While most of app development companies are more concerned about introducing a Minimum Viable Project, implementing a robust product pricing strategy will do wonders to your business.
Also Read: Strategies To Convert Your Leads Into Customers
After getting on full-scale mobile app development project, what's the next big thing on your mind? Surely, you must be thinking of how to price your mobile app or How to charge its potential users for availing desired services?
Generally, free apps tend to attract more downloads with potential to stretch out user base with ultimate potential of market penetration. On the other hand, paid apps with high pricing charges generate higher revenues to profit any business in a shorter span of time. Hence, without a product pricing strategy, it is unpredictable whether a mobile app will survive in the market or not. In the competitive industry, pricing your product accurately is necessary to achieve higher retention rate with increased app downloads.
Even though your mobile app's interface is designed to compel users with every click, it won't retrieve the desired results if it doesn't fit in the pipeline of profit-centric pricing model.
Now, after getting a brief knowledge about product pricing, you might have understood the significance of deciding a business-oriented pricing model of your product for business success. So, we're unveiling top 10 product pricing strategies that every mobile app developer must consider for his project.
Let us continue from here:
Know If the Market is Convinced to Pay for Your Product or Not
It is simple, if your app idea is inspired from one that already exists in the market then you can set its pricing as per the existing expectations. However, in case if your app is extraordinary or unique then it is prerequisite to consider the demand of potential users & their willingness to pay for it.
One must get started to set a pricing bracket for your product and present it in the market to analyze the response of target audience towards it. That's a right way to test the price of your mobile app & see how the crowd responds to it.
In the beginning, many mobile app developers start selling their product for free with an intention to generate revenues from external sources, however, they regret later as it degrades the value of the product. Hence, they won't be able to set pricing of a product even if its upgraded version is introduced at low prices.
Consider the Behaviour & Preferences of Target Audience  
Understanding the customer behaviour in mind is a first & important step to strategic product pricing. Target the potential users of your mobile app & know their requirements, likes, & dislikes to know them to escalate the scope of advancements in your business goals.
Do not underestimate your customers as now they're familiar with several ways to make smart decision when it comes to choosing a product as per their budget. Therefore, to gain customers' interest in buying your product, you should make sure that its actual value is greater than its market price.
Set your goals to make your customers feel that the price of selected product is right as per the market rates and it seems reasonable to accept your product's price if users don't have reference points to consider with it.
It is a well-known fact that buyers explore the market to compare prices along with pros & cons before finalizing their purchases. Therefore, it is important to consider other products existing in the market so that you can ensure that offered value in higher than that of your competitors.
Conduct Research Work to Know Your Competitors
If your product pricing strategy is centred on market-driven approach then you're on the route of mobile app success. Get across the competitive landscape & explore the industry to compete with the existing Apprenuers & establish extensive user base in the global market.
Most mobile app development companies launch their products at comparatively lower prices than their competitors & get a benefit of achieving higher ROI in lesser timeline.
In addition to this, you must not forget to perceive the product's price through customers' viewpoint to mark the right pricing of your mobile app. Getting into deep market research will not help you get familiar with the customers' demand but also let you know the key ways to add value to your product.
Choose Between Paid and Free Version
Paid or free? The most peculiar product pricing strategy revolves around these two considerable aspects of deciding the right price of your product after full-cycle mobile app development. If you've launched premium version of your app then it users will expect something exclusive & out-of-box that must not be accessible to unpaid users.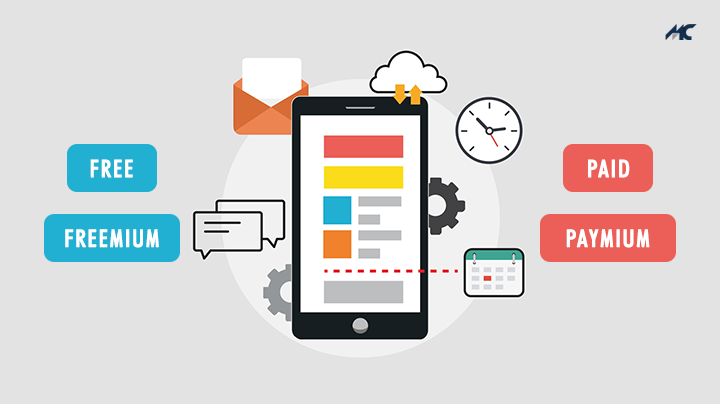 Launching a paid app also means that users don't have to pay every time your mobile app gets an upgrade. Moreover, ensure that your app serves the relevant value with in-app purchase option if a customer decides to opt for paid version.
Remember, taking inspiration from your competitors is a good practice to set your business in the market. It is obvious that your product won't gain the desired popularity with paid features specifically in the presence of apps that are available for free.
Define Pricing that Can be Sustained for Business on a Long Run
Every product development cycle goes around some crucial considerations that are favourable to streamline your decision-making process and here are they:
The subscription acts as an option to commit and stay loyal to customers. In addition to this, you must know that offering subscriptions to users will let you determine a fruitful way to revenue stream.
You must know that how much the market can afford as you will be having countless opportunities to offer in-app upgrades with your business. Don't forget to keep one thing in mind that customer products are highly competitive and thus, their pricing must be done appropriately in a suitable manner.
Nothing is predictable with a product idea that might or might not survive for more than six months. Therefore, make sure that product pricing must be reasonable to be sustained with your business in the long term.
Conclusion
Since the market continues to witness consistent ups and down, you must ensure that your product pricing strategy is competent enough to survive in the industry. Whether you're an independent developer or a well-established mobile app development service provider, product pricing is a significant factor behind its anticipated success in the market.