Digital technology has brought together our physical and digital worlds. Every interaction between connected items can be recorded, monitored, and adjusted by digital systems. It is interesting to note that by 2026, we will have more connected devices than the Earth's population. Wait, there's more to the phenomenon than meets the eye. IoT is the Internet of Things. This IoT App Development refers to an ecosystem made up of physical objects accessible via the internet.
The heart monitors have built-in sensors that can transmit and collect data over the internet. They are designed to monitor, analyze, and understand the natural world in light of human needs.
Amazon's Alexa, Google Assistant, & Google Assistant serve as an interface between humans and the interconnected network of devices. Different businesses have adopted the technology to gain an edge over their competition.

In digitized times, mobile devices serve as the primary interface for IoT app development-enabled devices. Learn about the impact of IoT application development on mobile app development. Let's get to it.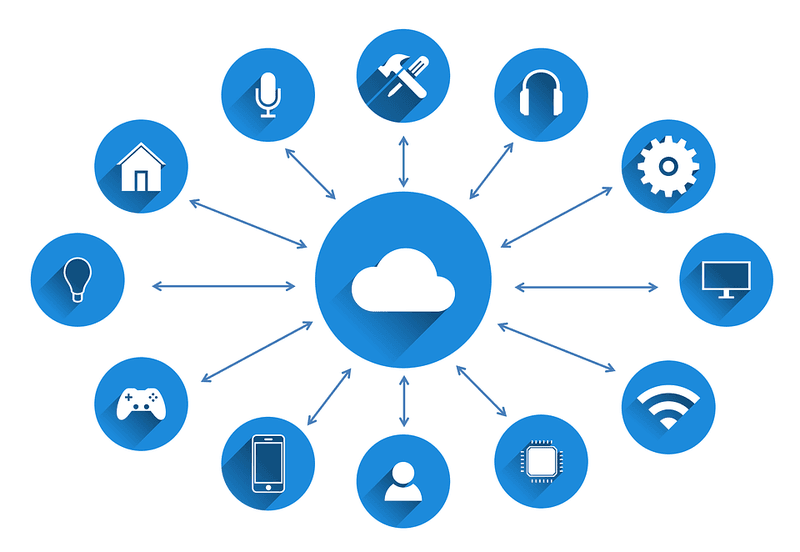 Internet Of Things: What is it?
IoT (Internet of Things) refers to connected networks of devices. You can create an inherent connection between these devices anywhere you like, in your house or at work. For example, you could connect to a retail shop, manufacturing unit, or other physical location.
These devices could include smart gadgets that are easily accessible and can be controlled from anywhere. It is used by many industries. IoT application development has experienced a huge surge in technical innovation.
When technology is enabled by the appropriate capabilities of mobility, it seems to be able to achieve new milestones in innovation, user experience, business performance, and even profitability. Many industries are working together to create apps that are intuitive and easy to use.
Smart Insights estimates that 90% of people spend time using mobile phones for apps. Mobile apps have been very ubiquitous in the current years. They have also started to have an impact on IoT App Development. It isn't a vague statement about how IoT has affected the mobile industry. It is predicted that 2.3 billion smartphones will be integrated with IoT.

IoT App Development: Is it Beneficial or Not??
#1.     Flexibility
Customers appreciate accessibility today. Combining IoT and mobile app development allows customers to instantly access any physical object from anywhere using their mobile phones. Hire IoT app developers and a reliable IoT app development company.
Your IoT application development company will make sure your mobile app with IoT capabilities grows with IoT platforms' increased capabilities and the increased use of networks of users.
#2.     Important Insights
IoT can be described as a system consisting of many interconnected devices and sensors, servers, etc. You can use that information in real-time to make informed decisions about the consumer's buying habits and behavior. By using that information you can adapt your business processes accordingly.
You might make necessary inventory adjustments, or even revamp your marketing strategies and products. Marketing driven by data can assist you to compete more effectively. With IoT application development, it is also possible to deliver a personalized & more tailored customer experience.
#3.     Entering a Niche Market
IoT benefits can be irresistible, yet many businesses have not taken advantage of IoT app development services. They don't realize how IoT can be used to create mobile applications customized for their customers. You must therefore hire IoT app developers to gain access to this niche market.
IoT App Development Impacts Mobile Application Development: How!!
#1.     Offers a Centralized Application
IoT app development has many options and possibilities. It is a platform that allows users and developers to manage multiple devices from one place. This has simplified the management process and resulted in lower costs for app developers as well as end-users.
#2.     Provides High-End security
IoT application development opens up a new range of entry points that could pose serious security risks to applications. It is much easier for cybercriminals, in the end, to gain access to the data. App developers must be aware of cybersecurity in order to prevent any cybercrime.
#3.     Supports Dynamic Mobile Apps
It is not a secret that IoT app development can make mobile applications more interactive. IoT also offers new personalization options. A mobile app can be relevant and kept up-to-date by IoT functions and beat the competition.
It also allows for easy customization of mobile enterprise apps, which is a key advantage for businesses. Many of them use connected devices to order supplies and make repairs in the office. Similar to businesses, they can streamline their processes, reduce downtime, improve employee productivity, and maintain their office equipment.
#4.     Delivers Hybrid Applications
Who wouldn't love to explore new ideas right now? We all want to improve our interaction in the future. Mobile app development companies use current UI/UX technology and advanced code to build hybrid apps
#5.     Guaranteed Convenience
Globally, most people are mobile internet users. Therefore, they are able to control the entire IoT network from anywhere. Additional functions, such as social network integration and notifications, can be added to the IoT Mobile App.
IoT application development streamlines not only the lives of customers but also the providers of IoT services for application development. To develop an app for mobile phones, developers don't necessarily need to invest a lot of time and resources. Even so, they can make apps more engaging and user-friendly.
#6.     Independent of Location
With IoT apps, you can use them anywhere, anytime. You can manage all aspects of your IoT ecosystem through one mobile application. The IoT is location-independent.
You can use your accessories to automate tasks with the iPhone's Home app. Your mobile app can be notified by HomeKit cameras or video doorbells when your family members and friends arrive at the doorstep.
Location is no longer a limitation and can manage the IoT network using your mobile app. This is just one of the many benefits IoT app development offers.
#7.     Cuts Down on Human Effort
IoT is a network that enables you to establish connections with multiple devices & apps. It also acts as a management system for the whole system. IoT allows mobile devices to track the location of your taxi, turn on the light, and many other things. The developers and the end-users have also found it simpler. It allows users to control multiple devices from one device. This also cuts down on the time developers spend creating applications.
IoT App Development: Big Challenges Prevail
Internet of Things (IoT) platforms run in the cloud. They are linked through a central server, which acts as an internet provider for smart devices. However, this allows data to be transferred quickly. There are still some issues.
#1.     IoT App Development Is Not Privacy-Friendly
IoT can be a privacy breach for many consumers. Studies have shown that IoT mobile applications can lead to privacy breaches.
#2.     Development of IoT apps lacks Security
Security is the key issue in IoT application development. Because of the interconnected devices, it can be difficult to secure each device and protect the user's patterns. The number of devices connected to the network is a sign that there are more security risks and vulnerabilities.
These security threats mostly focus on attacks against cloud services. Hackers with advanced skills find cloud servers attractive targets because they store heavy amounts of private data. These attacks often result in financial losses between $45 billion to $115 billion.
#3.     A Lack of Trust in IoT Application Development
IoT platforms store data that cannot be trusted 100%. We cannot determine if the data has been altered before sending. One example is that the major car-sharing service providers do not offer an application that allows users to share maps. They will have to collect and store this data.
It is possible to hire an app developer with expertise in the IoT concept. In this way, you can develop an IoT app that is seamlessly performing and can help your business take off.
MobileCoderz, an established IoT App Development Company, provides dedicated app resources to help you maximize the IoT system. Our talented developers create robust mobile apps that meet complex business needs and keep up with the increasing competition.
The Bottom Line
It is clear that IoT is the next big digital revolution in the technology industry. This technology was developed when people needed advanced technology to meet their needs. The market for IoT app development is growing rapidly. IoT has been highlighted because mobile is the most convenient device, and it is used by the majority of people. Moreover, it is also proving to be a boon for developers.