Technology is surging over the past few decades. From the kitchen to the cash register, Restaurant technology has played a vital role. It has totally changed the way restaurants operate. Every now and then, innovators havoc the market with their new digital solutions. 
This revolution has totally changed the workflow of the restaurants. In short, it has made the process simpler, quicker, and profitable.
Nowadays, restaurants can deliver food in various methods. They can also get their orders delivered to the doorstep. The user does not have to wait for long queues to get their order on the way. They can opt for a takeaway option. They simply have to place the order from the app and click the takeaway option. On the way from the office or home, he can pick the order and get going. Isn't it great? 

Even guests can use the technology for ordering, reservation or booking tables, scheduling, etc. A hassle-free experience both for the customers and restaurant authorities. enjoyable and innovative experiences. 
The sales in the United States in this niche alone went above $700 billion annually. You as a business owner should understand that the competition is fierce in the market. You must understand your customer's expectations. 
Some Stats and Facts 
Mintel

reported, 63% of guests accept that online booking food is more convenient. It is best in comparison to going out to dine with their family. Especially amid the COVID-19 pandemic, it has added perks. 

7shifts

predicted more than 80% of restaurants are adopting tech innovation. It has helped them in their operations. It includes services like reservations, online ordering, and restaurant analytics. 

According to

fast-casual

, 68% of clients admitted loved their dining adventure over time.
As per the statistics, the growth of this restaurant tech innovation has been initiated more. This is due to the occurrence of the pandemic in 2019. It is said that it will continue to grow.

WHAT IS RESTAURANT TECHNOLOGY? 
Technologies are modifying the restaurant industry in a better way. Restaurants have moved from the traditional way. From getting orders on notepads or reserving tables through phone calls, everything gets better. 
5 TECHNOLOGIES TRANSFORMING RESTAURANT INDUSTRY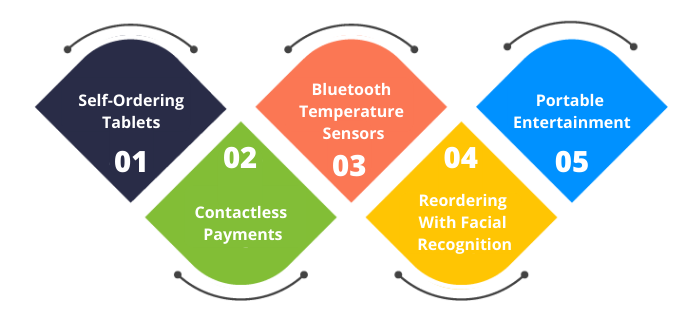 Self-Ordering Tablets

Traditional ordering has always been hectic and troublesome. Long gone are those days when to wait for the waiter or waitress to come and note down orders from the consumers. Now, you do not have to wait in the queues. It can be minimized by employing the secret weapon "self-ordering tablets".  This restaurant technology permits guests to order with the help of their smartphones. One can manage everything without the involvement of waiters and waitresses. You can order any time as per your convenience in the restaurant.

Contactless payments

Since the occurrence of the pandemic, the technology of contactless payment methods has increased drastically. This contactless payment method has successfully been able to ensure the customers, safety, and security. It gets rid of the insecurity of having visible connections or contact between customers and employees in the restaurants.

Bluetooth Temperature Sensors

There are many important measures for food security by Hazard Analysis Critical Control Points for restaurants. This is one of the reasons Bluetooth temperature sensors are installed in restaurants to assure they are following the guidelines. It ensures that the quality of tools and food are good to be used and served.

Reordering With Facial Recognition

It is a great innovation for restaurants. This Technology offers guests to re-order with facial identification. This restaurant technology ensures consistency and helps build long-lasting relationships between business and customer. One can offer their guests away to again order desirable foods on the menu without delay.

Portable Entertainment

Restaurant apps are not just for ordering and payments but also offer entertainment like trivia and games. Guests can also join national contesting 7 days per week and 15 hours per day.

7 WAYS TO HOW RESTAURANT TECHNOLOGY IS CHANGING IN BUSINESS 
Reservation regulation Tech

Supplier and Employee Orientation

Quality Control Technology 

Food and Drinks Tech

Scheduling Tech

Private Dining Tech 

Waste Regulation Tech
RESERVATION REGULATION TECH
There are many sites online where you can find an enormous number of restaurants for reserving tables. It can be for certain uncommon occasions, a relaxing night, etc. This tech innovation enables you to find restaurants easily and quickly. You don't need to hunt for restaurants manually beforehand by calling or going to every restaurant. 
SUPPLIER AND EMPLOYEE ORIENTATION TECH
This tech allows hired suppliers and employees to have a tour of the facilities the restaurant offers. This is done with the assistance of programming applications and headsets. Apprentice can easily get trained with this tech not needing to physically be present in the restaurant. Furthermore, it doesn't involve any extra cost or pricing. They can continue their learning anywhere. 
Also, it doesn't involve any extra cost or pricing. Also, it offers you to keep your attention on other principle points of your merchandising. It includes customer involvement and employee output.
QUALITY CONTROL TECHNOLOGY 
The craftsmanship and characteristics of food have always been a worry among people. It does not matter how big or small a restaurant is. Quality control, not just concerns with the quality of food but also the process foods go through. This includes the supply of food materials, the process of cooking, way of delivering, serving quality, and more such steps. Guests tend to be faithful to restaurants that offer lucidity. This tech innovation provides proper monitoring of the food processing method, from supply to making to serving. 
FOOD AND DRINKS TECH
Keeping track of the food and drinks in the restaurants is a critical procedure. Numerous sites will help restaurants maintain balance in their products. The food regulation tech innovation online makes the procedure convenient. It can be managed with the help of computerized catalog counts and invoices. 
SCHEDULING TECH
The traditional or manual way of scheduling an employee's timetable has always been a complicated process. Scheduling tech helps you with this. There are many scheduling software that helps minimize a lot of efforts that you usually face while manually scheduling timetables. This technology benefits you in many ways like reducing time consumption, reducing labor costs, and easier communication.

PRIVATE DINING TECH
Private dining tech is one of the most popular technologies of all tech facilities in restaurants. It helps you manage and maintain private clients and customers without losing your day-to-day customers. This platform provides templated documents, easy organization, and a seamless communication experience. You and your employees can easily manipulate this. 
WASTE REGULATION TECH
The trend of eco-friendly systems has been in the air for a long time. Sustainability has become a vital aspect for consumers. Waste regulation is an important tech innovation in restaurants. This tech innovation is eliminating the use of one-time-use straws. It also includes waste and recycling tech options. There are software and brands that authorize restaurant's leftovers to landfills, conserves money, and keeps the restaurant space spotless.
CONCLUSION
Technology has proven to have given a positive impact on the restaurant business. Restaurant tech innovation is growing a lot all around the world. It is one of the new popular mania that is circulating recently. This technology gives consumers access to various restaurants for various reasons. Furthermore, it conserves the relation between guests and restaurant authorities with safety and security. Furthermore, it helps save time, manages workload, and speeds up tasks. Lastly, it maintains the aim of restaurants that is to offer quality offerings paired with great customer service.
If you have plans to develop restaurant apps then you must get in touch with MobileCoderz. We are the leading mobile app development company. We use comprehensive tools such as AI, IoT, ML, etc for the development of mobile apps.