When cooking is not in your plans & you're not in a mood to step out, online food ordering comes at the rescue to satisfy your on-demand hunger cravings! While on-demand food ordering industry continues to deepen its roots in the market in such a shorter period, the market is witnessing the tremendous emergence of numerous new players in the food industry. Foodies across the world are getting fond of on-demand food delivery apps to get their favourite dish delivered whenever & wherever they want to. Hence, the demand for food delivery app development is scaling up in the competitive industry.
Stats To Favour On-demand Food Delivery App Development
To rule over the minds of 5 billion smartphone users from worldwide nations, the majority of businesses & startups are turning towards mobile app developers to reach their customers. Amongst existing market leaders from varied business sectors, businesses & startups with food delivery platforms are generating double-fold revenues with an average growth rate of 25% with every year.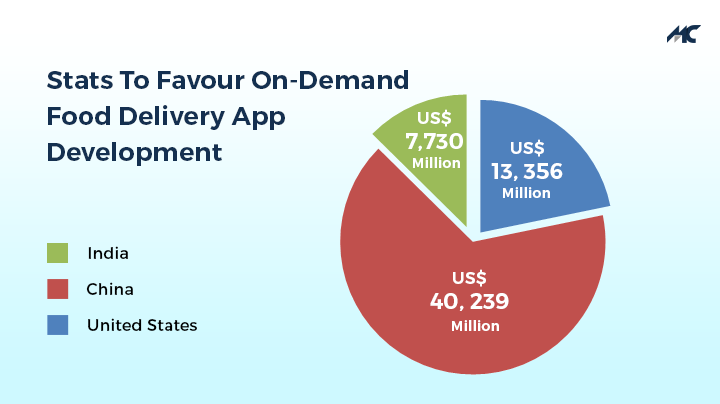 The expansive market share of popular food ordering apps like Zomato, Swiggy, Uber Eats, FoodPanda etc reflect the craze for on-demand online delivery services among the hardcore foodies. With an exceeding number of food ordering app users, it is predicted that the number of food payments made on apps will reach beyond $300 billion by the end of the year 2022.
Uber Eats, an American online food ordering application was initially launched at San Francisco with a name of UberFRESH in 2014. As per the updated data, UberEats is currently running its operations actively across 200+ cities of more than 20 nations in the world.
Another US-based mobile food ordering & delivery platform, Grubhub made an expeditious growth since its launch in 2011 with a current revenue share of approx. 1 billion & an ever-expanding market reach across 2,200 cities.
By the end of 2019, the market value of online food delivery sector turned US$22,073 million and according to CAGR, this value is expected to increase by a growth rate of 6.5% resulting in the US $28, 398 million in 2023.
In the United States, businesses involved in the restaurant-to-customer delivery sector covered a market volume of US$ 13, 356 million in the year 2019. China leads with the growing number of online food delivery apps users with an annual growth rate of 9.5% resulting in an overall market share of US$40, 239 million in 2019.
Indian customers are also contributing to the rise of the global online food delivery businesses with revenue worth US$7,730m and this calculation is proposed to reach the US $12,563 million within a span of coming 3 years.
Mobile apps are making it faster & more convenient to get your food as per your mood. Thinking about the moment when a waiter keeps on asking for your order or just forcing you to decide what you want to eat, you rather prefer to simply tap on a food delivery application & order your foodstuff while relaxing at your place.
The world knows the significance of online food ordering system in the industry as most restaurants & eateries are relying on mobile apps to facilitate its customers. With multiple options & choices to make from the menu, customers are getting fond of ordering their food online rather than queuing up in the restaurants.
Top 5 Secrets For Food Delivery App Development Success
The popularity of food ordering apps like Swiggy, Zomato, UberEats, etc. is encouraging entrepreneurs to introduce themselves among these big players in the food industry. If you're into food business then you might be looking for the right food delivering app Development Company to expand your customer reach.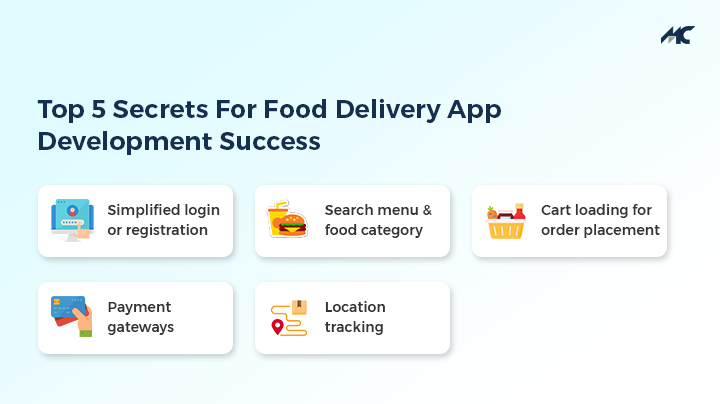 Food delivery app developers categorize apps with features & charge accordingly.  The trendiest online food ordering app solutions feature:
1. Simplified Login or Registration
One of the primary factors behind the success of your on-demand service app is one-click login or registration to the portal. Since it will be the very first step to get started with your app, your food delivery app developer must be careful while customizing the forefront look of your app.
Gone are those days when users have to mention all of their details to get registered on your portal. Forcing customers to add their name, username, email & specify their gender, age, interest, location, & other information will frustrate them with every single step you add in the login/registration process. Make the login process as simple as possible as you can also collect personal data of users later on.
2. Search Menu & Food Category
Once a user logs in to a food ordering app, a home screen must be there to showcase the list of nearby restaurants along with customized menus & special dishes offered by a food delivery partner. It is a crucial phase of the food delivery app development process as it is the next big approach to engage customers by presenting a restaurant list with appealing images of dishes & recipes.
Along with such a huge description of food from multiple cuisines, the search menu lets you explore the key specialties of your favourite restaurant & various food categories at one place.
3. Cart Loading For Order Placement
The next big step of successful food ordering app development ordering process. After selecting a dish, a user can simply add the food item to cart & manage the order by adding customization & quantity.
Apps like Zomato & Swiggy present options to add food instructions while ordering your food.
4. Payment Gateways
Digital transactions are already reshaping the future of the retail industry. Once your cart is loaded with food items, a food delivery app will take you the payment page where you can select the desired method to make secure & fast payments. The clients will be provided with options to make payments via PayPal, Debit/Credit cards, Netbanking, UPI, digital wallets, & other payment platforms.
5. Location Tracking
After placing an order successfully, you can check the expected time of arrival i.e ETA of your food. You can't imagine any food ordering apps without location tracking feature as hunger can only await the order updates! With the help of GPS technology, the app user can easily track the location of their order or get in touch with the delivery partner in case of delay.
Many food ordering businesses offer referrals & rewards to their customers as they play an important role in engaging users. Even some food ordering app development service providers agree that ratings & reviews, customer support, restaurant details, festive discounts & offers, loyalty coupons, are key factors behind the success of any food delivery application.
Top Features Of A Basic Food Ordering App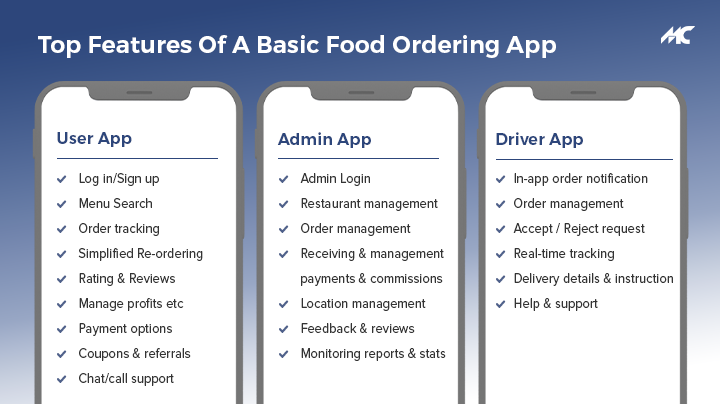 User Apps
Log in/Sign up
Menu Search
Order tracking
Simplified Re-ordering
Rating & Reviews
Manage profits, payments, food preferences, etc.
Payment options
Coupons & referrals
Chat/call support
Admin Apps
Admin Login
Restaurant management
Order management
Receiving & management payments & commissions
Location management
Feedback & reviews management
Monitoring reports & stats
Driver App
In-app order notification
Order management
Accept/reject a delivery request
Real-time location tracking/navigation
Delivery details & instruction
Help & support
How Much Does It Cost To Create Food Ordering Apps?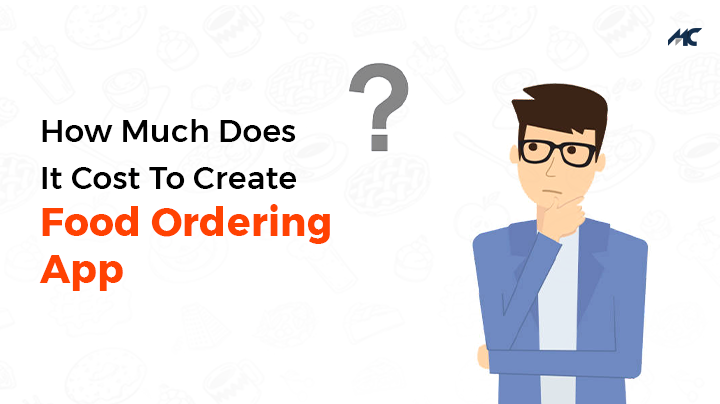 The key parameters to estimate the budget required for a food delivery app are:
Generally, a food-ordering app development company charges as per the project requirements & complexities involved in app creation. Also, keep a note that if you're hiring US-based developers (b/w $100-$200) then their hourly costing will be comparatively higher than a reputed mobile app development firm based in India (b/w $20-$100).
Even a dedicated food ordering app developer will take over 300 work hours to complete front-end & back-end development process. While initial technical documentation & designing process demands a timeline of 50 work hours. We should also involve 100 work hours in testing & bug-fixing of a fully-developed application. So, overall 300-400 hours are required for full-cycle mobile app development & testing processes.
Therefore, if you want to get your food-ordering app developed in a shorter time then your mobile app development service provider will involve more resources in your project. This will eventually increase food-delivery app development costs.
We've already discussed three categories of apps to consider for on-demand food delivery app development. The cost of creating a user app will differ from restaurant app, delivery app, & admin app. Moreover, the technologies & tools used for app creation will also affect the overall pricing of mobile app development services.
Final Words
The future of online food ordering businesses foresees rapid growth & competition in the international market. Meanwhile, many startups are trying hard to balance their profit rates on mobile app platforms, almost every leading food-ordering app development company is gearing up to meet the never-ending demands for the profit-generating mobile apps for those who love food!