Blockchain technology is revolutionizing almost every industry in the world. In fact, just a few years ago, people only associated Blockchain with the finance industry. However, different industries such as healthcare, education, manufacturing, education logistics, etc are increasingly using blockchain in various use cases. 
This technology is popular for high security, transparency, performance, and innovation. Therefore, the blockchain development market size is expected to reach $69B by 2030. This astonishing growth shows the amazing possibilities of these innovative technologies for different businesses. 
Top businesses often hire a top Blockchain development company to select the most relevant Blockchain platform for their project. In this blog, we are going to talk about the top Blockchain platforms in 2023. 

Before we discuss the platforms, it's important to understand Blockchain technology:
What is Blockchain?
Blockchain is a decentralized technology that stores transactions and data in distributed ledgers. It records information in the form of blocks and distributes the entire data across the network. For this reason, there are multiple failure points that prevent the compromise of the entire network. 
Blockchain technology has become a very innovative technology that is helping various industries store data with better transparency and security. It is the perfect solution for tracking accounts, transactions, orders, production, payments, etc. 
For this reason, many innovative businesses consider taking Blockchain development services to innovate their processes, products, and services. 
Characteristics Of A Blockchain Platform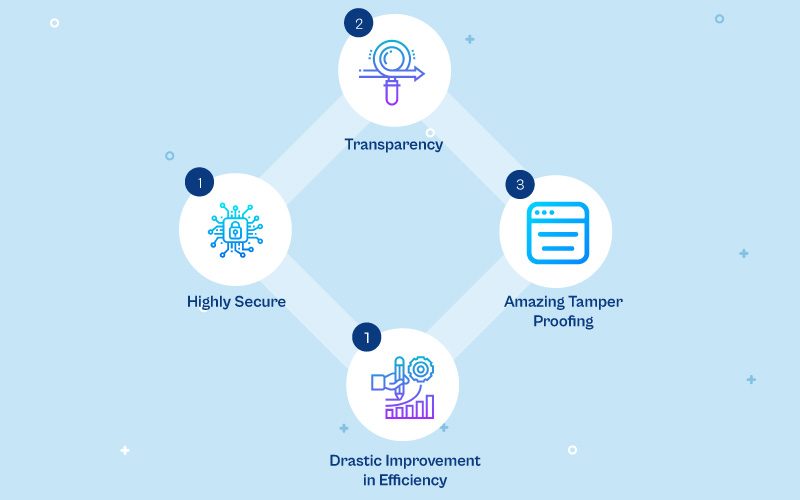 Blockchain is a relatively new technology as compared with other legacy technologies. Thus, it would be highly advisable to hire Blockchain developers if you are planning to develop your Blockchain solution with a platform. These are some of the most important features of blockchain platforms; 
1. Highly Secure
Cybersecurity is a major concern in almost every industry around the world. And blockchain technology helps in improving security levels since its uses cryptography and decentralized structure.  Above all, this is a very robust method for ensuring protection from cyber criminals and fraud. However, it would be highly advisable to work with the best Blockchain development company to achieve such a level of security in your blockchain solution. 
2. Transparency 
Transparency has become a major factor for businesses to build trust among their users. Blockchain enables an application or system to improve its data processing through the distributed ledger and thus enhance transparency. The distributed ledgers are usually publicly available. It allows transactions after verifying users with pre-defined protocols. And thus, blockchain increases the transparency level in the application.
3. Amazing Tamper Proofing 
As mentioned above, it is not possible to tamper with the data or transactions present on the Blockchain. Any changes to the Blockchain network will be instantly visible to the participants. Thus, no change in the network will go unnoticed. In order to enjoy this feature in their solutions, many organizations work with a dedicated blockchain development company. 
4. Drastic Improvement in Efficiency 
Since blockchain is a decentralized and distributed technology it improves the efficiency of a system. It has been helping businesses to improve the speed and efficiency of their operations, products, and services. 
How To Choose The Best Blockchain Platforms?
Since blockchain is a complex and advanced-scale technology it consists of several factors to determine its reliability and quality performance. Below are the factors that you should consider while choosing the top blockchain platforms in 2023: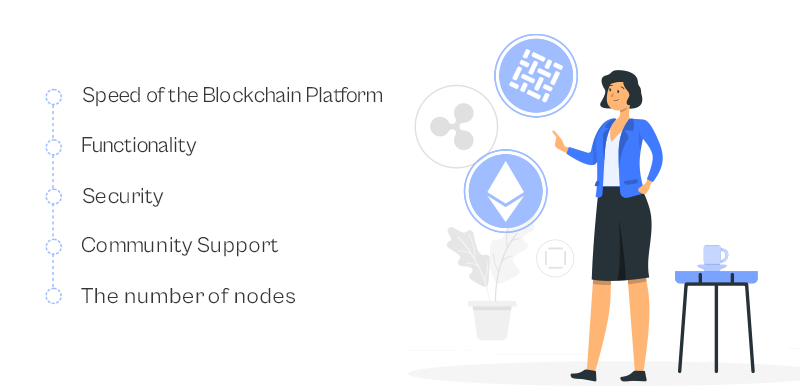 Speed of the Blockchain Platform
The speed of a blockchain platform determines how many transactions it can handle in a second. It is defined as TPS (transactions per second). The more a platform can handle the transactions the faster it would work. 
For example, Bitcoin, the popular cryptocurrency, handles 7 transactions per second. Whereas, the Ethereum platform has the ability to operate 25 transactions, Ripple 1500, and Solana 29,000. 
But it is not necessary to choose the faster platform. Since it totally depends on your requirements and business goals. If you need a blockchain platform for a simple data management solution then you can go with a low TPS blockchain platform.  But if your requirement is bigger then choose accordingly. 
Functionality 
Blockchain development is a diverse domain. There are differences in terms of functionality and the working process of the platform. Every blockchain platform serves a particular purpose so you have to choose them as per your needs.
For instance, Ethereum, Bitcoin, and Ripple are primarily blockchain-based platforms. However, there are differences in their functionalities. Ethereum is mainly used for developing smart contracts to bring automation to business operations and create dApps. Ripple support in cross-border transactions. And Bitcoin is used as a virtual and decentralized currency. 
Security
Blockchain offers high-level security features. It is because blockchain is based on distributed and decentralized technology. However, it doesn't mean you don't need to pay attention to the security standards of the platform. Instead, you should check what security protocols and features the platform holds. 
Blockchain platforms are built on cryptography. How a platform has used cryptographic techniques to enable its security functions determines its reliability of platform security. Therefore, you should check what cryptographic methods the blockchain platform has used. 
How does the platform verify the data in its network and how often does the platform bring new updates and advancements? In addition to this, you should also see how the blockchain platform verifies the user's identity and ensures the full privacy and security of data.  
Community Support 
The reliability of a platform is determined by how many people use it. As the use of blockchain development technology is being used across different industries the adoption rate of blockchain platforms is also increasing. 
Hence, you should see how many companies use the platform. The best blockchain development company always uses a trusted platform for developing blockchain-based solutions. Therefore, you should consider this factor while selecting a blockchain platform. 
The Number of Nodes
Nodes are the building blocks of blockchain technology. It constitutes the entire network in a blockchain system. Each node in a blockchain system or platform is responsible for verifying the data and allowing transactions or data exchange when all the nodes verify all the conditions in the platform. 
So the more nodes are available in a network the harder it would be to manipulate or modify the data. This makes the blockchain system strong in terms of security. But at the same time, it also makes the data verification process time-consuming. 
Thus, how many nodes the blockchain platform contains determines the security level and data processing speed. Hence, you need to analyze your needs accurately as to what matters the most-speed or security.
Top Blockchain Platforms
Blockchain platforms have become very important for effective Blockchain development. These are some of the most prominent Blockchain platforms that you should consider in 2023; 
1. Ethereum 
Ethereum, also known as ETH, has become a leading Blockchain platform for Blockchain development. Above all, it has been the dominant platform for developing Blockchain apps, decentralized markets, cloud games, wallets, NFTs, and much more. This platform is popular for its support for DApps and Smart Contracts to ensure effective scalability and smoothness. 
Recently, the Ethereum Blockchain made a shift from Proof-of-Work to a Proof-of-Stake consensus mechanism. Thus, it has become the favourite choice for developers, investors, and NFT traders. You can also build your Blockchain solution on this platform with the help of a blockchain development company. 
Key Features 
Developers using this platform enjoy the benefit of rapid deployment. 
They can also effectively use Smart Contracts and Turing completeness. 
Tokenization features are also available when you use the platform. 
Ethereum now works with a Proof-of-Work-based system 
Traditional programming languages like Python and C++ can be used 
2. IBM Blockchain 
IBM is a well-known software and hardware company with decades of history. Businesses often hire Blockchain developers to use this platform in their innovative use cases. Above all, they get access to a full-stack Blockchain-as-a-service that enables the users to deploy Blockchain elements in a user-choice environment. Ultimately, users can use this Blockchain network to scale and grow their operations with the help of this Blockchain platform. 
Key Features 
Users can use the 30-day trial to access this Blockchain platform 
It works with the IBM Cloud Kubernetes cluster
It works with a permission-based network 
Languages like Java and GO can be used with the IBM Blockchain 
3. Hyperledger Fabric
Linux Hyperledger Fabric is an open-source blockchain development platform. It is an enterprise-class permissioned platform. It is suitable for developing high-end blockchain applications. Hyperledger Fabric works on a modular architecture and provides a wide range of plug-and-play components. 
Since it is a permissioned network, it verifies all the participants in order to join this platform. Top blockchain development companies even use Hyperledger Fabric to build complex and enterprise-scale blockchain solutions. 
Key features
It has a permission membership which verifies each user before one joins the platform

This is built on a modular architecture that gives better scalability and performance

It can handle a high number of queries over an immutable distributed ledger
4. Ripple
Ripple is another famous blockchain development platform. It is based on blockchain mining that utilizes a consensus mechanism to validate the transactions. As a result, It helps companies reduce their blockchain development cost. 
Therefore, many enterprises and large-scale companies use Ripple for making cross-border transactions at reduced costs. Ripple also has its own cryptocurrency known as XRP or Ripple. This currency is scalable and offers faster transaction speed than other blockchain platforms. Its TPS speed is around 4-5 seconds which is really great. 
Key features 
It offers faster transaction speed within 4-5 seconds
It costs very low for completing a transaction
This platform is built on a versatile exchange network having its own cryptocurrency called XRP
It is used by big financial institutions like Bank of America and IndusInd Bank for crypto transactions
5. Corda
Corda is a highly versatile blockchain development platform that is used for a diverse range of blockchain development services. It is a permissioned blockchain platform. Its architecture is built on peer-to-peer distributed ledger technology. 
This model enables Corda to make various transactions in real time very efficiently. However, Corda does not use any cryptocurrency or in-built token for transactions like other blockchain platforms. 
The best feature that makes Corda a useful platform allows various parties to work together within the same blockchain network system and execute all operations securely and efficiently. Participants can develop smart contracts and deploy them quickly and seamlessly.
Key features
Coda offers great support for open-source blockchain development. 
It is highly secure and keeps data fully protected from external threats
This platform is 100% interoperable and compatible with other blockchain networks for doing transactions
It provides enterprise-scale blockchain development capability for diverse use cases
The Bottom Line
With the growing use of blockchain technology across different industries, the need for blockchain development platforms is increasing. Businesses today now look for fast, scalable, and efficient platforms for various use cases. And the way usage of blockchain platforms has increased in 2023, the global blockchain market is expected to reach $67.4 Billion by 2026. 
Therefore, utilizing these platforms is certainly the need of the hour for solving many business requirements. But since a blockchain platform comes with complex abilities so you would need expert assistance to perfectly using these platforms. And this is where MobileCoderz comes in. 
Why Choose MobileCoderz for Blockchain Development?
MobileCoderz is the best blockchain development company in the industry for delivering high-grade blockchain solutions. Here, we have certified developers and software engineers who are experts in using all the popular blockchain platforms for any business purpose. We can not only help you make the best use of popular blockchain platforms but also build you a custom blockchain solution for any business objectives. 
Just Schedule a Call and Speak Directly with Our Blockchain Experts Now.