People often consider location tracking as a shady feature. However, it might be the most important thing for learning where your family is and how safe they are. Family locator apps have gained massive popularity in recent times due to their convenience. 
It is true that calling or texting is also an option to learn about their status. However, location tracking apps give real-time updates when someone is away from home and isn't available to pick up the phone. 
In this blog, we are going to learn about the top 10 family locator apps for Android in 2022. We will also learn why you should consider collaborating with a best mobile app development company to build your location tracking app. 

Let's first learn a bit about family locator apps 
What is a Family Locator App? 
These days families often have very conflicting schedules. In fact, both parents and kids are often engaged in different activities such as work, studies, or some classes. Thus, it becomes hard for parents to keep up with one another on a daily basis.
A family locator app is an ideal solution to this problem. It helps parents to locate their children in real-time through geolocation. A location tracking app is suitable for the entire family to stay safe and protected. Furthermore, they support an easy-to-use interface and come with GPS technology.
Individuals using these apps can get navigation instructions, notifications, speed alerts, and learn their family's whereabouts. The user's device just needs to have GPS functionality to utilize family locator apps.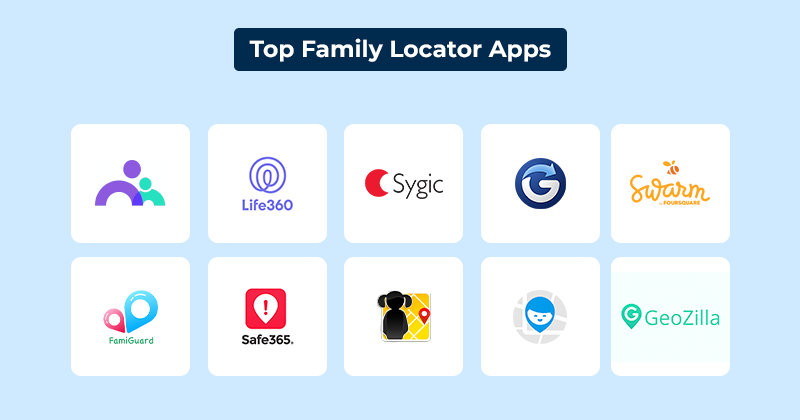 Let's Learn About Some of the Best Options 
Top 10 Family Locator Apps for Android in 2022
The list for family locator apps is in no particular order. In fact, every one of them is unique and provides some of the best features; 
1. FamiSafe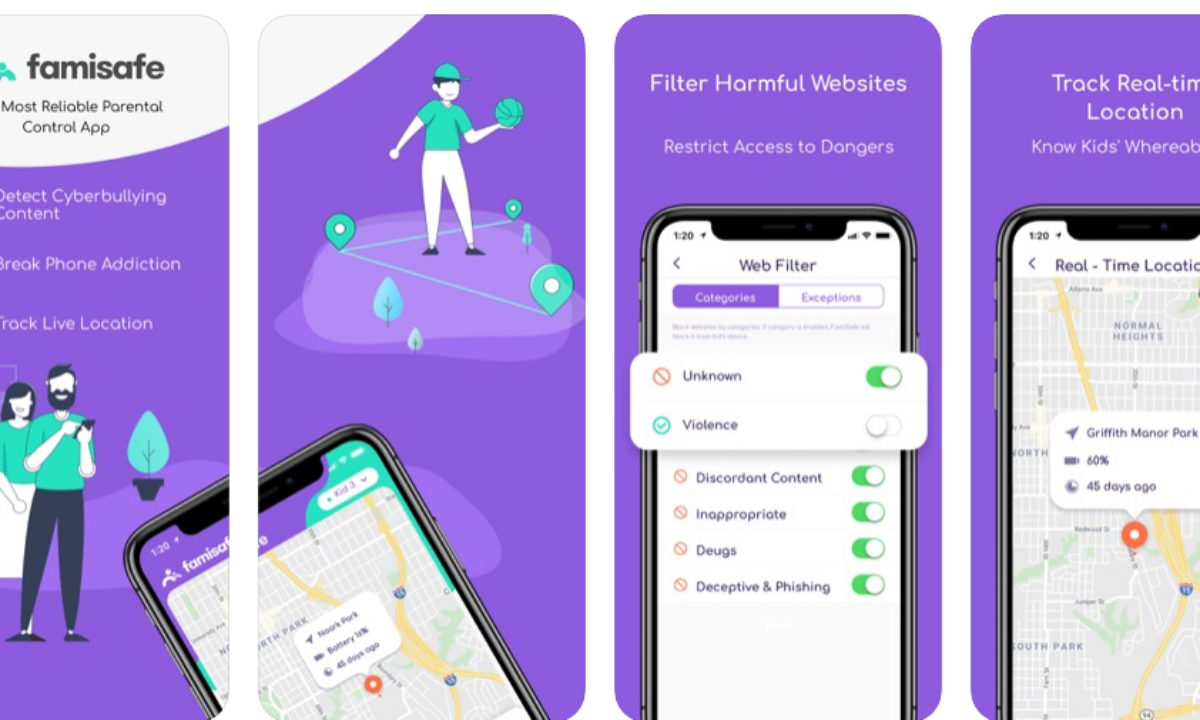 FamiSafe is one of the best family locator apps available on both Android and iOS devices. In fact, Wondershare recognizes it as the most reliable parental control app that provides a lot of features and functions that enables users to track their family. Moreover, by using the Familesafe Parental Control App, it is possible to keep track of the entire family without even bothering them ever. 
Thanks to GPS location and real-time updates, it has become incredibly easy to track your family with FamiSafe. 
Quick location search options can be used to make sure that the children are made safely and in time to their destination (Classes or playgrounds). The location tracking is fully packed with real-time location tracking, geo-fencing, real-time notifications, password protection, and a lot more. Furthermore, both parents and caregivers are able to see the location of their kids with ease.
Undoubtedly, the company has invested heavily in tracking app development with the help of a leading mobile app development company . 
2. Life360 Family Locator



This location tracking app was created with the entire household in mind. In fact, by using this app, you are able to track the entire location history of the family. Furthermore, communication tools are also available in this location tracking app. 
This makes life simpler with Life360 Family Locator because family members can easily interact with each other through the app. The parents can get real-time information about their child's location by using the app's geolocation services. Lastly, this location tracking app is available on both iOS and Android.
 If you want to build a similar location tracking app, then you should consider hiring the top mobile app development company. 
3. Sygic Family Locator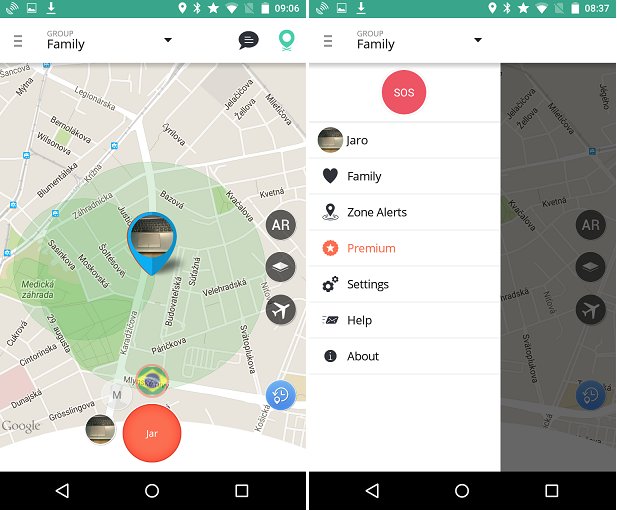 Sygic was one of the first players in the digital navigation industry along with Google maps. In fact, it has become a very popular choice again for providing a reliable family locator app. 
The friendlier interface and easier controlling panel make it super easy to track the location history of your family members with ease. Above all, it is super useful if your kid regularly visits some training or classes. 
In order to monetize the location tracking app, they have added subscription-based services and some in-app purchases as well. The years of industry presence make it possible for Sygic to provide more accuracy and reliability to define precise locations.

4. Glympse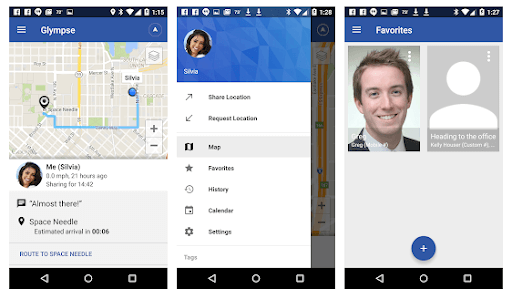 Glympse is another innovative location tracking app that gives you real-time information on the whereabouts of your family. By using the app, individuals can quickly locate their family members with the help of GPS technology. 
Unlike other family locator apps, the performance impact of Glympse is almost negligible. In fact, it doesn't do much apart from real-time location tracking. As a result, battery life degradation is also negligible with Glympse. 
The UI/UX is vastly superior to some other alternatives as it gives a minimalist approach to the users. This location tracking app also won the Editor's Choice Award on the Google Play Store, which speaks about its success. 
You can also start investing in tracking app development if you want to develop an app like Glympse. 
5. FourSqaure Swarm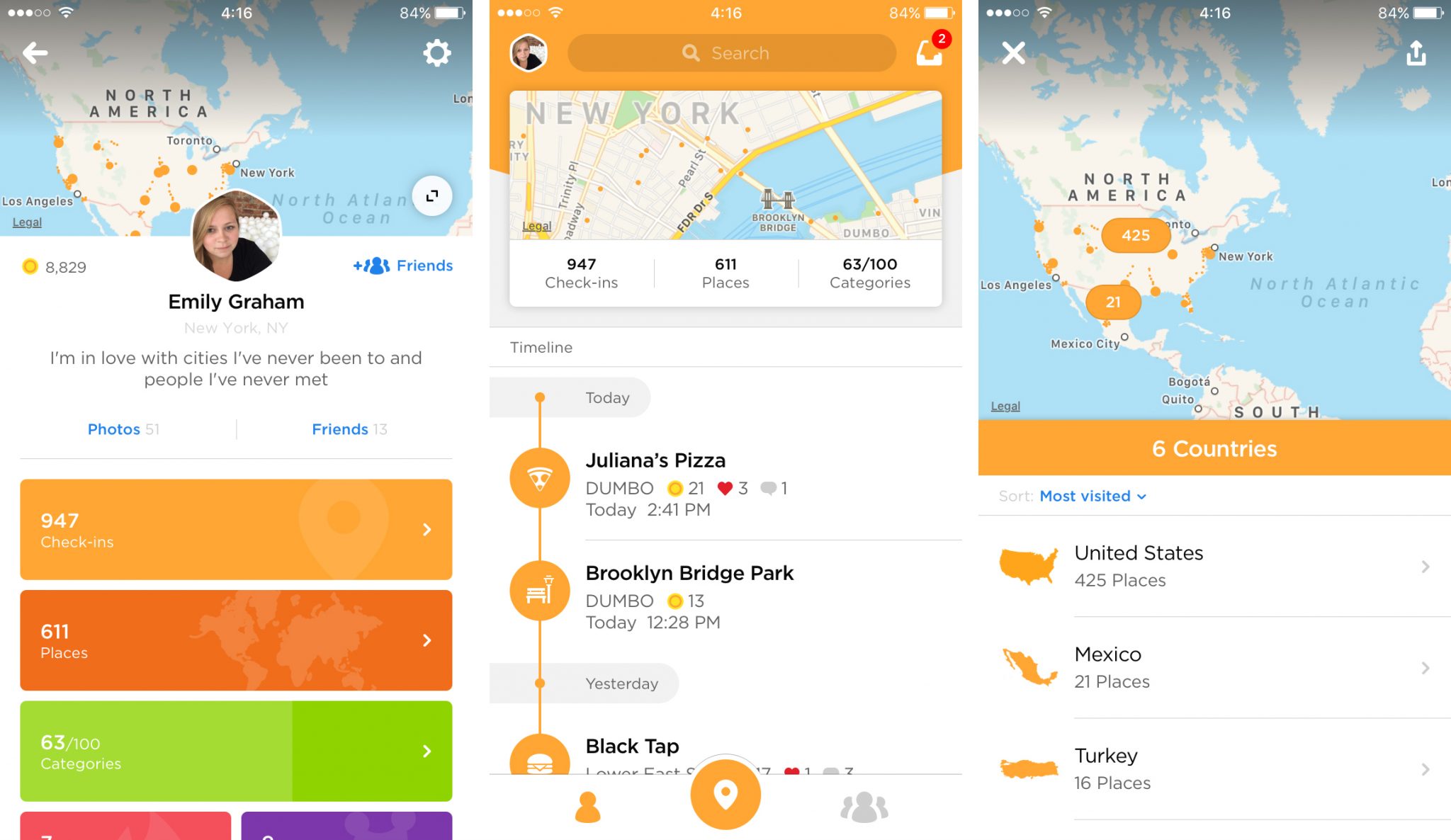 This app gives a very simple interface that enables the users to track where their children are going. It is built with the same perfection as the social media site of FourSquare. Thus, the family members can leave a pin to show where they are going when they sign in at a venue. 
Furthermore, this location tracking app provides complete statistics to learn about the place people visit. These stats can be used for tracking the different location updates of your family. Lastly, users can download this location tracking app for both iOS and Android devices. 
6. FamiGuard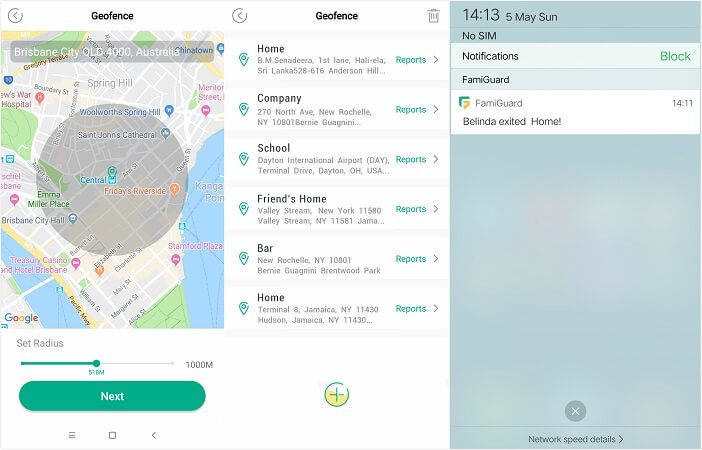 It is one of the best free family locator apps for Android users. The application enables its users to get a precise statistics reporting system with the most frequently visited places individuals visit. The location tracking app features complete location tracking, geofences, and screen time limiting features for individuals. Thus, parents are able to use these features to monitor app usage and view their children's web activities. 
This gives them the security and peace that their children are protected online. It is a great parental control app for parents who want to safeguard their children from inappropriate websites and unsafe locations. 
You can also start investing in tracking app development and collaborating with a top mobile app development company to build your own app. 
7. Safe 365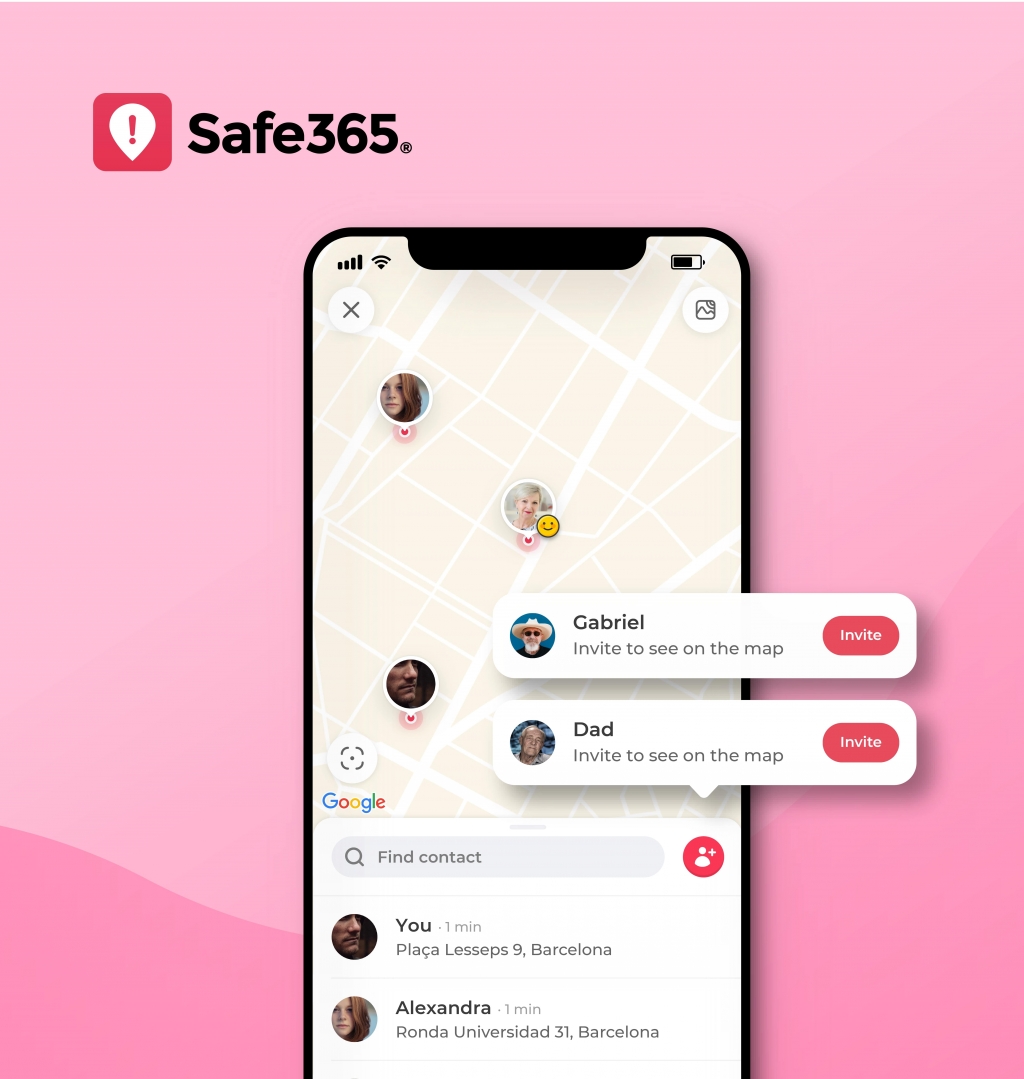 Unlike other family locator apps, Safe365 is much simpler but preferred by many users. It uses modern GPS technology to locate and improve the safety of people. Furthermore, users are able to see the real-time locations of their family members and send notifications to the emergency services within a few seconds. 
Users can define their trusted contacts with whom they would like to share their location. Plus, they can easily configure the privacy levels and geofencing configurations. 
Battery status can also be shared through this app. In fact, the person being tracked will show a low battery indicator, if she/he is running out of battery. 
The panic button helps the users to quickly alert their close ones and emergency services that they are in danger. Lastly, this location tracking app is available on both iOS and Android platforms. You can reach a mobile app development company and the hire best android app developers if you want to build an app like Safe365. 
8. Sprint Family Locator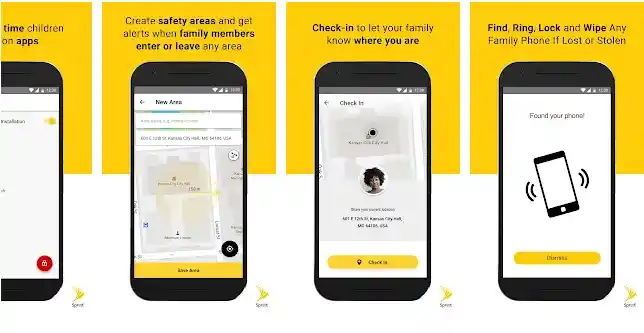 Users love Sprint Family Locator as it allows free location tracking for up to 4 devices at once. Above all, the person being monitored doesn't even need to install any app or extension on their mobile device. 
The individuals can just the requested feature to target phones to be included in the Sprint Family Locator. Furthermore, they can easily monitor the history of the family location and give notifications on your device.
 You can also pinpoint their location on the map with the help of in-built tools. In this way, users can ensure that their children reach the school safely.
 It is also possible to automatically check if your family members are in a safe place and receive a text message if they aren't there. They surely have invested in quality tracking app development to ensure the performance and features of this location tracking app. 
9. Find My Kids – Family Phone Tracker & GPS Tracking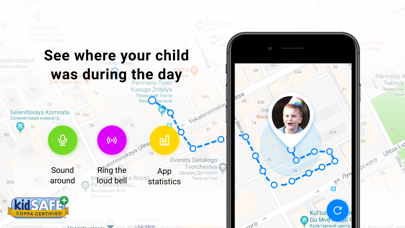 It is one of the best family locator apps for tracking kids under 18 years of age. Users can use this app for tracking their children with ease. In fact, the app provides a complete integrated map to view the location history of children. Plus, users can also monitor the battery status of their children's mobile devices. 
An additional app can also be installed to ensure a smooth communication channel between the children and parents. 
The app has been carefully designed by keeping smart parenting in the mind. The built-in GPS sensor is used by the smartphone to enable precise location tracking. Even if the child does not have a smartphone, the location tracking app works flawlessly with smartwatches as well. 
Furthermore, parents can smartly organize their child's entire itinerary from a single place. It is also possible to make sure that they don't visit any dangerous locations or criminal areas in your city. If you want to build an app with such complex features, then it is advisable to collaborate with a prominent mobile app development company. 
10. Geozilla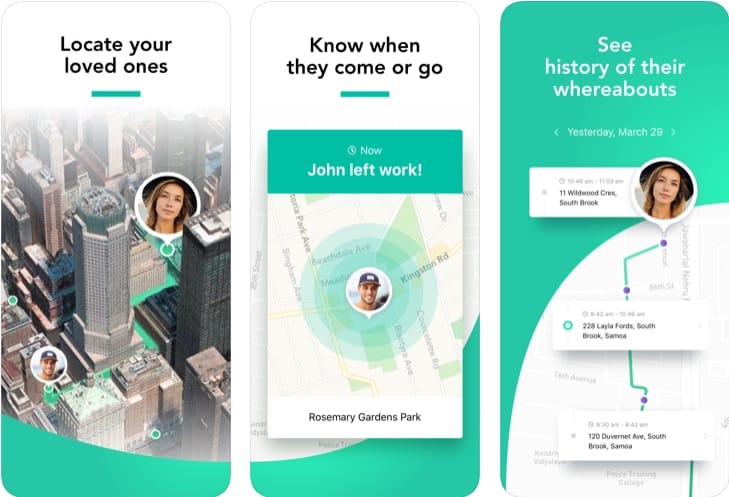 GeoZilla is another popular location tracking app for both iOS and Android platforms. By using this app, you can invite others and share your location with them. Furthermore, it is possible to track the driving speed, and have features like text and image sharing. 
Family members from your contact list can be added easily to Geozilla for location tracking. Moreover, the app also works perfectly on smartwatches to provide real-time locations. For effective communication, users can rely on the private messenger feature to send or receive texts and pictures. 
To ensure the best safety, the app can send custom notifications if your vehicle is over speeding or about crashes. Thus, people consider it a great solution for sharing family members' location changes. 
So, those were the top 10 family locator apps for Android in 2022. If you are inspired to start developing your own location tracking app, then you must consider adding the following features to your tracking app development and hire the best android app developers; 
Must Add Features to Your Location Tracking App 
Location Backup Details 
The app must provide complete data and history showing the location on a virtual map. In fact, it should provide a full list of activities that are taking place. 
Virtual Geographical Range 
It is a very important feature to track people who are near your location.
Driving Speed & Other Metrics 
The app should provide complete information about the driving speed and other information related to trips. The best android app development company can help you integrate this important feature. 
Real-Time Location 
The app must provide the precise real-time location of the family members. Furthermore, this feature would use GPS technology to track the live location of a smartphone. High-quality tracking app development can ensure the perfect implementation of this feature. 
Safety Check-ins 
The app should be able to send check-in updates of a particular location so that the family members could be notified about their whereabouts. 
SOS

Features

 
Including SOS features in your tracking app development is important because that's how the users will be able to send messages during emergencies. 
Why Collaborating

with MobileCoderz for Tracking App Development
If you have finally made up your mind to develop a location tracking app, then MobileCoderz could be the best option for you. As the best android app development company, we have the right talent with the latest technology stack and industry standards. Thus, we are able to develop cutting-edge family locator apps with high performance, security, reliability, and robustness. 
Contact Us and Hire the best android app developers, designers, QA professionals, and project managers from the leading mobile app development company today. Our years of expertise can help you with your project, and ensure high-quality and timely delivery with MobileCoderz.