Yes! iOS 13 is finally here. From the past few years, the humongous number of iPhone users and developers were excited enough about the new iOS update. However, the official announcement for the release of iOS 13 was made in WWDC on June 3, 2019.
iOS 13 is the thirteenth mega release of the mobile platform operating system developed by Apple, Inc. It's a successor to iOS 12 which was released on September 17, 2019. The wait is all over now and now you can get it on your iPhone device. For this, you just need to navigate to Settings > General > Software Update and you're good to go.
The compatible devices are as follows:
iPhone 11
iPhone 11 Pro
iPhone 11 Pro Max
iPhone XS
iPhone XS Max
iPhone XR
iPhone X
iPhone 8
iPhone 8 Plus
iPhone 7
iPhone 7 Plus
iPhone 6s
iPhone 6s Plus
iPhone SE
Let me throw some light on the top new features in iOS 13.
Dark Mode

From the beautiful view to new wallpapers, the user interface has been completely revamped. The user can turn it on manually from the control centre as it gives iOS and apps a beautiful dark colour scheme. Obviously, it seems perfect for the low-light environment as it reduces the strain on the eyes and doesn't disturb people around. You can also get it scheduled as well. New wallpapers are optimized for Dark Mode and reduced battery consumption. Third-party developers can implement an API that lets them add dark mode in their apps.
Photos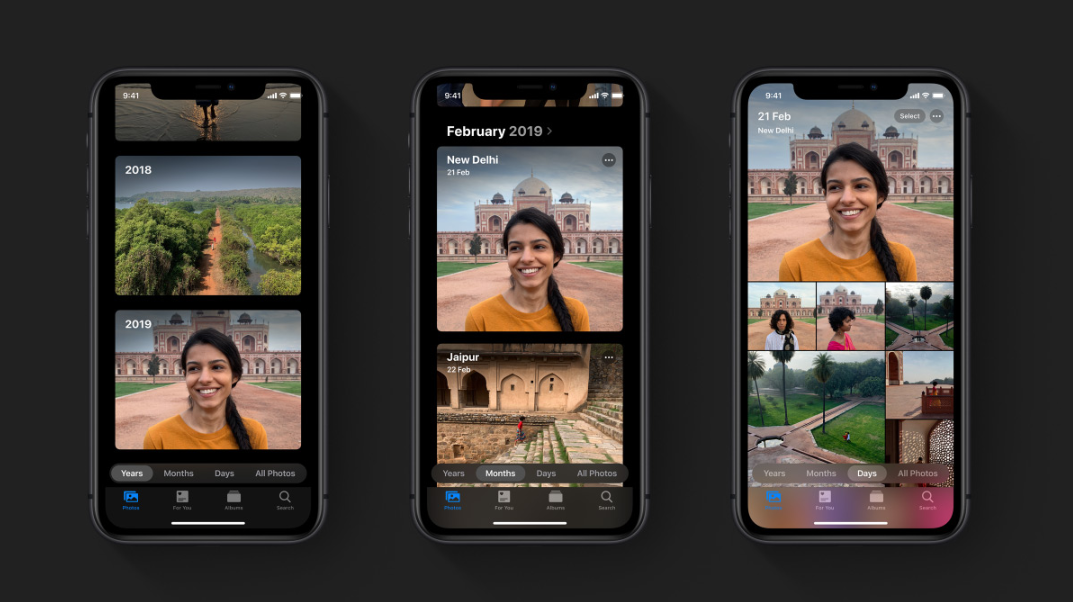 The photos have completely been renewed with an all-new Photos tab. It will let you find your favourite photos in a photo library with different levels of curation allowing you to re-discover your photos in days, months, and even in years. Also, the photos and videos which are live, start playing automatically with muted sound, which brings life to the entire collection. If you have birthdays assigned to your friends and relatives or anyone in the 'People' album, then the Photos tab will start highlighting the photos of that person on his/her birthday. The entire tab of 'All-Photos' can be pinched in or out for zooming. This allows you to have a closer look at your favourite ones. The screen recordings are now replaced with a new album named 'Screen recordings'.
Camera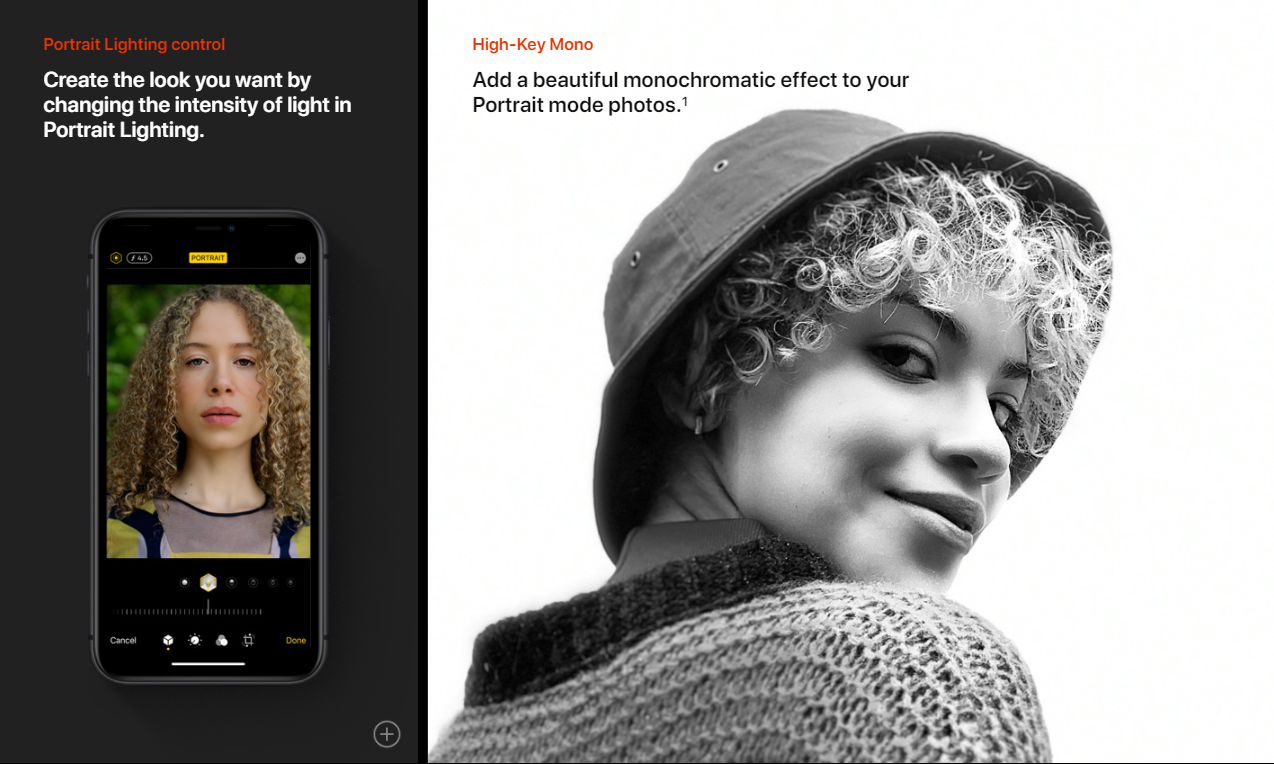 The camera app has been revised with a new UI along with various other newly added modes. This feature comprises a task of adjusting the portrait lighting intensity for portrait pictures along with the High-Key Mono feature to create a beautiful and classic look with a monochromatic subject on a pleasant white background.
Privacy and Security
Now you can choose either to grant access to your location for once or anytime you use it or simply set it to never. Also, you may now receive a notification when an application is accessing your location in the background.
Sign in with Apple
This feature allows you to quickly Sign-in to the Apps and Websites very easily. No more filling out forms or creating new passwords after forgetting them. You just need to hit the "Sign in with Apple", and face ID or passcode, and you're all set to go. Apple continuously abides that it won't track your profile whenever you sign into it and commits that only information it shares with the apps & websites is your name & email address. Now, you can also control whether to share or hide your email address with apps or websites. Moreover, you can also opt in to have Apple create a unique email address for you which forwards to your real address.
Maps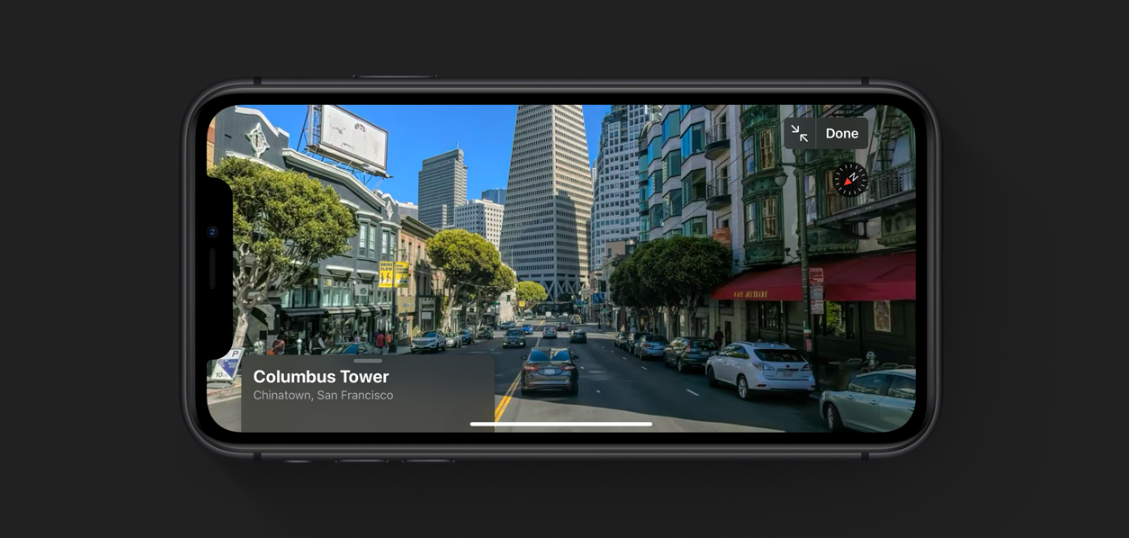 Built from scratch, a map app has been developed from the ground. With improved features & more realistic details for roads, parks, etc, it can do a lot good to the users. You can even explore where you are going, with an immersive experience that gives a 360-degree view of the location.
Shortcuts
This much-anticipated feature is now available on iOS 13. Shortcuts enable a user to interact with his/her application in a very conversational way that makes them powerful in all ways. The Shortcuts app is built-in and home for all the shortcuts. You can set up the shortcuts for your favourite apps and run any of them automatically.
QuickPath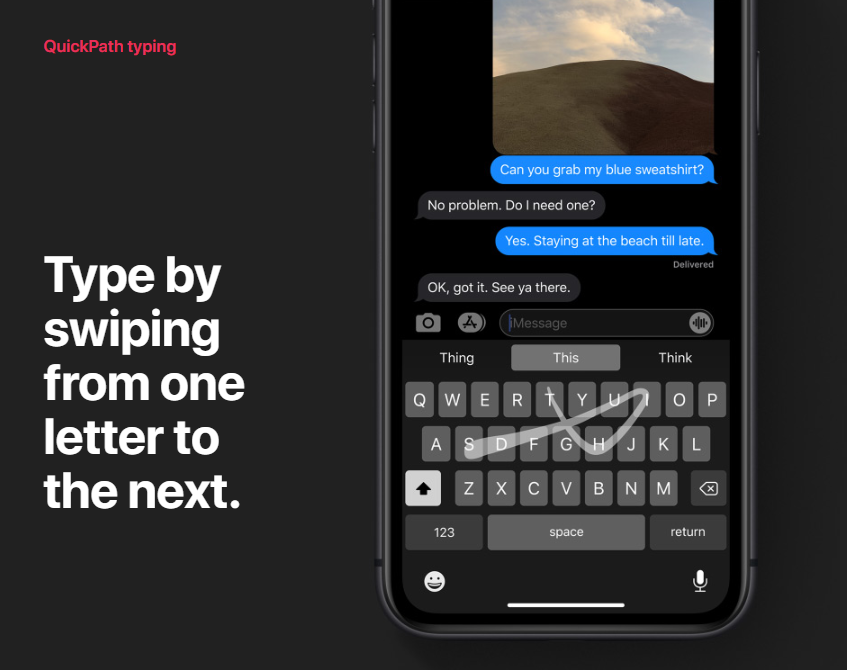 Swipe keyboard? no, Apple calls it 'QuickPath', which allows users to interact more easily with the keyboard. Now, you can swipe on your Apple keyboard and get the most out of it. Yes, the predictive bar still suggests the alternate words even for those you swipe. QuickPath supports English, Simplified Chinese, Spanish, German, and more languages.
All New Reminders
With an all-new design, the reminder app looks incredible with its user-friendliness. It is now more powerful and effortless to create, plan, and keep track of your tasks & reminders. It's even easier to add dates, times, etc. to the reminder as now you have a provision right above the keyboard. Now, while chatting to someone, Siri automatically recognizes whether to create a reminder or not. You can also add documents, photos, & even web links to your reminders to give them another level of importance.
Improved Performance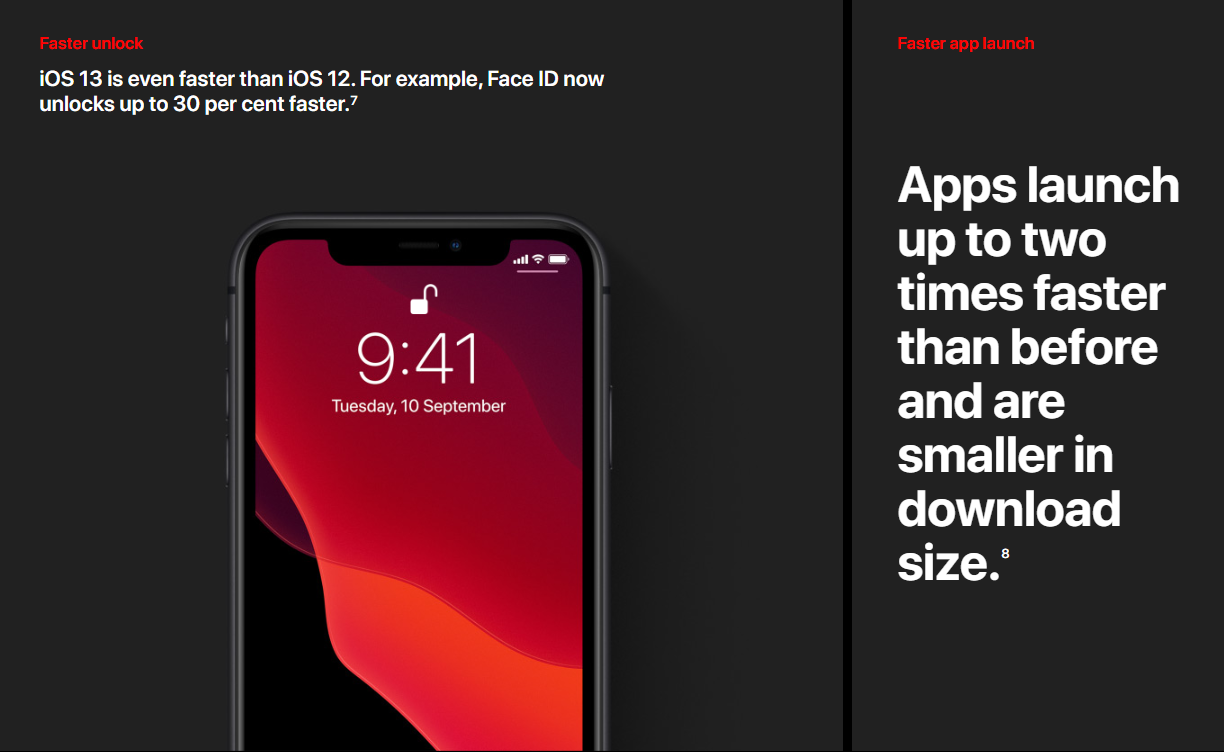 iOS 13 now even makes app launching faster like never before as it is almost two times faster than it was in iOS12. Face ID unlocking in iPhone X, XS, XS Max, and iPhone XR is up to 30% faster.
An app downloaded from the App Store will now weight half of its previous size. The new updates available for the pre-installed apps will be up to 60 percent smaller on average.
Apple Arcade on App Store
Apple has added a new tab for Apple Arcade to the App store that features numerous games which are never seen before on another platform. It is basically a game subscription with over a hundred amazing new games that are clubbed together and are available for free purchase on a new iPhone or an iPad for a year. The entire family is allowed to savour a single subscription which is very cost-effective too. Appstore now allows a user to download large apps over the cellular connection.
Optimized Battery Charging
There is an innovative option that helps to slow down the rate of battery aging by reducing the time iPhone spend to get fully charged. The idea is basically to make the iPhone aware of the user's charging routine. This includes on-device machine learning that helps your device become even smarter.
'Find My' iPhone/Friends
"Find My iPhone" and "Find My Friends" are now clubbed together into a single application. This makes it easy to use as a user will find them in one place only. Now, you can even locate a missing device even if it's not connected to the internet using a crowd-sourced location. This feature enables the capability of a device to be located using its Bluetooth signals that are completely anonymous and encrypted end to end.
Health
As per Apple's presentation, people made the most out of trending health apps on their Apple Watches. This time, Apple is again leading the way with improved & new innovative features like Cycle tracking which enables one to track her menstrual cycle with logging period which also includes flow level and much more. Viewing a prediction makes it easier on the health app and makes it very easy to track the beginning and end of each cycle. Now, a user can receive notifications to remind herself to log your period and to let you know about your next one. Lastly, there is entirely a whole new view of "Summary" which is very user-friendly and informative & I suppose that it matters the most.
In the end…
Lastly, I'd like to conclude this article by saying that iOS 13 is loaded with lots of new features and innovative add-ons. But there's still some hope to have a provision for reverse charging that its contenders already have. Let's hope for the best from software updates in the near future and do comment down on how you'd like it once you install it on your iPhone.