The real estate industry might become the biggest industry to get transformed by virtual reality in the next few years. In fact, according to research from Goldman Sachs, the global market of virtual reality in real estate industry could create as much as $2.6 billion by 2025. This number is enough for real estate businesses to realize the potential of VR in the real estate industry. In this blog, we are going to learn how virtual reality can change the real estate industry. 
What is VR Technology?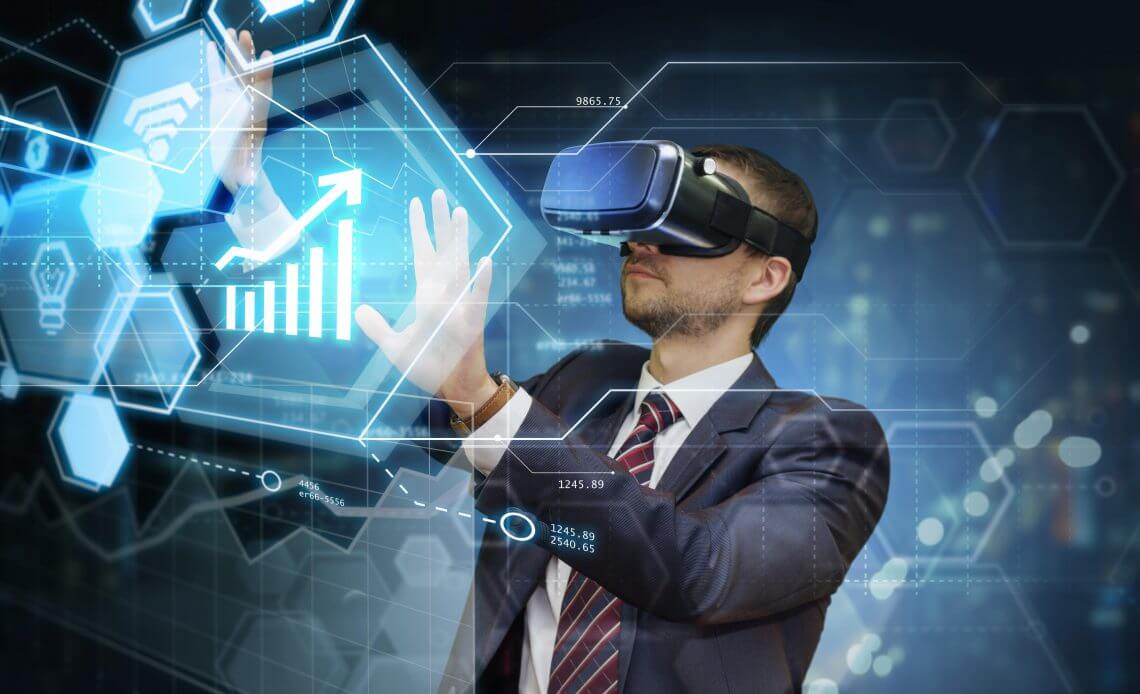 Virtual Reality technology uses computer modeling to create an artificial 3D (three-dimensional) simulation of the real world or other environments. Users using the technology are able to immerse themselves in a computer-generated environment. Furthermore, this simulation is only possible with the help of interactive devices such as VR headsets, goggles, bodysuits, or gloves. Lastly, a wide variety of industries are investing heavily in VR app development to fulfill their own unique use cases with VR ready apps. 

The Virtual Tours and COVID-19
The COVID-19 global pandemic changed many businesses and their operations. In fact, everyone had to rely on digital solutions to continue their business. As a result, the real estate industry also faced a massive backlash from the pandemic and ongoing lockdown norms. 
The innovative real estate businesses were starting to invest in VR app development services to create their own VR apps. These apps enabled the users to have 3D walkthroughs of properties in a completely virtual environment. Thus, no one had to break the lockdown norms and risk getting infected with the virus. These virtual tours became increasingly popular during the pandemic era. People were also loving the idea of exploring multiple properties at the convenience of their homes. 
Reasons to Consider VR in Real Estate Industry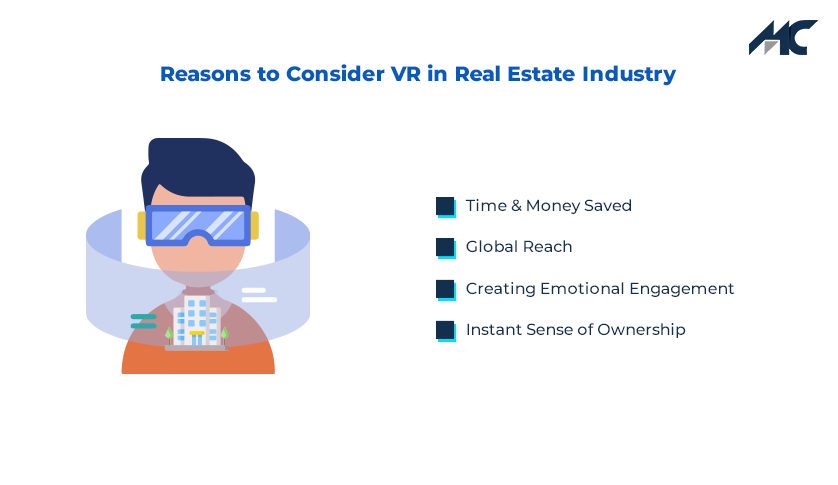 Many businesses have already started investing heavily in VR app development after the global pandemic. This innovative technology could bring significant benefits to real-estate businesses. These are some of the notable reasons to consider VR in real estate industry; 
Conserve Time and Money

 
By implementing VR in the real estate industry, both potential buyers and businesses can save a lot of time and money. In fact, no one has to physically visit the property site for examination or demonstration. Businesses can explore this advantage further since they can provide virtual tours to multiple clients with ease. Furthermore, each of the clients can be shown a different furnished version. 
1. The Ultimate Convenience 
Buyers usually have to spend an entire day exploring a property properly. VR for real estate makes it possible to remotely browse multiple properties without leaving their homes. Moreover, this convenience is more useful when the properties are in different cities. By just using a pair of VR headsets, buyers can explore properties with complete convenience. 
2. Extremely Realistic Experience 
VR technology with proper VR app development makes it possible to have the most immersive experience for the users. Above all, the Unity and Unreal Engine helps VR app developers to create photorealistic 3D representations. 
3. Improvement in Business Representation 
People love businesses that are willing to use the most innovative technologies and experiences. Thus, investing in VR app development services can help you create a positive brand image and build trust. 
4. Improved Online Communication 
Although, online communication can be done through traditional real estate experience. However, virtual reality in real estate industry can ensure better communication between clients and businesses. People can just comment or give remarks on an aspect of a property in the immersive world.

Using VR for Real Estate
VR technology is known for providing a very realistic and immersive experience to the users. Many businesses have finally learned to use VR technology for commercial and practical purposes. For this reason, real estate businesses are also flourishing by using VR technology to open up new opportunities for their business. 
This technology is bound to revolutionize the multi-billion dollar real estate industry. In fact, it will add a positive experience and open new prospects for real estate enthusiasts. 
These are some practical use cases of VR for Real Estate; 
#. Virtual property Showcases 
This is the most practical application of virtual reality in real estate industry. Every year clients have to spend countless hours browsing the properties before making a purchase decision. Implementing VR technology to provide virtual tours can drastically solve this problem. By simply using VR headsets, people can virtually visit properties without actually leaving their homes. 
VR app developers can help real estate businesses to ensure fully immersive and 3D property walkthroughs. Thus, the users are able to enjoy two types of 3D virtual tours; Guided and Interactive tours. 
. Guided Tours
These tours are similar to traditional tours where the business would just play a video and explain the features of the property. However, VR guided tours are presented in a fully virtual form or in 360-degree videos. This is far better than traditional video tours due to the immersive experience. 
. Interactive Tours
These tours provide users to explore the property more interactively and examine every aspect carefully. However, creating an interactive tour takes more time than guided tours. 
#. Architectural Envisaging 
Real estate businesses usually have to market and sell projects that are not yet built in the real world. Traditionally, they were often reliant on miniature models to help clients visualize the final project. However, there could be so many discrepancies and differences between the model and the final structure. Plus, building a miniature model also takes a significant amount of investment if they want to make it look realistic. 
Implementing virtual reality in real estate industry can solve this problem by enabling the potential buyers to explore and inspect the yet-to-be-built properties. Thus, VR technology makes architectural envisaging more affordable and cost-effective. Businesses are investing in VR app development to showcase both the exterior and interior of unfinished properties. As a result, the potential buyers are able to get a clearer perspective of the properties with an immersive experience. 
#. Designing the Interiors with VR 
Traditional drafting might be enough to define each and every aspect of the interiors of a project. Plus, the potential buyers might not understand the technical language of architectural drawings. For this reason, many businesses have started implementing VR technology to help designers and clients to visualize how home decor and interiors will appear in the final build. 
By getting an immersive visualization of the interior possibilities, the customers are able to make better decisions in creating the interiors of their homes. In fact, they are also to provide their own inputs to design the interior according to their preferences. A personalized experience is always preferred by customers especially in the real estate business. 
#. Virtual Instructions for Tenants 
Both real estate agents and landlords have to effectively communicate with the tenants. Traditional communication mediums might not be sufficient to explain the tiniest details of the property. Therefore, VR technology can be implemented to ensure effective and visual communication between the tenants and landlords. Tenants can simply use VR headsets to get a 3D guided tour of the property and receive the critical instructions. 
VR for real estate can help the tenants understand the nature of utility services at a property and avoid unnecessary conflicts with landlords. Furthermore, virtual instructions can also help the guests who stay on a temporary basis. The tenants don't have to personally train the guests when they have access to VR technology. 
#. V-Commerce
Continuing the previous point, virtual interior design can open up a new business prospect for real estate businesses. They can start their own V-commerce services to help buyers to personalize the interior spaces according to their preferences. Thus, the customers are able to use an interactive interface to buy the furniture, light fixture, flooring, and more for their homes. Furthermore, the customers can clearly envision what their property will look like when they finally move in.  In this way, real estate businesses can expect better revenue by providing more customization options to the customers. They can create their own store full of purchasable items. 
Real Estate VR App Development Cost 
There are so many factors that might determine the total VR app development cost. You have to consider the visual content, tour flow, connection to the visual content, menu development, backend development, and other features. Plus, it could take around 2 months to develop the VR real estate app from the original plan to the production release. Usually, such a VR ready real estate app costs somewhere between $10,000 to $75,000. 
Why Hire MobileCoderz for Real Estate VR App Development? 
If you are planning to invest in VR app development, then MobileCoderz is a leading real estate app development company. We provide the most innovative VR app development services that help real estate businesses to achieve better sales and provide experience to their customers. Our team consists of VR app developers, top-notch designers, and quality-driven project managers. We thrive to take the extra mile when it comes to providing VR app development services.