Developing mobile applications is labor-intensive, time-consuming and quite a delicate procedure. Any technical snag would lead to immediate failure of the application during the testing phase, thereby spelling discouraging failure of all those hard works and considerable efforts put together in the process of developing the (dud) app. Because of the intricacy involved in developing mobile applications, hiring a right mobile app developer seems, in all likelihood, a logical choice from the standpoint of saving time, money and efforts that go down into developing an app for your business.
But hold on.
Before you jump to decide to hire a mobile app developer and repent later over your decision isn't it prudent to consider all possible checklists about the developer you intend to hire?

Believe it or not, the imprudent hiring of a mobile app developer would be a thankless outcome of receiving a product delivering no profitable results for your business, as expected.
Checklists For Hiring A Mobile App Developer For Your Business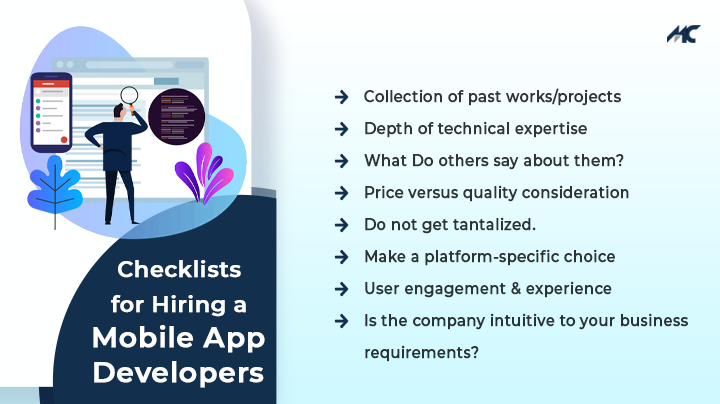 Collection of past works/projects
To shortlist a right mobile app developer involves thoughtful consideration of exploring his work portfolio to finally, be able to judge whether the potential hire is capable enough to deliver you a mobile app corresponding in exact simulation to your business vision and expectations. An extensive study of the work portfolio enlightens you with a crystal-clear picture of his professional prowess and backgrounds, ostensibly valuable information that would help you make an informed decision about hiring the prospective mobile app developing company.
Depth of technical expertise
Would you hire a mobile app developer whose technical expertise is considerably limited to a basic understanding of essential programming language and tools involved in mobile app development?
Since we live in an era of fast-evolving technologies, any lapse in judgment on your side could render you unsavory business experience, and when it comes to hiring a mobile app developer, this means a more serious approach and adroitness must-have in your queer to discern a right talent catering to your requirements with surgical precision.
Therefore, choose a developer having profound knowledge and practical working experience on latest and prevailing technologies like artificial intelligence, machine learning, augmented reality, virtual reality, chatbots, programming languages (basic to advanced), and other desirable traits. Hiring someone having so much about the above knowledge and experience would help you have the most advanced and highly-optimized mobile app to transcend your business success.
What do others say about them?
A highly experienced and knowledgeable mobile app developer has considerably powerful persona on the web as a trusted, intuitive, valuable, and dexterous professional. This positive persona about the developer is held by his former clients satisfied with his professional integrity and service rendering capacity. Therefore, you choose a mobile app developer having such a positive persona among his former clients or whether the mobile app developer is positively reviewed by other people. Choosing a professional based on positive reviews and recommendations coming from trusted sources would mean to be an investment made in the right business direction.
Price versus quality consideration
Low-price-prattling is a trend abundant these days on perhaps every website of potential mobile development companies, talking at length that their service price is relatively cheaper, obviously a well-planned-out bet to lure the target customers into buying their service.
Contemplate more on the quality aspect of hiring a mobile app developer as to whether his service would justify your ROI with regard to receiving a quality product. If a high-quality service comes at a slightly expensive price, consider it well-invested money into the right business direction for a long-term gain.
Make a platform-specific choice
When it comes to hiring the right mobile app developers for your business, the most fundamental understanding goes down into making an analysis of your business nature, target customers, and above all, the specific platform (iOS, Android, Windows) for which you may want to have an app for. The mobile app developers can offer you platform-specific options for you to choose based on your business compatibility.
The cogency factor: User engagement & experience
Topmost favorite apps in the world are those delivering impeccable user-experience, because of their relative seamlessness, aesthetics, and ease of performance. Decide to hire a mobile app developer capable of building you an application equipped with the cogency factors, such as navigational easiness, quality build, and delivering unbeatable user-experience.
Is the company intuitive to your business requirements?
Working with a mobile app development company becomes an outcome of a nuisance when you failed to understand the intention of your hire, that it never meant to serve you the way you wanted it to. A great risk of hiring the mobile app developers not attached with your vision and respecting it is the result of a non-performing, stale mobile app serving no profitable growth for your business.
Wrapping it up
The process of mobile app development is herculean due to the consideration of several intricate factors that a developer has to mull over. Moreover, a business hard-pressed by budget-constrain would choose a pro mobile app developer than risking to set up a new team of developers for the task. And evidences have proved that businesses who hired a mobile app developer than risking a new team set-up on their own displayed a great deal of business acumen because of the results they experienced, such as faster development of a high-quality mobile app under the affordable price that would otherwise have cost the company expensive payout.
So it is safe to say that to get a highly sophisticated and performance-optimized mobile app wouldn't be possible without hiring an experienced, profoundly educated mobile app developer. A professional hire can deliver you the mobile app working in an exact simulation of your business dream in terms of quality, performance and terrific user-experience.
Hope the above checklists would enable you to make a right decision about choosing the right mobile app developer for turning your dream to its realistic manifestation, and in a way that is ROI-justifiable for your business.