Did you know that 90% of the total time spent on mobile devices is actually spent on apps? This might give a fair idea about the huge potential to earn millions of dollars from your mobile applications. In this blog, we will you learn earn money from mobile apps.
Some Stats to Learn
In 2021, Android and iOS app revenue had reached $133 billion. There was a 19% year-on-year increase and iOS brought around 63% of total app revenue. 

In 2020, the subscription revenue increased to $13 billion and iOS brought around 79% of this revenue. 

The total ad revenue from mobile apps in 2020 had reached $581.9 billion.

There are now more than 5 million apps out there on app stores.

Almost 98% of the Google Play revenue is generated from free apps.
Free vs Paid Apps: The Age-Old Dilemma
Developing a mobile app is a challenging task. Thus, the app publisher expects some earn money from mobile apps. Paid apps create the direct upfront cost for the consumers. The users might be hesitant to pay for downloading the app. However, you will have the guarantee to earn from a paid app. In comparison, free apps can be downloaded directly without paying any upfront cost to the app publishers. However, in this model, the companies earn in the form of paid advertisements or in-app purchases.
Let's understand the demographics from this graph

Things to Consider to Ensure Earning from Mobile Apps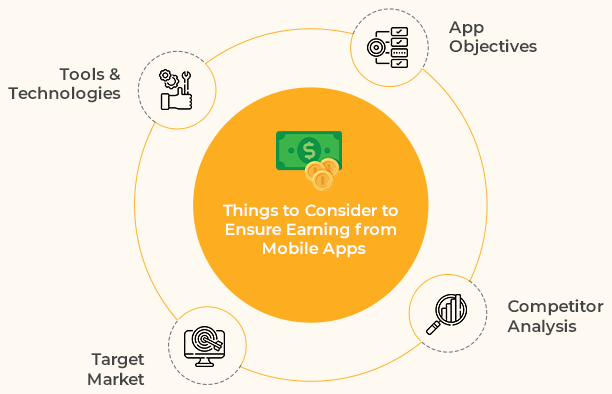 App Objectives 
Before selecting the right mobile app monetization earn money from mobile apps approach, you must be able to define the goals of your app. If you are unsure, then a mobile app development company can help you define the objectives easily. In fact, the objective plays the most important role in determining the market and monetization earn money from mobile apps approach.  
The moment you have a clear understanding of the app objectives, you will be able to choose the right monetization strategy is to earn money from mobile apps. In fact, different target prefers different monetization or subscription models. 
Target Market 
The end-users or the target audience also play a key role in determining how you can earn money from mobile apps. Choosing the right demographics for you will also help you set the ideal monetization method for your app. For example; if your app is meant for business users, then your monetization strategy shouldn't be wasting their time. Whereas, if your app is meant for kids, then it should be free to use. Therefore, it becomes important to analyze and examine your target audience before developing any monetization plan. Your potential users must understand the genuine worth of paying for your app. 
Competitor Analysis

 
The mobile app market is full of competition these days as everyone is pushing for mobile app development. If you want to ensure the earning money from mobile apps, you will need to perform an in-depth competitor analysis. This will give you a fair idea about what others are doing to earn money from mobile apps.
In the age of cutthroat competition, competitor analysis isn't meant for understanding monetization strategies. In fact, you can also use it for defining the highlights, functionalities, and design of your app. By understanding the key aspects of your competitors, you can do a lot more and gain a competitive edge against them.  
What exactly do you need to find out in competitor analysis: 
The earning model of your competitors 

Effectiveness of the earning models

Drawbacks earning strategies 

The key audience of your competitors
Tools & Technologies
The tools & technologies behind your mobile app are responsible for enhancing the user experience and giving you a competitive edge over your competitors. Ultimately, it will also assist you in your mobile app monetization strategies. By relying on the latest tools & technologies, you can reduce your dependency and improve your efficiency to expect higher profits from your users. 
How App Owners are Making Money?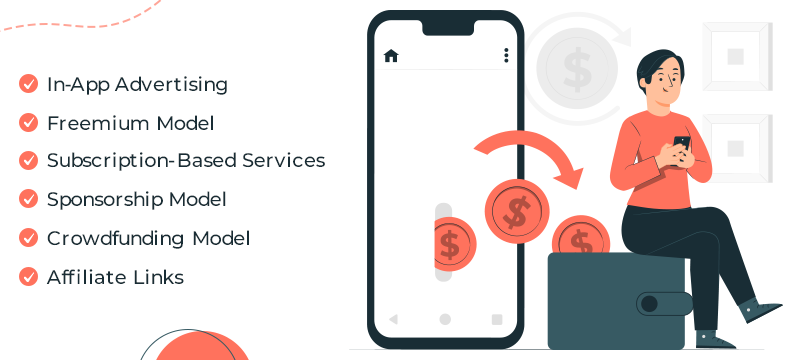 There isn't a single answer to explain the actual revenue generation possibilities. In fact, each business implements a different mobile app monetization model with custom strategies to ensure earn money from mobile apps. Here are some key mobile app monetization models that you should know about;
1. In-App Advertising 
This is perhaps the most widely used and successful strategy is to earn money from mobile apps. In fact, the majority of app publishers prefer to earn by displaying ads to the users. Thus, it is a highly effective and profitable mobile app monetization model.
Different formats in in-app advertising 
Banner ads 

Interstitial ads 

Native ads 

Text ads 

Video ads 

And more! 
If you want to ensure the maximum earning from mobile apps, then you must have a high number of users in this model. The average revenue from an ad completely depends on the type of ad and your user base. However, this model can become annoying for some users who prefer a neat and clean user experience. Thus, you must implement the ad elements very carefully. 
2. Freemium Model 
A freemium model is a highly effective strategy for mobile app monetization if you implement it in the right way. Thus, you have to make the user experience so addictive and engaging that users are compelled to pay for the premium features. Usually, mobile games have the highest scope of earning from a freemium model due to their engaging multimedia content. 
In a freemium model, your app's basic features will be accessible for free. However, the users will need to pay for some virtual elements, premium content, in-app currency, etc. The right mobile app development company can help you define the perfect freemium model for your mobile app. 
3. Subscription-Based Services
Subscription-based services like OTT platforms are earning huge profits from repeat customers who love to pay for the services. In this mobile app monetization model, the users have to pay for a certain service on a weekly, monthly, or yearly basis. Above all, this type of business model is ideal for cloud-based services or multimedia content providers. Thus, you have to consider your business domain before you choose this mobile app monetization model. Not every mobile app can work with this model!  
4. Sponsorship Model
Sponsorship is another effective mobile app monetization model that can help you earn. This model works by connecting with different brands in the same niche and then taking a sponsorship fee to promote their products and services. 
To make this mobile app monetization model work, you have to ensure two things;
Define the division of revenue from your mobile app 

Define a monthly sponsorship fee to promote brands 
5. Crowdfunding Model
It is often considered an alternative method for earn money from mobile apps. However, it is gaining good traction for mobile app monetization. In this model, you have to create and publish an MVP of your app on popular crowdfunding platforms to raise funds. Interested investors love to invest in innovative ideas that might have market potential. Thus, you have a great chance of raising funds if your app is innovative and useful. 
6. Affiliate Links

 
This model is another form of the sponsorship model. However, instead of promoting products or services of a single organization, you are free to include the reference links of multiple interested parties. Thus, this could be a great mobile app monetization model if you are not able to get a single wealthy sponsor for your app. However, you have to be very selective when it comes to selecting the affiliates for your mobile app. 
What is the Future of Mobile App Development?
Over the past decade, the mobile app development industry saw unprecedented growth. More and more businesses have shown interest in developing mobile apps with the help of a leading mobile app development company. The future for mobile app development is definitely bright and prosperous. We will have more smartphones, wearable and IoT devices in the near future. This means businesses will have more lucrative opportunities to earn money from mobile apps. If you want to earn from your mobile app, it would be recommended to consult a mobile app development company. 
Why Choose MobileCoderz for Mobile App Development?
If you want to embrace the future of mobile app development, then MobileCoderz is the perfect digital transformation company for the job. We help our clients to develop innovative mobile apps to earn higher revenue from the market. Our team dedicate themselves to helping you determine the perfect mobile app monetization strategy for your mobile app. We are a leading mobile app development company in New York with a huge portfolio of clients coming from different industry verticals. We empower businesses with the perfect digital transformation solutions and cutting-edge technologies. This helps them to define the best mobile app monetization strategy and earn revenue effectively.