Are you looking to hire Angular developers? 
Angular is a famous framework that has a wide range of powerful features to build dynamic applications for web and mobile devices.
While there are many new technologies available in the market, Angular still has significant demand. However, this technology has some better alternatives, businesses hire Angular developers to build advanced or complex-level web applications. 

If you are also searching for Angular developers, here in this article, we will give you the latest information about how much does it cost to hire Angular developers. This post will give you extremely useful tips that would help you save significant costs in your Angular development project. 
But before we begin, first understand 
Key Factors That Affect The Cost of Hiring Angular Developers
1. Complexity-level of Features
Features are the backbone of an application. It determines the entire structure and functioning. An application may include simple or complex features which impact the development process and its overall things. The more complex the features would be, the higher time it would take to make it fully functional. As a result, it will impact the cost of hiring Angular developers. 
For example, if you want to create a location-based web application using Angular which would include GEO technology, real-time location tracking, data processing, and the inclusion of AI-based algorithms. These functions will require additional time and effort in the Angular development phase which ultimately requires experienced or proficient Angular programmers to enable such advanced functionality. 
If you are developing a simple or moderate level Single Page Application (SPA), it may take between 400-950 hours in the entire development. Hence, if you hire dedicated angular developer for such project, it would cost you somewhere between 9500 USD – 22,500 USD. 
And for creating complex level SPA, it may take about 600-1200 developing hours. So, how complex your application features need the required time in the development which ultimately affects the hiring price. 
2. Size of Projects
Angular is mostly used for developing web applications for ranging business requirements. This framework can provide you with solutions for small to large-scale projects. How much time does it take to complete your project with Angular depends on the type, development methodology, and size of an application. And AngularJS developers will take time accordingly in developing the application. So what is the size of your project determines the overall cost of hiring Angular developers which are as follows-
# Small-Size Projects
A small-size project includes the essential or foundational functionalities and features that usually takes less time and developing efforts. These applications are used by small and medium-scale companies. If your project requires simple or minimal level features, it won't impact much on Angular developers to make it functional to the final stage. 
They can deliver such apps at ease with less effort and time. Because your application doesn't include any advanced-level features, developers also wouldn't need to add any additional or premium plugins or integrations. This would eventually save a significant amount of development resources. 
# Medium-Size Project
Medium-size projects require greater development than smaller projects. These apps may include high-scale operational features with third-party integrations and APIs. This integration may be free or available in paid versions. So depending on your application needs, Angular developers will need to add such integration to enable the function you want. 
# Enterprise-Size Projects
Enterprise-scale projects require high-level functionalities. These applications include advanced features, better CMS tools, and premium APIs. Apart from this, enterprise-scale projects may need a dedicated team of Angular developers, QAs, testing teams, and DevOps tools for delivering solutions as per the project requirements. Enterprise-scale projects sometimes need highly advanced technologies to build custom solutions which may additionally impact the overall time and efforts in the development. 
3. Skills of Angular Developers
This is one of the most important factors that affect the cost of hiring Angular developers. The skills of Angular developers decide how much they are fit for your project. The more they have knowledge, the better they can create the application using Angular technology. While you search for the best angular developers for hire, you should ensure they must hold good skills in the below things which are highly essential in Angular development
Architecture: This involves multiple modules and components related to Angular. It is embedded with MVC at its core but works fine with an MVVM architecture. Your AngularJS developers must have sound knowledge to enhance the performance of your application that gives a better user experience. 
Templates: Angular developers must hold knowledge of templates and how they can be implemented in the application. They should be familiar with required third-party libraries which can improve functioning and build a great user interface in your application. 
TypeScript Expertise: Angular is written in TypeScript, which is a superset of JavaScript programming language. TypeScript is a little bit tough to learn and requires a good level of intelligence to write error-free coding. Therefore, how much Angular develops and expertise in TypeScript programming affects the development process and timely delivery of your project. 
Development Tools: Angular has various additional development tools such as Webpack, Angular Material, Angular Schematics, Angular CLI, etc which are additionally used for making customized components and modules for your application. 
4. Engagement Model
There are several dynamic hiring models available. You can hire Angular developers based on different factors like an hourly or monthly basis. Many Angular development companies provide flexible services or hire Angular developers to businesses as per their managing project requirements and budget. 
However, there are mostly two types of models available in the market.
Fixed Hiring Model
Dynamic Model
Fixed Price Model
Dynamic Hiring Model

Clients only give their project requirements for a fixed model

Clients have the freedom to choose the number of developers and look for skills as per their project requirements

 

Once the agreement is signed whole duty of project delivery and implementation lies on the company

 

This is a dynamic model where you can accommodate the cost and project delivery depending on your business goals

 

Cost and deadline of project delivery is fixed before the development starts

 

Clients can constantly take updates on their project development process

 

A dedicated project manager controls the whole project without client consultations

 

Flexible teams which can work as per client's demands 

 

Evaluation of the development of the project and ensuring compliance becomes time-consuming

 

As clients have direct control over the developers, tracking the project development progress and ensuring compliance is smoother

 
What is the secret to hiring the best Angular developers?
You have now understood the various hiring models that are available in the market. So you must feel excited to look for the developers for your Angular development project. But before you start your project, take a minute of pause and think about how you would ensure that you hire the best Angular developer for your project? Is there any secret behind making the right selection of developers?
Well, the only secret formula to hire angular programmers is how much you properly understand your project. Developers will charge for every minute they spend on your task. No matter whether you are keeping them free or fully engaged in the entire cycle of project development, it would be your responsibility to fully utilize their skills and experience throughout the period or timeline for which you have hired them. You should have some basic knowledge of Angular technology to accurately assess their skills and expertise and control them as well so you drive a better ROI from your hiring investment. 
Therefore, to ensure your hiring decision goes well, you should write clear and comprehensive project details that allow developers to decide whether the skills and experience match your project. You should clearly define what exactly you want and what are the critical things that you don't want to compromise with the final solution. 
Cost of Hiring Angular Developers
The cost of hiring Angular developers depends on many factors which we have already discussed above. But in general, there are some common and essential factors that decide the overall cost. 
How much experience does an Angular developer hold decide the cost? The more they are experienced, the higher they would charge. There are mainly three major levels of experienced develops available which you can hire
# Junior developers
They are fresh graduates or beginner-level programmers who hold 0-2 years of experience in Angular development.
# Mid-level developers
These developers have sound essential knowledge and experience of between 3-5 years.
# Senior developers
They are the most experienced developers who hold more than 6 years of experience in using ANgular technology. They are well-versed in using other technologies like cloud, SCSS, Cordova, RxJS, AWS with Angular can deliver an advanced solution for your project. 
From where you are hiring develops is one of the major cost deciding factors. Different countries have different hiring prices. For example, if you hire Angular developers in India, it would cost you around $30-$50 per hour rate. In North America, the price may go up to $81-$100 per hour rate. 
Average Price of Hiring Angular Developers in North America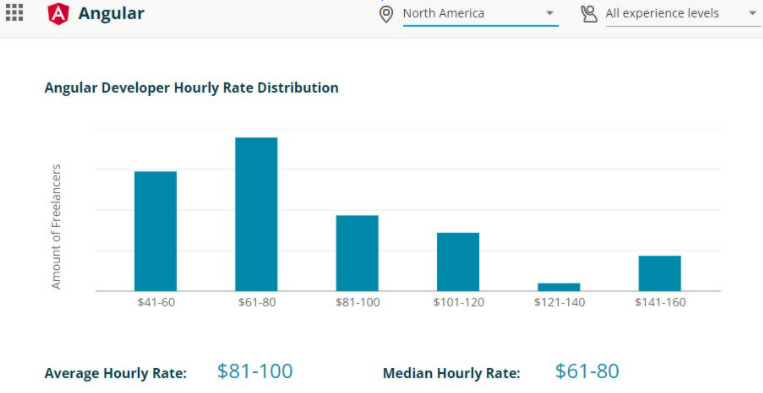 Average Price of Hiring Angular Developer in Asian Countries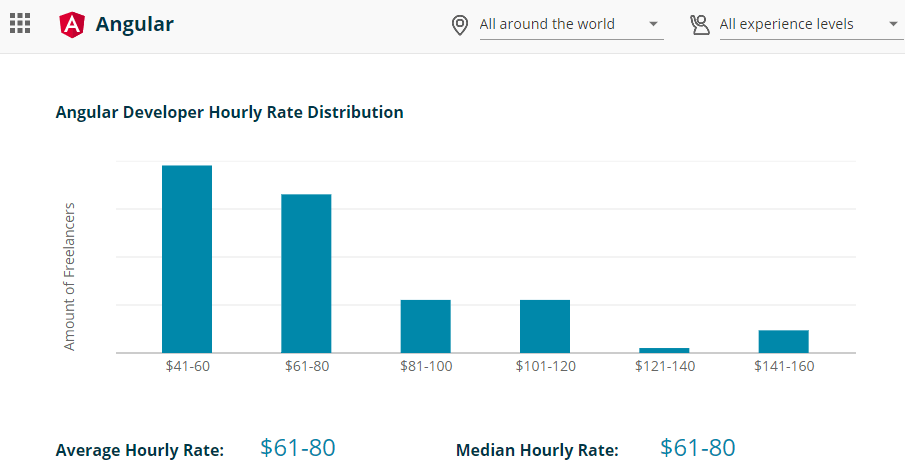 Similarly, ASIA, Europe, Australia, every country has different pricing rates for Angular development. 
| | |
| --- | --- |
| Country | Average Cost Per year |
| India | $7,500 |
| Malaysia | $14,800 |
| Singapore | $43,112 |
| USA | $96,100 |
| Canada | $120,000 |
| Mexico | $14,102 |
| UK | $84,125 |
| Sweden | $38,254 |
| France | $41,854 |
| Australia | $73,480 |
Angular is a robust technology. It uses TypeScript programming which is a little bit difficult to learn. It offers multiple types of functions to develop different projects and constantly the rice also varies.
Type of Angular Development
Technology Requirements
Average Hourly Rate

 

Basic Front end development

It includes front end fundamentals-HTML, JavaScript, CSS, AngularJS, jQuery

$10-30+

Medium-Advanced Front end

It goes beyond fundamentals and incorporates other robust technologies such as CSS frameworks, CSS preprocessors LESS/SASS, and React.

$35-100 +

Basic Back End

It contains back-end fundamentals- databases like MySQL, Node.JS, Express, RESTful APIs, Lambda functions

$25-50 +

Medium-Advanced Back end

It goes beyond fundamentals that include cloud services like AWS, back-end JavaScript frameworks

$50-100 +

Full Stack Developer

Combination of front end and back and development expertise. It includes MEAN (Angular, Node.JS, MongoDB, Express)

$50-100 +
Conclusion
Hiring an Angular developer is not a complex task that you need to put a lot of effort into. It depends on how much you are clear about your project requirements, business goals, and expectations from the developers. 
While there are many freelance sites also available from where you can hire professionals, hiring developers from a professional Angular development company makes a sensible decision because they will ensure everything is secure and give you reliable services for your project.
And if you are looking for a company that can provide you industry's best Angular developers whom you can fully trust, contact MobileCoderz. We have full-time dedicated Angular developers who have delivered many successful solutions for our international clients for their different business requirements. You can hire them depending on your needs at the most affordable rates. 
Just Schedule a Call Now and Talk to Our Team Directly