If you're in the digital space, you've likely heard the term Low-code in Mobile App Development. So, what exactly does this mean and how will it shape the future of app and software development for all businesses?
In order to build engaging and scalable enterprise applications, you require a long-term vision of your company. And, it's extremely crucial to adapt to the new technology and trend to satisfy the ever-changing requirements of the marketplace. Hence, companies must be at a point of being one step ahead of customers' expectations.
Achieving a high level of flexibility is now possible with a solution that is "Low Code". Low code mobile app development refers to platforms that offer an environment for developers which allows users to develop new apps using the graphical user interface without any code. Find out more about what low-code development can do and what is its future ahead.

What are the Most Popular Low-code Features?
Low-code development tools have inbuilt tools that users can use for the complete lifecycle management of the application. Low-code development can automate the long hand-coding process, which allows developers to concentrate their efforts on the key elements of the project.
Low code android app development platforms are built using the following functions and features:
#1. Visual Tools for Designing

: 
Pre-built functions and components let users drop and drag fields on your application. This eliminates the need to write any programming.
#2. Connectivity

: 
These systems integrate with backend systems, such as CRMs or ERPs, in order to let you draw data from live-time dashboards or reports.
#3. Business Rules

: 
You need a code and configuration logic to allow processes and workflows.
#4. Automation of Business Processes

: 
This feature lets developers connect their applications to existing business processes using connectors or APIs that connect to current systems or directly to them. Here you can use Out Systems mobile development and get started.
#5. Cloud Deployment

:
Applications are installed in the cloud to serve testing or production environments. Users can access them from there with internet access.
What Businesses Prefer Using Low Code?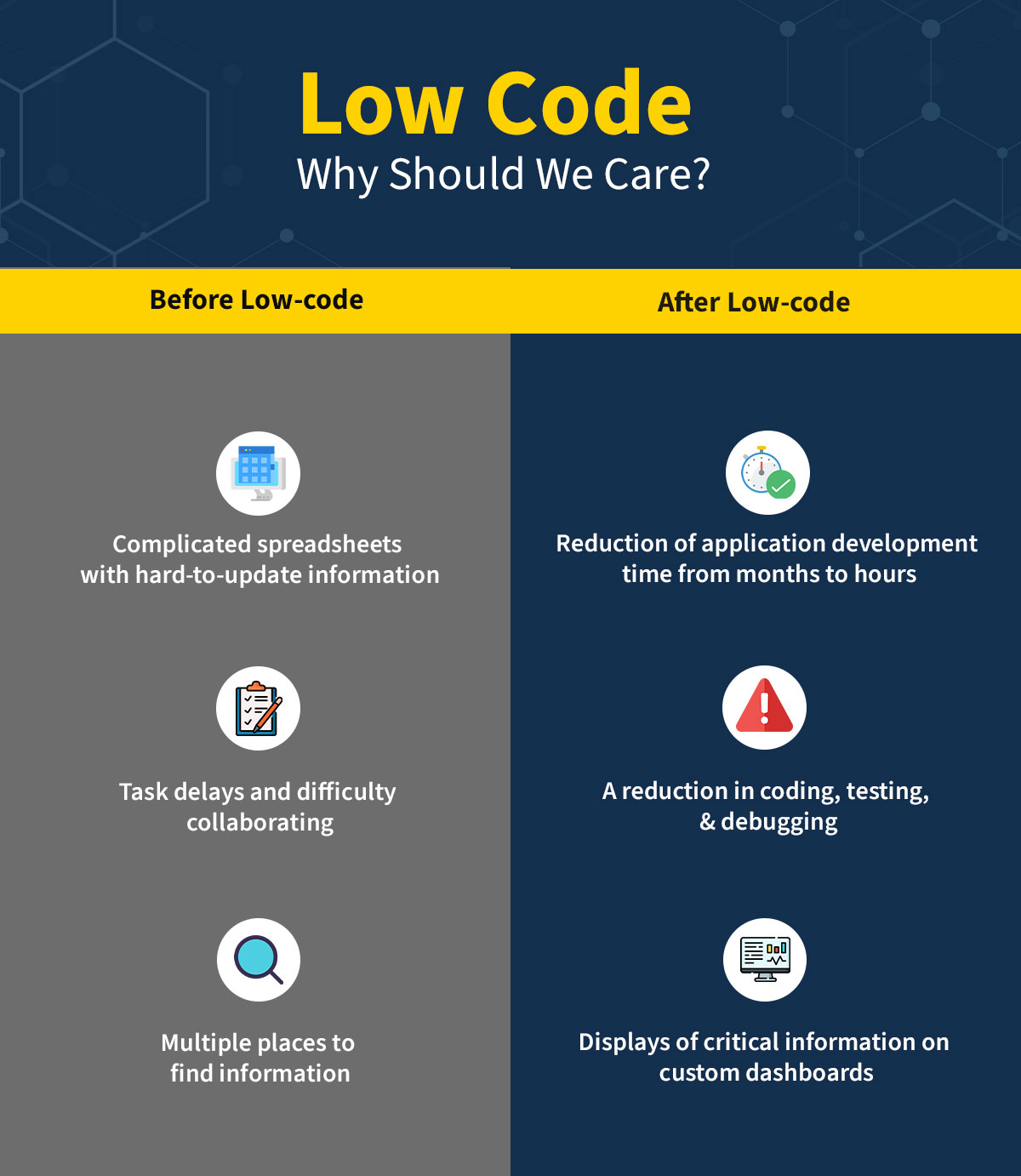 Developers using Low-Code Development can develop applications rapidly and on a routine basis. Development tools are available as a service on the cloud and include integrations to numerous data sources and applications readily available.
Low code mobile development is ideal for businesses looking to boost their profits and efficiency through technology but doesn't wish to dedicate a large amount of money to it. It's the quickest method to put something innovative, such as an app for mobile devices without having to hire programmers.
Low code is good for people who want to extend on an existing platform or design a new one. Low code mobile app development platform offers the tools and templates and defines precisely how to use them. This is for people who want to be sure they're getting something that's effective quickly.
What Users Can Code From Low Code Mobile App Development Platform?
Low-code development platforms help to create mobile applications, websites, apps, and back-end systems. They permit developers to build applications by dropping components, rather than writing codes. Low code mobile development is usually connected with the drastic development of RAD. For instance, an insurance company could use a low-code program to build an app quickly which allows customers to submit claims from their smartphones or tablets. And a consumer good manufacturer could make use of it to build an efficient manufacturing dashboard to monitor production lines.
In addition, you won't have to write any code in order to make an interface that is compatible across all devices. Also, you'll be in a position to test your application at a much earlier stage. It reduces the number of bugs you'd require fixing later.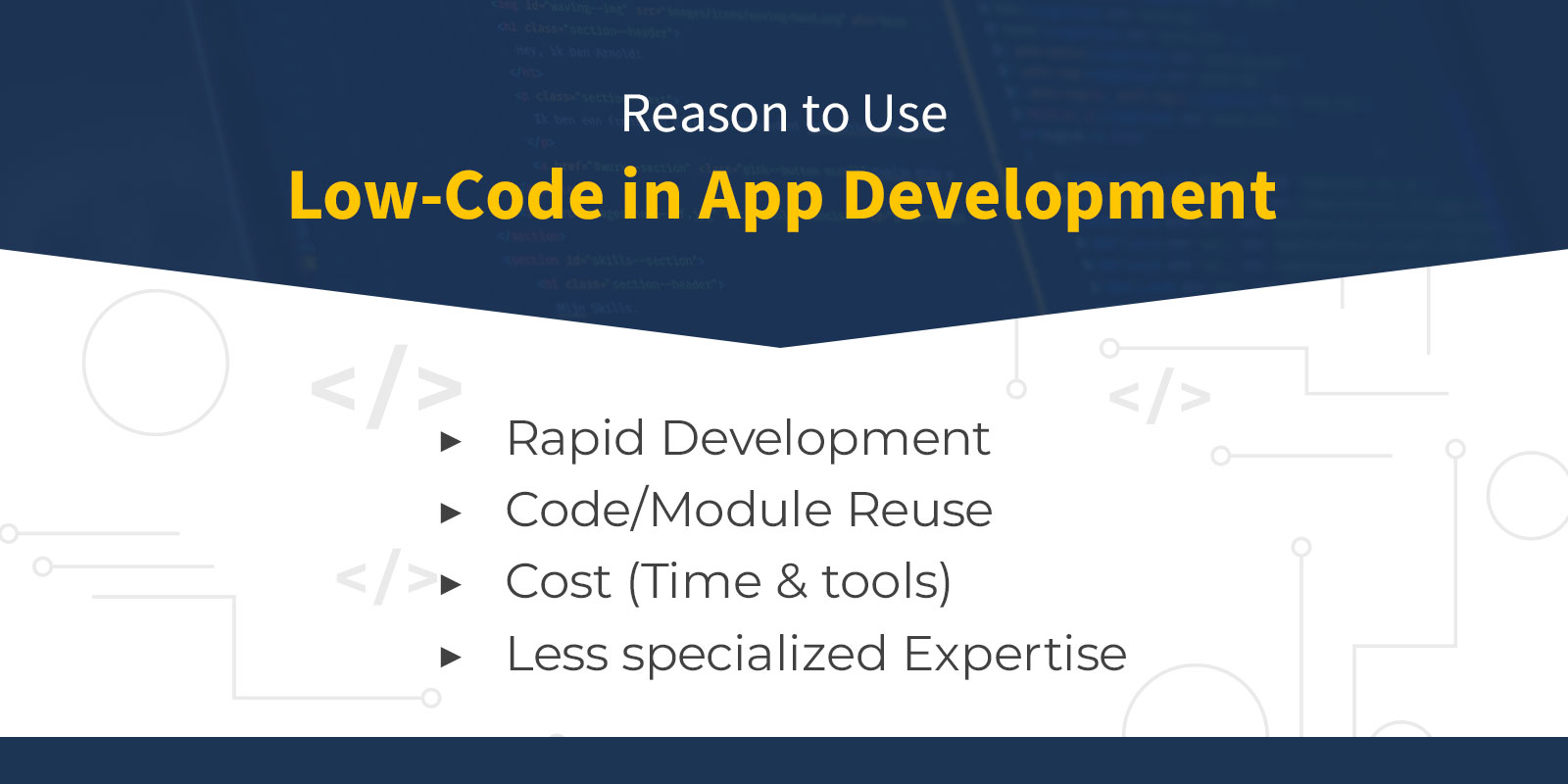 Why is Low-code Mobile App Development is "Future Revolutionary Thing?"
Here are some reasons why you should think about adopting low-code to app development.
Laying the Foundation
Firstly, the low code mobile app development is a visual method to the development of apps quickly which makes software development easier to access. 
Through low-code development, programmers are able to select the essential components needed to develop their application using an on-screen library. You need only drag and drop.  These simple building blocks can substitute time-consuming hand-coding, allowing IT personnel to swiftly and efficiently build applications for businesses.
Because developers can outline and automate all steps of the lifecycle of an application Low-code can break down the traditional silos between IT and business, and encourage continuous collaboration. Moreover, through this way, your company can create products that satisfy the customer and employee requirements.
Boosted Agility
Certain experts think that low code iOS app development could be the new way to improve business flexibility. Since it permits the modification of the internal software applications It also helps people who are not coders to fill in the gaps of workflow using simple visual strategies. Furthermore, teams are able to modify the software to be responsive to every kind of device and gadget.
Cost Reduction
Now the requirement of having a full tech team is not important with low-code development. All you need to do is find a coding platform that assists users with low-code. It reduces the cost of hiring and the time in creating applications. The low code mobile application development platform ultimately reduces the overall costs of production for apps. 
Increased Productivity
By using low-code, you will get rid of the lengthy technical code that takes up your time. In addition, it helps to create greater collaboration. It doesn't matter if it's in the team for development or any other departments, everyone is on the same level. You can choose the best low code mobile app builder and get started. 
Great Customer Experience
Low code mobile application development platform permits you to develop design templates and better interfaces, thus improving user experience with the platform. So, seamless user interaction is something you could offer to the users without disrupting the functionality of the product.
Effective Governance and Risk Management
Contrary to other methods of code that require constant changes to be an undertaking, Low code mobile development platforms are built around the 'changes are the constant basis. How? You can alter or update procedures without writing any long code. Thus, businesses can get an automated risk control system that can provide alternative options with less TCO.
Faster Transformation
Over the last two years, we've witnessed a superabundance of small-scale businesses digitized due to restrictions on pandemics. This is why low code mobile application development platforms have been an advantage for a lot of these.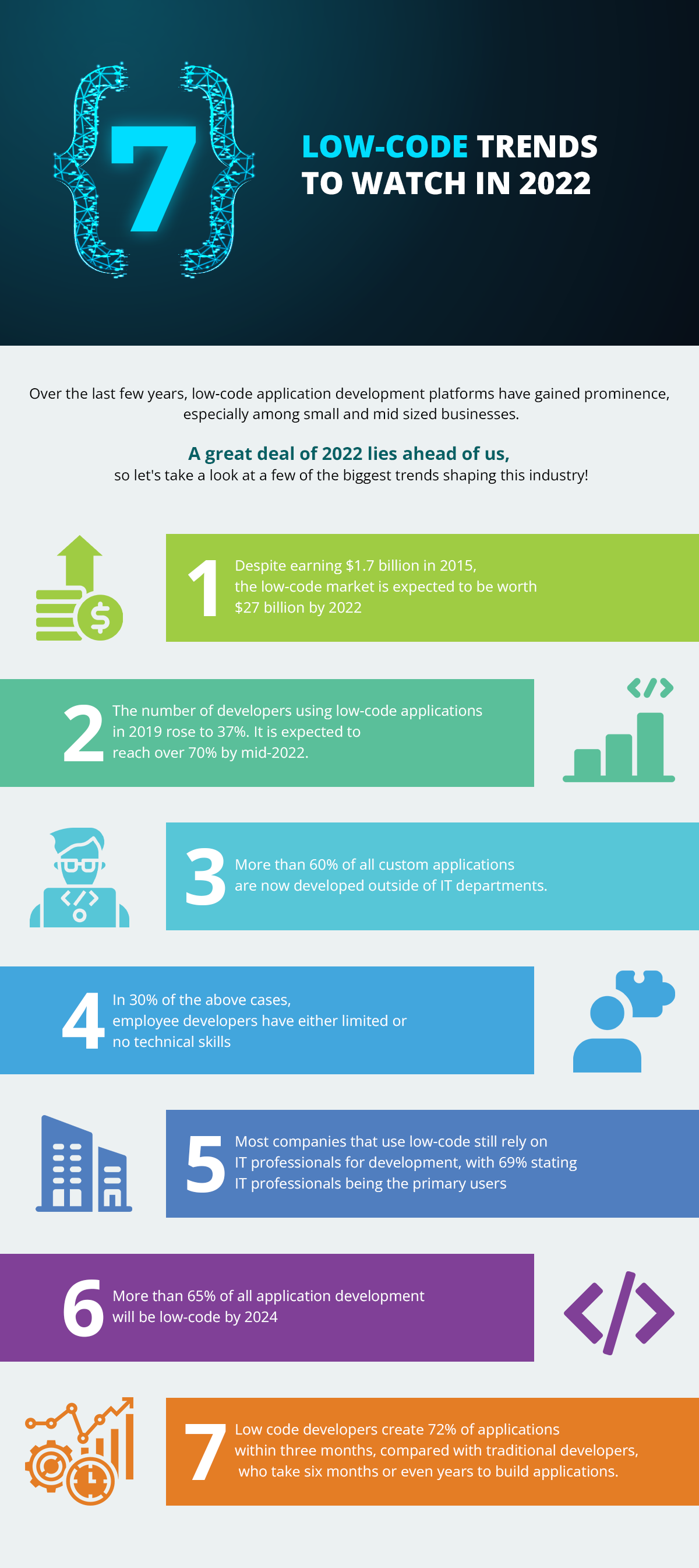 Factors that Affect the Future of Low-code Development
Let us explain three key elements which are most likely to determine the future of development using low-code:
Rapid Adoption of Low-Code Platforms by Enterprises
The modular components and modules that come pre-built on low-code platforms have been made for technical and business users to improve productivity for enterprises. This will convert 55-65% of traditional app development to low-code development over the next five years.
Large Investors in Low-code or No-code Platform
Low code mobile app development platforms are receiving massive investment from the top three cloud service providers on the marketplace today – Google, Amazon, and Microsoft. In the near future, enterprise customers will come to these big-size low-code providers because they will easily integrate the low-code tools and earn profits. With improved modularity, integration capabilities, and custom UI templates, public cloud providers will be stepping up their low-code game.
Better AI Capabilities and Smart Governance: Is This The Low Code Future?
At the moment, the low-code platforms aren't advanced enough to allow for automated intelligence governance for your application. The good thing is that there's plenty of room for improvement, and the developers are constantly striving to improve it.
With the coming improvements, you will be able to automate some of the processes like testing, designing options for apps, and more. Additionally, you'll be able to offer immediate AI assistance to clients as low-code platforms can democratize AI during the development process. So, all these factors indicate that the future of low-code mobile development platforms will definitely thrive in the upcoming year. You can hire the best mobile app development company like MobileCoderz that has 50+ skilled developers teams to offer clients a great experience.