The global mobile app market is expanding at an average revenue generation rate of 17% with annual profits of $19.5 billion. But the bad news is that the revenue is generated by only 0.01% of all the mobile apps. If you're a budding entrepreneur & want to establish a successful mobile app startup, these tips will come in handy.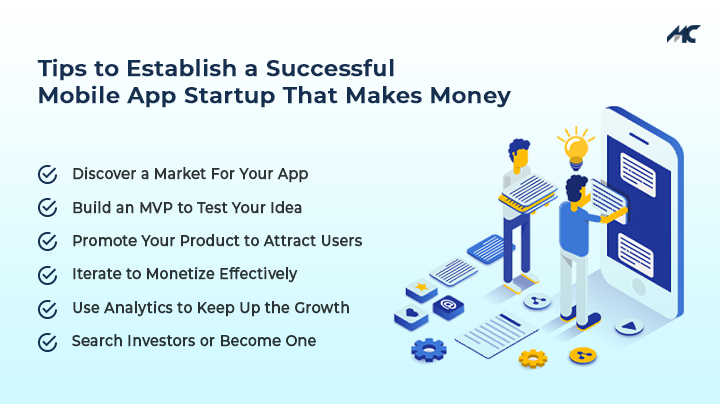 1. Discover a Market For Your App
Now, finding a market fit for your app can be a tough job if you don't know what factors will play an important role in reaching target customers. It is a combination of what distinguishes your app from its competitors i.e. competitor analysis, customer segments, customer relationship management, and sales channel.

In simpler terms, finding the right market is one major factor behind your product to achieve success. Can you do all these things at once? Most of the time, it will be a big no. But in the longer run, you have to get to this combination.
Twitter moved its idea by a minimum of seven different markets before it figured out a way to monetize by offering companies with Twitter APIs and third-party apps as a way to learn about user behaviour. Furthermore, advertisements have become Twitter's main source of revenue, raising $2.61 billion in 2018.
2. Build an MVP to Test Your Idea
In the case of mobile app development, finding market fit boils down to making a Minimum Viable Product (MVP) that identifies the pain points, solves a problem, and addresses the need for a specific audience.
Wait, do you know the reason why we're focusing on MVPs rather than a mobile app startup? Since getting on a decent market is nothing but an inescapable result. It can rise and develop.
With an MVP, you can generally turn your technique and introduce critical changes with your app according to audience response and demand. So, it's a wiser choice to begin at an early stage & avoid changing the entire product after a full-cycle development that can be done speedily and with a budget-friendly plan.
In any case, building up an MVP isn't as basic as it sounds. Individuals get attached to the features that overshadow the main idea of the app. If you think that presenting an MVP is all about developing a basic set of features, you're not landing on the right page.
It's tied in with testing your idea, regardless of whether you're giving the world usefulness that is one of a kind makes your plan of action plausible or not.
For starters, Snapchat explained its core concept to build an early version of an app. They introduced an app allowing users to send other users temporary photos. It made sense to start working on more improvements and concepts only after the initial launch and product validation.
Buffer created a one-page website that explained what the service was about so that people who were interested could leave their emails with feedback. Afterward, by adding pricing models to the landing page, Buffer measured the willingness of users to pay for their service.
Defining your monetization strategy must be done at the MVP stage, every monetization model you pick may cause you to redesign or even totally change your application's functionality, and that can cost you a lot of money.
So, plan about the strategy while developing the very first version of your product as a mobile app startup.
3. Promote Your Product to Attract Users
A decent application just isn't sufficient to get viral. You'll need to utilize all marketing tools like ads, SEO, SMO and content marketing. Additionally, remember that you'll have to use app store optimization (ASO) methods so that clients can discover your app progressively on the app store.
Lastly, there can even be some physical work required to get viral. Here are a few instances of how organizations have promoted applications:
An online dress rental organization named as Rent the Runway tried its model face to face before building the first idea on the web. They just offered undergrads the opportunity to take a stab at dresses and then asked whether they'd be eager to lease them or not. Word has it that over 34% of the young ladies left with dresses, approving Rent the Runway's MVP.
Airbnb took a door-to-door approach in New York. They've enlisted new users and helped existing ones improve their postings by visiting each of them personally. According to Y Combinator's Paul Graham says: "When I recall the Airbnbs during YC, I picture them with duffel bags since when they appeared for Tuesday suppers, they'd always just flown back from someplace."
Instacart began as an iOS app which enabled users to order groceries from a variety of lists. For the initial three or four months of the application's presence, the founders would visit a Safeway general store to complete orders. They didn't have any drivers working for them.
4. Iterate to Monetize Effectively
If your MVP is passing clearance, there will be a scope to get it further developed. This is when numerous new businesses are starting to consider monetization. In any case, concentrating on profiting and not on growth may doom an early-stage startup from regularly accomplishing scale.
Simply recall Snapchat that lost a large number of users as a result of huge changes to its design and functionalities. Unless Facebook had implemented a business model of ads early on, we doubt that it wouldn't have achieved the universality it enjoys today.
Instead of focusing on revenue from the beginning, Facebook prioritized on gradually expanding into a massive user base, gathering extensive demographic data, investing in creating a secure platform, and only afterwards began to produce the highly targeted advertisement.
Facebook's experience recommends that you have to focus on your app and its users. Work on a definitive revenue model when you make a versatile mobile app startup as marketing strategies may vary fundamentally from what you planned.
5. Use Analytics to Keep Up the Growth
How does a start-up become successful?
Growth, that's right. The journey begins the day when you enter a market. Once you launch your app on both the App Store and Google Play, you must start monitoring your business performance for better results.
Most appreneurs implement AARRR pirate metrics to analyze the profit rate & it could be a good choice for doing this. AARRR stands for acquisition, activation, retention, revenue and referral— the key metrics for any mobile app startup. You can use tools like Google Analytics and Mixpanel to help in measuring the analytics.
However, evaluating these metrics regularly is just not enough. You need an evaluation plan that involves:
Main business goals, such as growing your user base, making core users happy, making more money, and introducing new features in your app.
Advanced strategies & tactics to achieve these targets
Clear targets for your metrics to evaluate your strategy's success.
6. Search Investors or Become One
You will need analytics and statistics to endorse you and prove your stable growth before you go looking for investors to finance your mobile app startup. But sometimes it won't be enough to get investment with the right product and positive reports. This is what you're going to do further:
Evaluate your business and write a proposed budget or, more likely, recruit an external professional to do it for you.
Display your strengths and explain how you are going to work to eliminate your weaknesses.
Create a transparent business plan and state the revenue you anticipate.
Prepare a marketing campaign strategy
Show great feedback from users and testimonials.
Demonstrate a team that is highly organized.
Bootstrappers are mostly interested in getting real money-generating clients. The downside of being a bootstrapper is slower growth relative to investor-fuelled, say, the existing mobile start-ups.
Many companies often have high incomes but low revenue because they have to spend a lot to keep growing quickly. It's different for bootstrappers as they focus on revenue first. As a result, bootstrappers are getting a lot of committed staff & very few people leave these companies on their own.
Ending Notes
You are the only one who can determine how to attract investment, how to promote your company, or what approach to take to stick around long and prosperous for your sector. But if you're just at the stage of developing an MVP or struggling to choose the right features to include, contact MobileCoderz to get further assistance to continue with the process of developing a money-making mobile app startup. We're happy to help you in creating your app's early version!