Nowadays more and more businesses are moving to online stores to sell services and goods. They (Online stores) are understandable, straightforward, and relatively low barriers to reach a much broader client base. To establish your online store, you must ensure to place the crucial elements aptly. For this, you must opt for distinguished WordPress eCommerce themes that can provide you with optimal settings and designs that fit your business vision and goals.
ECommerce WordPress Themes Powered by WooCommerce are becoming popular day-by-day and businesses are opting for it to engage user experience and drive more sales. However, choosing the eCommerce web development company is the main hurdle to outsource the eCommerce development requirements. The right technology partner can offer you the best and unique solutions for implementing the latest trends.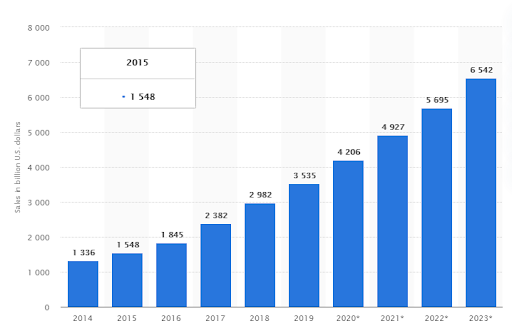 Source: Statista

According to Statista, the global market is expected to grow by 6.54 trillion US, by the year 2023. As per the Cumulative Data, it is anticipated that there will be a 276.9% expansion in the global eCommerce sales.
Here in this blog, we have featured the list of best and feature-rich eCommerce WordPress Themes Powered by WooCommerce eStore Toolkit, are:-
1. Popular WordPress eCommerce theme: Divi
Divi is one of the multipurpose WordPress eCommerce themes and is cherished by clients/ users for its profoundly attractive plan, incredible in-built features, drag-and-drop interface, overall user experience, and options related to customization, it allows real-time and easy modifications. And the best thing about Divi is that you do not have to modify the CSS all by yourself.
The pact with Divi is, you can make a pretty plan for all your requirements. It is a completely responsive theme and somewhat similar to Astra (it is Retina prepared). This WordPress WooCommerce theme does not only convey just one plan but rather gives you the opportunity to access the big sets associated with the premade layouts.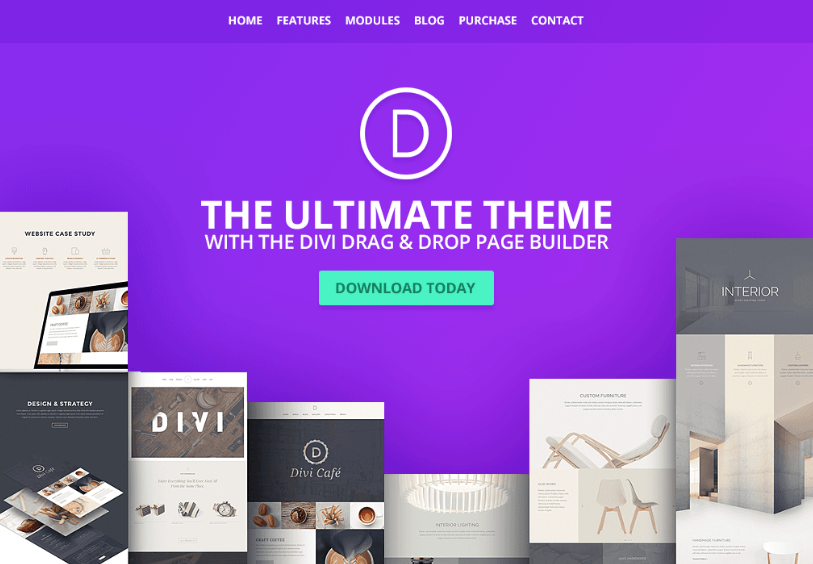 Source: colorlib.com
Note: There are almost a thousand such themes that are easily accessible (which includes few blog layouts)!
When it comes to establishing your business with Divi, this template is integrated well to make your work process simpler. You can work with product pages, product listing, checkouts, etc.
2. Adaptable eCommerce theme: Extra
Extra is an adaptable yet one of the impressive WordPress eCommerce themes that are powered by a prominent drag-and-drop Divi Builder. With this theme, you can get more than eight hundred diverse premade layouts of websites that can assist you to set up the website quickly.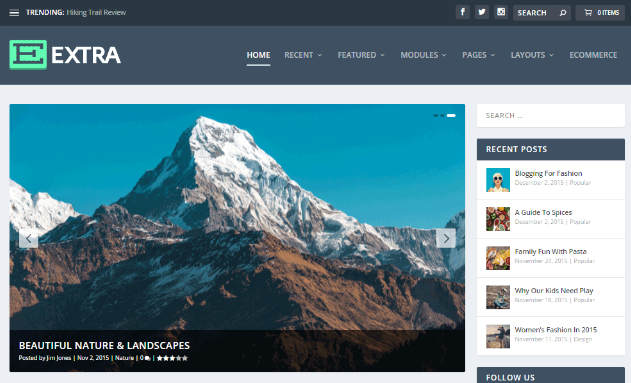 Source: Extra
It is not at all difficult to change the tones, page designs, fonts, and layouts. You do not have to be a pro with the CSS code and yet can manage your site instantly.
You can use this template to make aesthetic store layouts. It works flawlessly with WooCommerce. Furthermore, it is a completely responsive theme, which means it will look extraordinary on all screen sizes and gadgets.
3. Alluring WordPress theme: OceanWP
OceanWP is one of the attractive WordPress eCommerce themes. This delightfully planned WordPress theme is available with a free companion plugin and features i.e premium-like.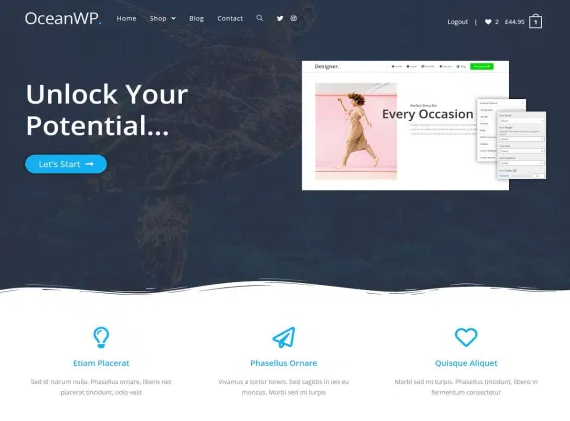 Source: WordPress
It has numerous options in the live customizer where you can choose colors, backgrounds, header styles, navigation menus, etc. OceanWP also has in-built templates to develop aesthetic custom landing pages.
It is compatible with builder plugins which include Elementor and Visual Composer.
4. Excellent WordPress eCommerce theme: Digital Pro
Digital Pro is an excellent and alluring template that can bring life to your business ideas. It is easy to use and can be profoundly optimized for WordPress performance and speed.
It incorporates pre-styled themes and is considered the best WordPress eCommerce theme for WooCommerce eStore Toolkit 2021 for three widget areas, customizable header, page templates, and WooCommerce stores, three gadget zones, adjustable header, and page layouts.
5. Superlative WordPress eCommerce theme: Ultra
You can term these all-in-one-purpose WordPress eCommerce themes with superlative modern designs and options of super-flexibility. It has ready-made sites that can help you to easily install the prudential's with a few clicks, it includes an eCommerce site.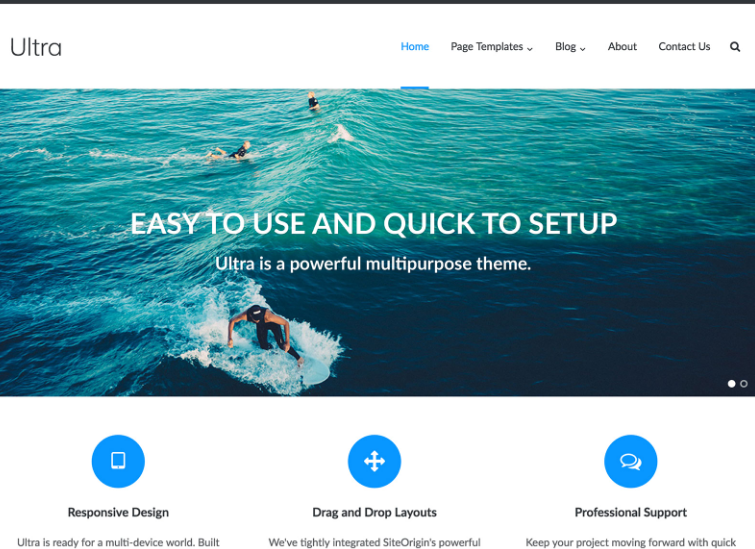 Source: puro-4401.kxcdn.com
You can easily supplant the content with your requirements. It includes features such as multiple header styles, photo galleries, contact forms, pricing tables, etc.
6. Multipurpose WordPress eCommerce theme: Neve
Neve is yet again considered as one of the multipurpose WordPress eCommerce themes that come with a bunch of premade page plans. It is very easy to install.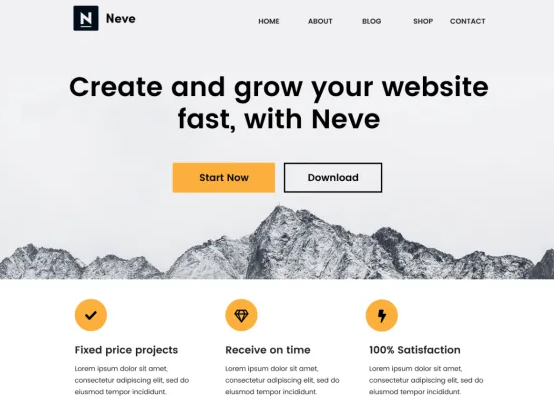 Source:wordpress.org
The "All Set" aspect is the KRA (Key Responsibility Area) that separates Neve from the rest of the themes. This theme is user-friendly. While installing this theme, you can choose your design as per your requirement and fetch the side tools.
Therefore, you can earn a fully functional theme for a website that is RTL ready, simply looks aesthetic, optimized for speed, SEO friendly, and translation ready. This puts Neve extremely high on the "usability" spectrum.
7. Supreme WordPress eCommerce theme: Flatsome
Flatsome is rightly topping the list and is termed as the "supreme WordPress eCommerce theme" because of its numerous functionalities. It has clocked the chart with over 100,000 total sales. Don't you think it is incredibly impressive?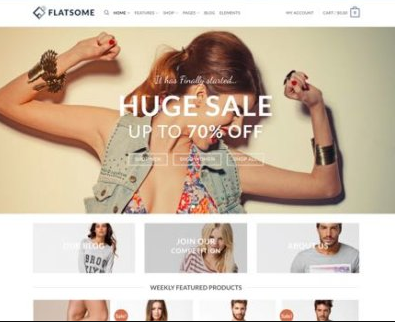 Source: wpengine.netdna-ssl
This theme has a lot of fan base. Flatsome accompanies multiple features that can make the internet eCommerce store simple and beautiful. Live Page Builder is the chief tool that can fabricate any sort of online store.
Aside from the Live Page Builder, you can likewise gain access to the fantastic Live Theme Options panel for the store. This allows you to change every insight concerning the theme's appearance. The shortcodes of this theme are incredible, especially for things like Google Maps and testimonials.
Note:- You can choose from over three hundred premade page plans and formats.
8. Official WordPress eCommerce theme: Storefront
This theme is the official template and speaks a lot about itself! Frankly, this theme works well with the WooCommerce plugin in comparison to the other themes without any glitches.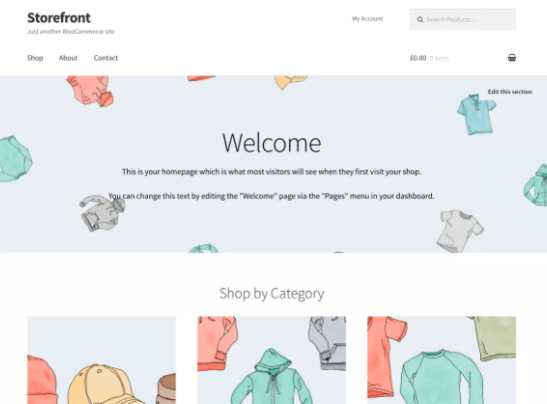 Source:puri.io
Even though these WordPress eCommerce themes are fundamental and there is not a great deal accessible regarding easy-to-do customizations, you do get the benefit of running the absolute minimum (what is generally required to run an online WordPress eCommerce store), which is in itself an added advantage. Adding to it, the typography is quite acceptable.
Generally, this WooCommerce template is a decent and starting point for the online business that needs to add custom widgets, explore building their designs by hand, and base everything that will not crash.
9. Clean WordPress eCommerce theme: Astra
If you are not one of those who are looking for clean themes and do not want to invest more? Then this template is best for your business. It is one of the flexible WordPress eCommerce themes with numerous options of flexible customization and the best WooCommerce support. It has numerous widget-ready areas with a modern layout for the homepage to content widgets.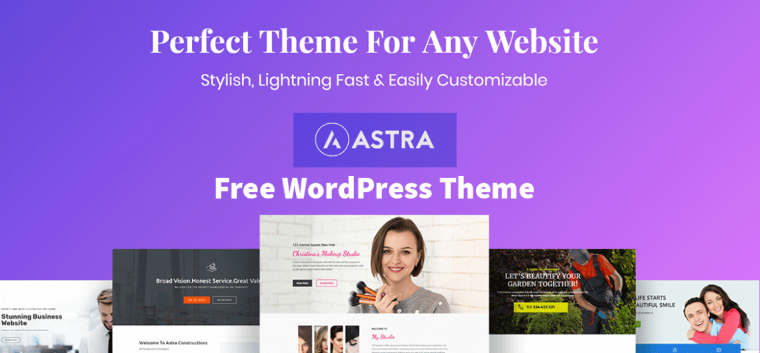 Source: wpentire.com
The setup of these types of WordPress eCommerce themes is user-friendly and simple. Additionally, it is designed for great Search Engine Optimization (SEO) to help your website rank well with leading search engines like Google, Yahoo, etc.
10. Dynamic WordPress eCommerce theme: Shoppe
It is a customizable and one of the effective WordPress eCommerce themes of WooCommerce for e-store which includes lifestyle, fashion, and eCommerce websites. It has a dynamic wishlist, ajax shopping cart, product image zoom, quick look lightbox, quick product search, etc.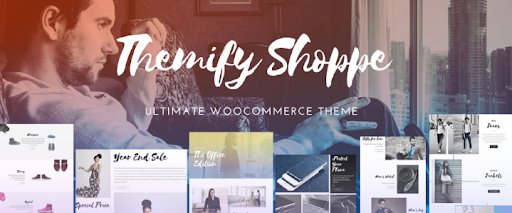 Source: Web Designer Wall
It is also enclosed with styling options and a layout that are generally easy to use. This theme also comes with the Themify builder. It can help to develop custom layouts.
11. Simple-to-use WordPress eCommerce theme: TheGem
It is yet another one of the other multipurpose WordPress eCommerce themes that can be included in a simple-to-utilize visual page builder that assists to build an eCommerce site easily. This template incorporates more than forty conceptual and unique demos for you to begin with, each servicing the variant purpose but compliant to all and interpretations of its capacities, on account of the WPBakery Page Builder.

Source: athemes
It likewise incorporates many myriad customizable options related to product catalogs, attractive shop page styles, WPML-enabled from the initial point, product portfolios, and image galleries like any other WordPress catalog themes.
This template also incorporates three language choices that are expandable to pretty much any language without hardly lifting any finger. To conclude, it is a proficient and modern marketer of just about any service or product. Go for TheGem today!
12. Alluring WordPress eCommerce theme: Webify
Webify is ideal and alluring WordPress eCommerce themes that are embedded with a legion of functionalities and features to build intricate and modern online stores. This template turns out to be ideal and perfect and works well for shoes, bags, webshops related to fashion, apparel, and accessories. Nonetheless, you can undoubtedly change the default layout and utilize it for something completely extraordinary.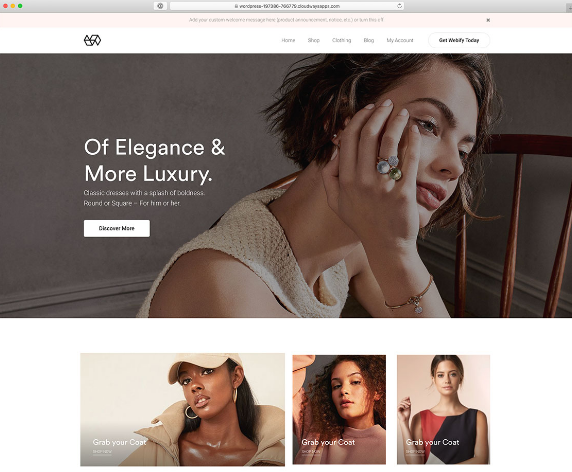 Source:colorlib
This theme is ready and always prepared for any test, offering you to go altogether against the standard/ norm easily. You do not have to work on any advanced designing tasks and coding. Some features of Webify are a blog section, clean layout of a single product, Megamenu, top bar notification, and footer uncover.
13. Sophisticated eCommerce theme: Uncode
It is one of the best and sophisticated templates where you can manage all the tasks related to e-commerce sites. These themes have the initiative user-interface, customizable nature, and adaptability, your end users can easily relate to your store and get a handle on it.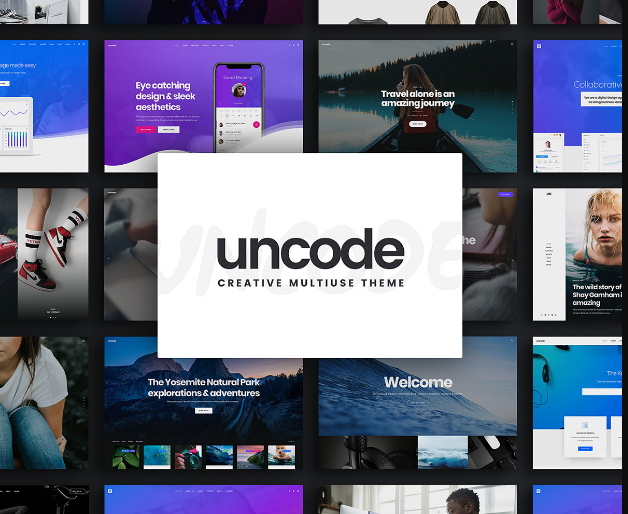 Source:colorlib
This theme additionally incorporates an improved Builder that is not only fully integrated and deployed to WooCommerce but also is visually cohesive. If we talk about these kinds of WordPress eCommerce themes, we can clearly understand that they can help you to save tons of time, it includes friendly commercial shortcodes, pricing plans, and plenty of template pages.
Using Panel of Advanced Theme Options you can easily incorporate alternatives of broad customization. This allows you to adjust your site's look and feel continual. Uncode is based upon HTML5, Bootstrap, and CSS3, and amazing filtering of the AJAX portfolio. Hence, makes it an ideal theme for a wide range of eCommerce sites across a wide scope of ventures.
14. Versatile WordPress eCommerce theme: Infinite
Infinite is a highly adaptive and versatile template to assort different types of intentions and projects. Indeed, this theme works excellently with different types of eCommerce sites, as well.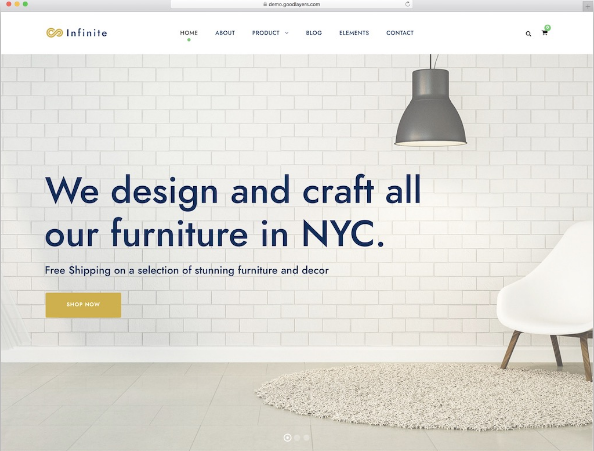 Source: colorlib
Additionally, you can keep it general or adhere to a niche online store using the powerful features of Infinite. This template likewise accompanies a page builder which is extremely user-friendly. This, on the other hand, unlocks all the horizons related to your potential network i.e clients.
15. Extraordinary WordPress theme: Metro
Are you one of those who prefers everything to be simple and minimal yet look for extraordinary solutions? If you nod yes, then you must assuredly go for this template.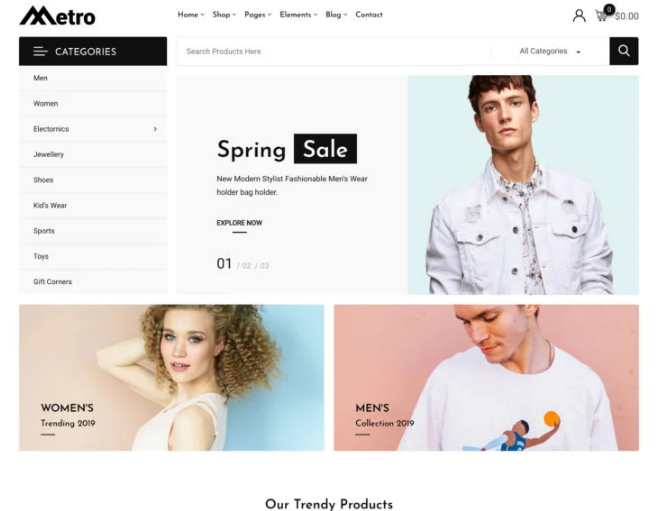 Source: athemes
It is a strikingly viable remarkable alternative that suits a wide range of online stores, be it niche or general. In this WooCommerce eStore Toolkit, you get five lovely landing page designs, yet you can expect significantly more to drop with impending updates. You can adjust as well as edit these templates as per your requirements. Again here, you do not have to spend time writing codes.
This template is compatible with SEO, integration of WooCommerce, impacts of seven product floats, and many other such features to smoothly operate your online store.
You additionally get the benefit of a blog section where you can make your writers write blogs on the latest announcement and launches related to your product or services.
16. Responsive eCommerce theme: Handmade
You can term this template as a crafty, responsive, and shrewd template to develop your online store in a much efficient way. ith modules such as WPBakery Page Builder, you can style your page with just one wink. There are numerous custom elements and shortcodes at your disposal. You can browse through dozens of transitions and animations, add sidebars, etc.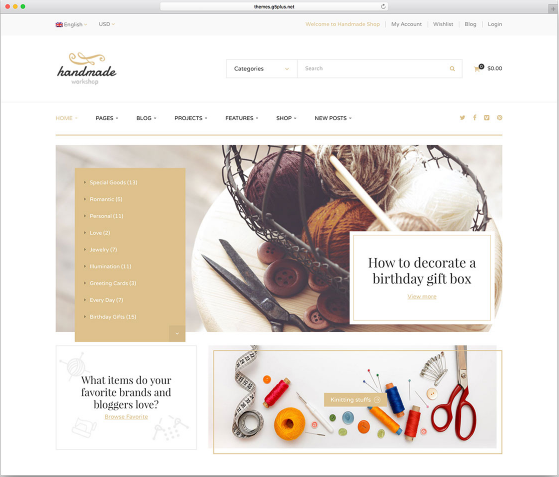 Source:colorlib
Using the Revolution Slider, you can engage your audience and keep things dynamic using these types of WordPress eCommerce themes. Yet, the genuine strength of Handmade is an expansive set of WooCommerce-fueled business abilities.
This template also incorporates checkout processes, payment gateways, and shopping carts. Employing advanced options, you can style your store the way you want with just a few clicks. It includes eight marvelous landing page demo sites.
From fashion retail outlets to affiliate marketplace, this template is ideal for a wide scope of various commercial projects. Compass Handmade today and draw your profits!
17. Appealing WordPress eCommerce theme: Depot
Depot can offer all the required components and tools to create an e-store that adheres to the most recent and advanced web trends. It is one of the accomplished WordPress eCommerce themes with a super minimum appeal. There is no set-up-stone for how you can use this theme. You can use it to display shoes, clothing, furniture, jewelry, bag, anything.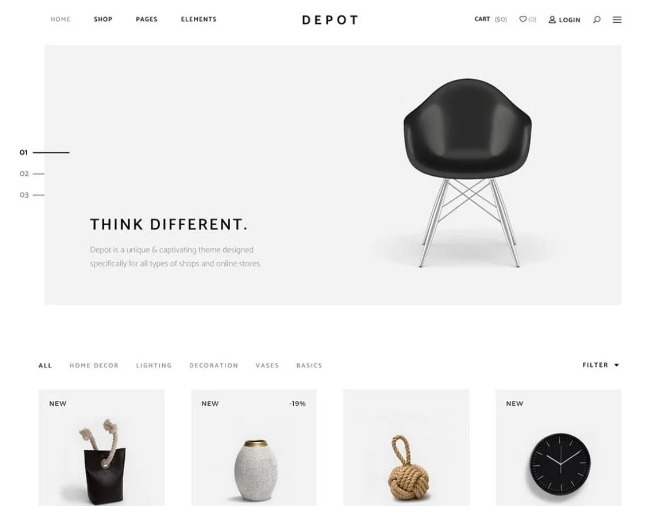 Source: athemes
Regardless of the device which your potential customers may use, this theme ensures that your users are completely satisfied. It can display your products beautifully on large and small screens. You can announce new product launches or showcase the best and fresh orders.
18. Practical WordPress eCommerce theme: Sway
Regardless of launching your store using Sway from the plethora of options (WordPress eCommerce themes), you can fly truly with this template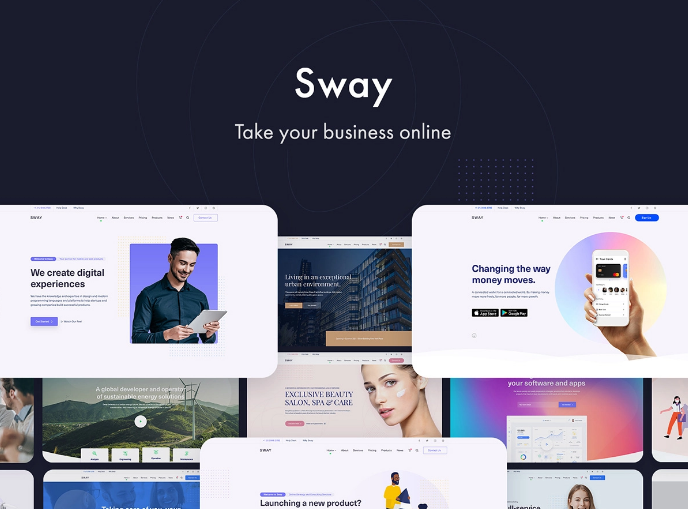 Source: colorlib
This theme is brimming with practical functionalities and features that will help you initiate the work on your online business within a snap of time. No idea or knowledge about designing and coding? Don't worry!! Sway can sort all your problems.
You can get the best of gist with Sway and kick-start to build your online business with the import of one-click demo data.
19. Incredible WordPress eCommerce theme: April
If you are in search of your eCommerce store for clothing, furniture, or jewelry, then this template is an ideal solution that can make your dreams come true. You will have an incredible asset to sell all sorts of products. This type of theme has a minimalistic and flexible concept that totally aims at the product preview.
These types of WordPress eCommerce themes can provide you with the best pre-built elements and can easily adapt to all your requirements. Here you can use eight shop pages and product pages, ten home pages. There are numerous types of beautiful Fonts, awesome icons, and blogs layout included in this theme.
With the custom practical widgets of April, you can display the content the way you want without having any knowledge of coding.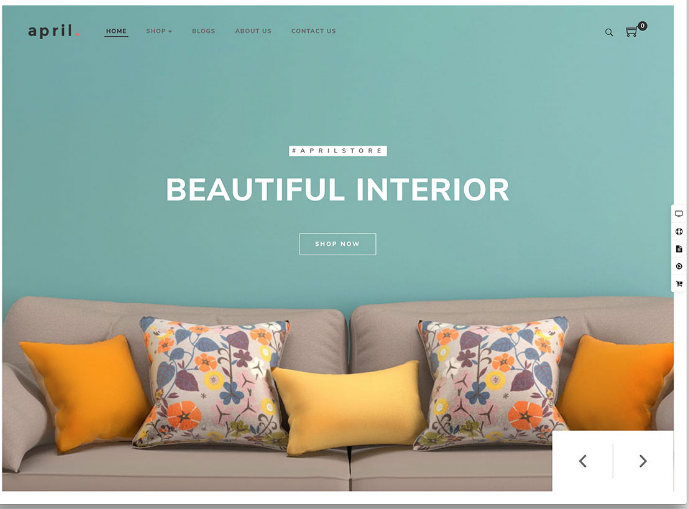 Source: colorlib
April provides customization of designs such as sign-in, galleries, and banners. It is also integrated with premium third-party plugins.
.This theme is viable with Contact Form 7 to reach WPML and users for interpretation/ translation. April is one hundred percent flexible and responsive with most browsers. You can use this theme to get your user engaged, impressed, and comfortable with easy-to-understand options and symbols.
There are numerous other pros of using this theme, they are regular updates, Premium support, and detailed documentation. Try these inconceivable advantages at your new shop in April!
20. Refreshing WordPress eCommerce theme: Tonda
Are you searching for refreshing WordPress eCommerce themes? This template is best for you that can get your hands laid on your dreams. Even though it aims at contemporary art and comparable items, you can develop different types of online shops.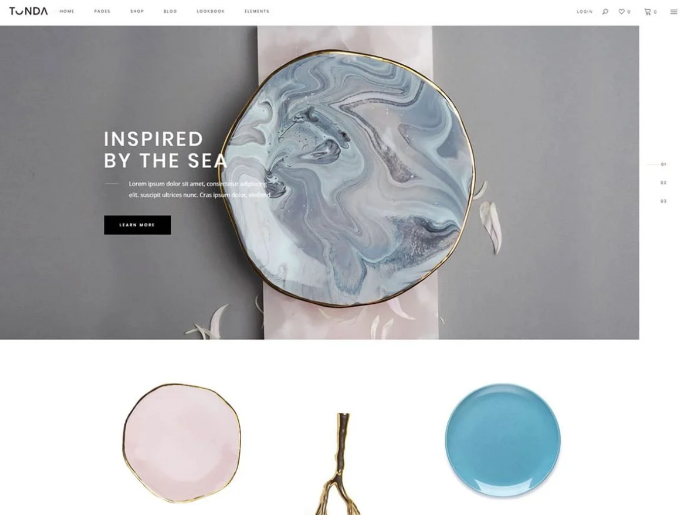 Source: athemes
The exquisite, clean, and minimal design of this theme gets the business rolling. Have an effect with Tonda and express your extraordinary style today!!

In a nutshell!!
We hope this blog would have helped you with the best WordPress eCommerce Themes powered by WooCommerce eStore toolkit for your online store.
If you are planning to establish your online store and are looking to adopt new processes that can enhance your accessibility and expand your productivity, then you must approach established developers.
MobileCoderz is a leading eCommerce development company having deep insight into WordPress catalogue themes. They can build you a competitive e-store and deliver high-end results that can earn you the best ROI.