These days people are looking for mental health apps solutions more than ever. In fact, the COVID-19 pandemic created a massive demand for mental healthcare services. It is estimated that more than 36% of people saw the negative implications on their mental health. Moreover, the pandemic also gave birth to digital mental health apps that digitally help people with mental health issues. In this guide, we are going to discuss all you need to know about mental health app development. 
Before we discuss the different aspects of mental health apps, we should learn a few things about their market 
Mental Health Apps Market Overview 
In 2021, the

international market

for mental health app development was worth around $4.2 billion USD 

This huge market is expected to grow with an astonishing growth rate of 16.2% (CAGR) from 2022 to 2030 

According to ORCHA (Organization for the Review of Care and Health Applications), the total downloads of mental health apps increased by 200% in the UK during 2019-2020

According to Sensor Tower, the total downloads of the 10 best mental health apps in the US saw a rise of 17.5% in 2020 (January to April) 

iOS users dominate the market of mental health app development with a revenue share of more than 45%

In 2021, the market for mental health apps was dominated by anxiety and depression management apps. In fact, this could be the direct result of the COVID-19 pandemic 

North America remains the largest market for mental health apps with a market share of over 35% in 2021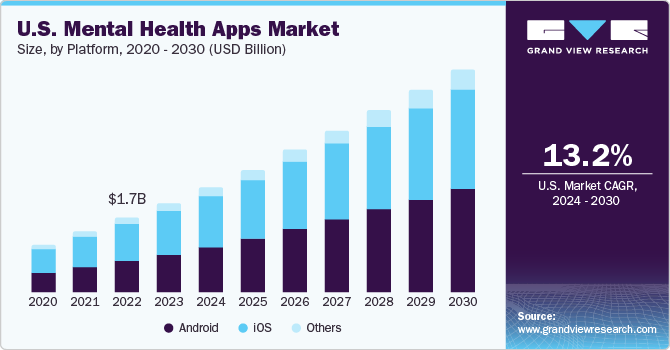 This image shows the market size and potential growth of the mental health apps market. 
What are Mental Health Apps? Why They are Popular?
People have finally started to realize the importance of mental health after the COVID-19 pandemic. In fact, they are now able to overcome the stigma often associated with mental health.
 In the digital age, mental health applications provide the perfect solution to overcome consistent low mood levels, anxiety, fear, and other mental health issues. For this reason, many businesses have started to invest in mental health app development to help people benefit from their mental healthcare services. 
Below are some reasons why people prefer mental health apps; 
Many people are unable to afford long-term treatment for their mental health issues

Individuals often don't have enough time to visit a professional therapist 

People don't want to flex their schedules to arrange sessions

Finding the ideal and effective therapist could be a daunting task 

Some regions don't have enough mental health therapists 

There are so many taboos associated with professional mental healthcare services

People are afraid of getting found and mocked 

Individuals find it awkward to discuss their mental health problems with a stranger 
Why Should You Invest in Mental Health App Development in 2022?
Healthcare app development services could benefit both businesses and users in fulfilling their goals. Thus, these are some significant benefits of mental health app development;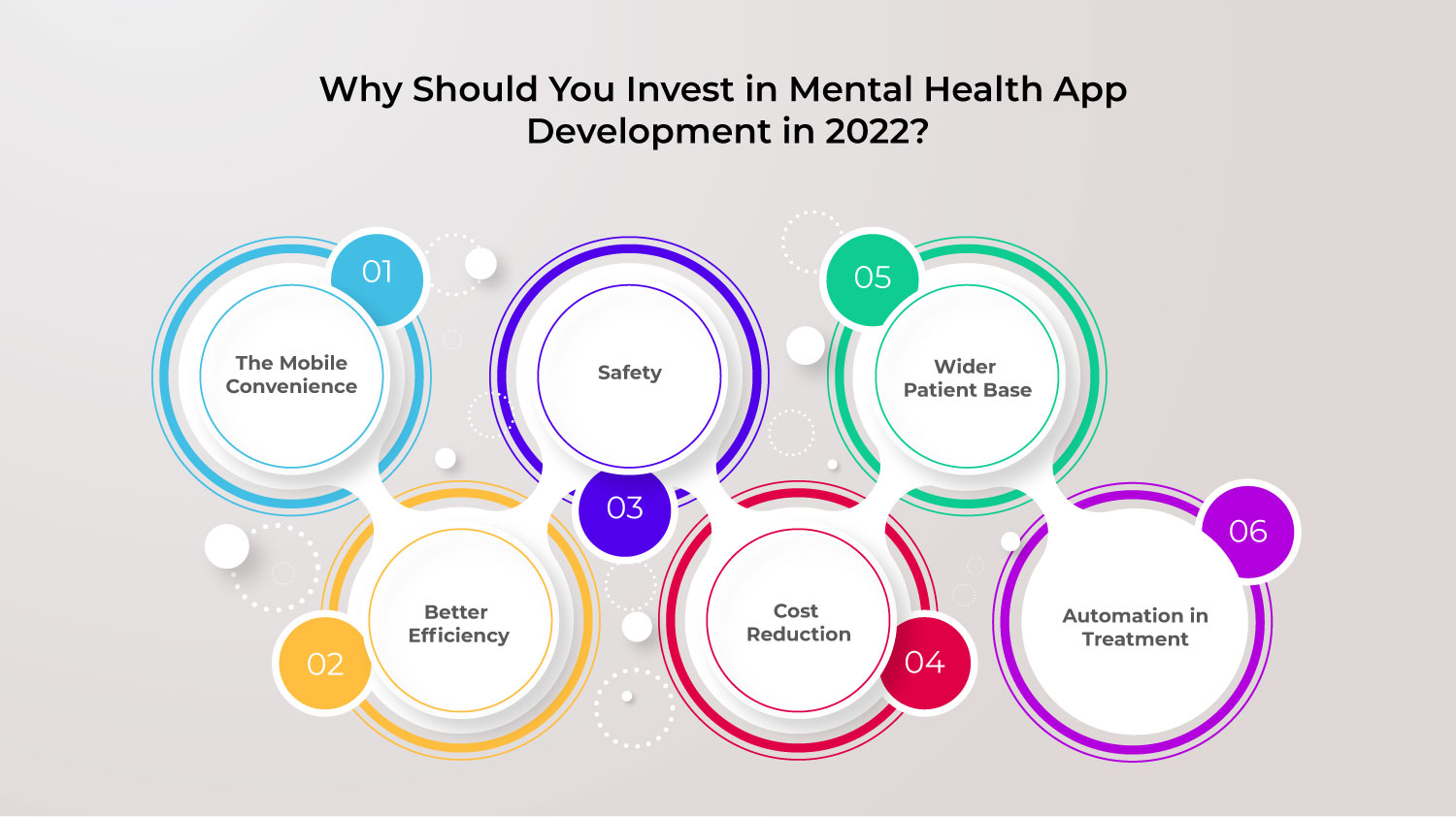 The Mobile Convenience 
Almost everyone these days has access to smartphones. Thus, mental health mobile apps become very convenient for the users since they don't have to physically visit for therapy. In fact, this is the main reason behind the popularity of mental health apps during the pandemic. 
It is also the most convenient option for individuals who might not feel comfortable discussing their issues with a stranger. Mental health mobile apps enable mental healthcare services even without face-to-face consultations and interactions. For this reason, many healthcare businesses want to hire a leading mobile app development company to build their mental health apps. 
Better Efficiency
Quality mental health app development is always ensured by proven therapy techniques, scientific research, and specializations. Thus, they might perform better in improving individual moods and help them develop a strong coping mechanism. Therefore, mental health apps give effective alternatives to traditional clinical treatment and therapy sessions.
Healthcare companies often rely on healthcare app development services to develop their proprietary mental health apps. Furthermore, mental health issues like stress, anxiety, depression, and others can happen anytime. Thus, people want instant access to mental healthcare services to improve their condition. 
Safety 
The pandemic created the serious risk of catching the virus from physical contact. Thus, it became really hard for people to reach their therapist physically. For this reason, mental health app development saw massive popularity among healthcare businesses. Mental health apps drastically reduced the risks for both patients and professionals. 
Cost Reduction 
It takes more expenditure and time to operate a full-scale mental health clinic. For this reason, investment in mental health app development can provide a more cost-effective option for businesses. Plus, there's no need to travel for both practitioners and patients to use mental health mobile apps. 
Wider Patient Base 
A traditional mental health clinic can only fulfil a limited number of patients from a specific geographical location. In contrast, mental health apps can cover a wider area and provide quality healthcare app development services. Thus, healthcare businesses can expect better growth with mental health app development. People who are hesitant to visit a therapist can also remotely access mental healthcare services. 
Automation in Treatment 
A lot of mental health issues don't require professional consultancy. Thus, mental health apps can be used by therapists and mental health clinics to reduce their workloads. These apps can provide automated mental healthcare services based on their mental condition. Plus, the app owners can also have better control over the patient's health data. 
So now you have learnt about the reasons to start mental health app development, let's learn about the different types of mental health apps. 
Types of Mental Health Mobile Apps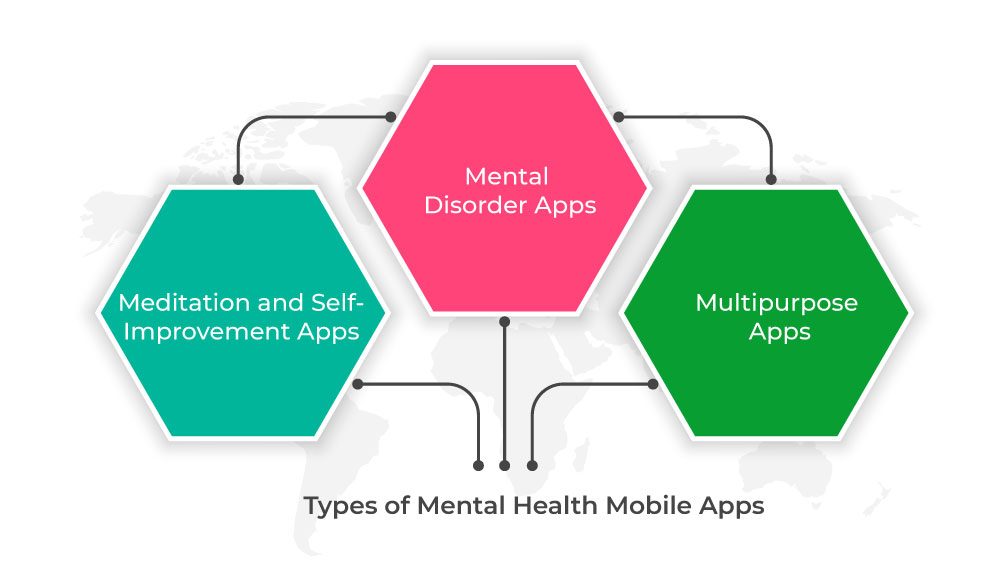 1. Mental Disorder Apps 
These apps are core mental health apps, they are effective for curing issues like anxiety, depression, identity disorders, and other problems. Furthermore, they help users to treat diagnosed illnesses and disorders. With the support of quality mental health app development, healthcare companies use proven treatment methods. These methods include cognitive behavior therapy, positivity psychology techniques, acceptance commitment therapy, and more. 
2. Meditation and Self-Improvement Apps 
These mental health apps focus on improving general psychological health and preventing major mental problems. This is done by reducing stress, anxiety levels, fear, and frustration levels among users. These mental health apps have become very popular due to their useful mental healthcare services. For this reason, many businesses are considering investing in mental health app development in 2022. If you want to develop a meditation app, then you should learn more about the meditation app development cost.
3. Multipurpose Apps
The mental health apps are known for providing a wide range of mental healthcare services. Thus, telemedicine platforms are the best example of multipurpose apps. 
The individuals can avail various services like online marketplaces, individual therapy sessions, couple sessions, psychiatry consultations, and more. In fact, the users can also get professional sessions through messaging or video/audio calls. For this purpose, businesses should start investing in mental health app development to hire iOS or android app developers. 
Why Customer Research is Important for Mental Health App Development?
Understanding the customer persona and requirements should be the first thing in any mobile app development project. Thus, you should also understand the needs of your customer before taking healthcare app development services. 
Every age group and a user group is different from the other. For this reason, you have to analyze the key characteristics of your audience to learn about their preferences. You should keep these factors in mind while developing mental health apps; 
After analyzing these points about the end-user, you will be able to define the features, budget, monetization method, scalability, etc. MobileCoderz, as a leading mobile app development company can give you complete assistance to understand the customers and the market. 
How to Monetize Mental Health App?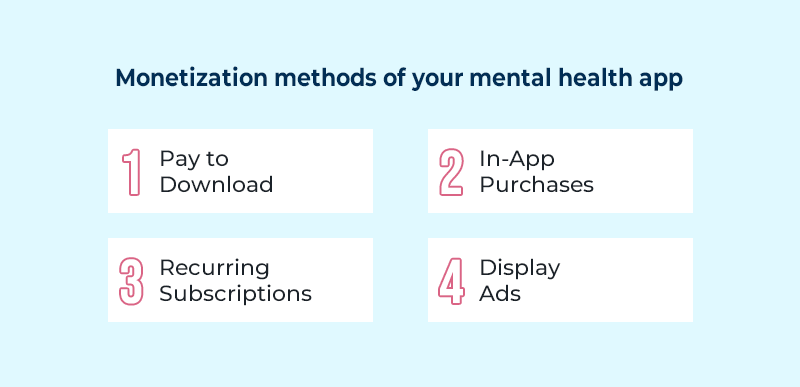 Once you have understood the customers for your mental health mobile apps, it would be a lot easier to define the monetization model. It is true that mental health and awareness is a very sensitive subjects. However, every business requires some funding to sustain itself. Plus, on the brighter side, you will be helping a lot of individuals to overcome their mental health issues. 
These are some of the most effective methods of monetizing mental health apps; 
#. Pay to Download 
This is a very straightforward monetization model. The users are asked to pay to download and use the mental health apps. However, they might be reluctant to upfront the cost without even trying its features first. Thus, you have to be very careful while determining the cost. 
#. In-App Purchases 
In this monetization model, the users will be able to use the major features for free. However, they will be asked to pay in order to use some of the advanced features of the mental health apps. This is a very effective model if you are able to engage the existing users with your app. 
#. Recurring Subscriptions 
This monetization model is very popular among OTT services that help users stream content. However, you can also implement this model during your mental health app development. Users will need to pay a recurring subscription fee to keep using your services. You can also segregate the subscription plans into basic, regular, and premium to further improve your flexibility. 
#. Display Ads 
Although this model might create annoyance among users, it is a very effective monetization model. You just have to carefully display ads on your mental health apps to start earning from the advertisers. However, you should avoid obstructing users' engagement while developing the app 
Let's talk about the core features that you must include during mental health app development 
Core Features of Mental Health Apps 
Patient Panel
You must have the registration and login process very simple and minimalistic. In fact, the users of your app should never get frustrated from the login and registration process. 
The users of your mental healthcare services should be able to create and maintain their personal profiles. In fact, it would be better if they can have complete control over their data. 
After the mental health app development process, the app should be able to connect with wearables to obtain more accurate metrics. This can greatly help them to track stress levels and analyze the changes in their mood patterns. Thus, it could be a great method to provide more effective mental health services and help in providing better treatment to the users. 
Consultancy with a Professional 
Mental app users might want to consult professionals to resolve their mental health issues. Thus, you can implement chat, audio or video call facilities into your app for smooth communication and online sessions. 
Mental health apps often build strong communities to help people with their personal development. In fact, in this way, you can engage more users in your app. People will feel comfortable enough to share their experiences. 
An individual can have a sudden panic or depression attack without any warning. In such critical situations, such individuals should be able to send emergency messages to their doctors or caregivers instantly. 
Therapist Panel 
This feature would allow the admins to determine the individual roles of each using the app to help patients. They will be able to list their experience, credentials, expertise, etc. 
This dashboard would allow the therapist to integrate monitoring and patient tracking features. Furthermore, they should be able to customize the interface of this dashboard. 
Intelligent Calendar 
An interactive calendar must be integrated into the app because it helps in managing the schedules and appointments of the therapists. Users can also benefit from this feature by checking the availability of the therapists. 
Treatment Plans 
Different therapists and doctors might have different therapy plans and prices. Thus, they should be able to list their plans and prices accordingly to the mental health apps. 
Hiring the Right Development Team
Building the app on your own is out of the equation because of the stiff competition in the market. You cannot expect to match their quality if you are building mental health mobile apps on your own. Thus, it always makes more sense to take full advantage of healthcare app development services from a trustworthy mobile app development company. Plus, even after the development process, you will require assistance to adapt to the ongoing market demands and customer feedback. This becomes harder when you have an in-house team or freelancers to work on the project.
They will give you the power to hire iOS app developers and hire Android app developers. In any case, you will need the following talent to start mental health app development in 2022; 
Mobile app developers 

App designers 

QA analysts 

Project/product managers 

Business executives 
Protecting Mental Health App Data 
Digital data security has become a major concern for people in recent years. Moreover, mental health apps have to store critical and sensitive information about individuals. Thus, there's a great need for data security and confidentiality. 
Healthcare companies taking advantage of healthcare app development services have to follow legal regulatory guidelines such as HIPAA, GDPR, and other standards. This gives assurance to the users that their personal data is protected from being exposed. Plus, it is also important for the healthcare service provider to ensure therapists have correspondent licenses. Any breach in the data or privacy of the users can lead to criminal penalties. 
UI/UX Should be Given Special Consideration
The individuals using mental health apps might be having challenging mental health situations. Thus, the design and user experience should be super simple and intuitive. There shouldn't be any distracting design elements in the UI and the user flow should be smooth and streamlined. 
This would improve the user retention rate and help them really solve their mental health issues. A trustworthy mobile app development company can help you create a stunning, robust, reliable, and user-friendly UI/UX. Moreover, it would greatly help you ensure more users on your mental health app. 
The Mental Health App Development Process 
This process consists of various stages that require highly skilled professionals. Thus, it is always better to hire a mobile app development company that provides the best healthcare app development services. The following chart gives a detailed representation of the mobile app development process for mental health apps; 
| | | | | |
| --- | --- | --- | --- | --- |
| | 1  | 2  | 3  |  4  |
| Research & Strategizing  | You must have a clear strategy to transform your app idea into a successful mental health app. This can be achieved through in-depth research.  | You should have a clear idea about the competition in the market. Thus, an in-depth competitor analysis is necessary. | Define the target audience and their pain points that you will be resolving with your mental healthcare services. | |
| Planning & Analysis  | You must have an understanding of the possible use cases. Then and start creating a realistic roadmap for your app.   | You must plan out the budget for mental health app development and the team required for developing the app.  | | |
| Building the UI/UX  | You have to determine a strategy on how you will show the data to the users. Then define various roles and user flow of the app.  | Create wireframes to understand the app design and get an understanding of functional requirements. This helps you to make the user experience intuitive.  | Create mockups to get high-fidelity designs of your app. It will give you the final visual representation of your mental health app.  | Build a prototype using the chosen design. This helps you to simulate the user experience and the app's workflow. |
| Core Development  | You have to first work on the backend part to include the server-side objects and database of your app.  | Then you might have to integrate APIs to create a communication bridge between your app and the backend.  | You have to build the front-end which will register the interactions of users. This will be backed by APIs and the back-end. | An Agile approach should be followed to make the development process adaptable to changes.  |
| QA Testing  | We will start with user testing to ensure that the final product matches the experience designed by the design team. | Then, functional testing will be done to test all the functionalities of the mental health app.  | Performance testing will be done to learn about the app's performance on various devices and screen sizes.  | Lastly, security testing is important to ensure that the app is secure and reliable.  |
| Deployment  | We have to create a developer account on both Play Store and App Store to start uploading the app. | Throughout the mental health app development, we have to maintain a checklist to avoid conflicts. | The team will have to upload the app to the respective app stores by abiding by their guidelines and requirements.  | |
Cost of Developing a Mental Health App 
Whenever someone has a new business idea, they always think about the feasibility of the idea and its cost. Therefore, it is also important to have a cost estimate for mental health app development. However, there are so many factors that might determine the final cost of mental health app development. 
The list of features and app complexity could significantly impact this cost. Still, it usually costs somewhere between $15,000 to $50,000 to build a mental health app. 
Let's Collaborate with MobileCoderz for Effective Mental Health App Development 
If you have finally decided to get started with mental health app development, then MobileCoderz could be the right option to start your project. We have extensive experience in providing high-quality mental health app development services that help businesses to grow and users to get help for their mental health issues. Above all, we follow a client-centric development approach that gives complete project ownership to our clients with full transparency. Hire our top developers to develop world-class mental health mobile apps