Did you know that in 2020, around 64% of the US adult population used at least one fintech app? The fintech apps have truly opened new business opportunities for emerging businesses. For this reason, many businesses are looking for Fintech app development services to build their own FinTech solutions. The FinTech app market has gained an investment of over $55 billion in recent years. In this blog, you will learn how FinTech app development services can help your business to grow.
What is a FinTech App?
The word 'FinTech' is the amalgamation of two words 'finance' and 'technology'. It describes the businesses that are taking the best advantage of technical solutions for building, automating, or improving their financial process and services. 
FinTech is not a new concept in the business and IT world. In fact, just think about ATM technology, electronic trading, and personal finance applications, all of them all in the category of FinTech. However, today's FinTech apps use cutting-edge technologies such as data science technologies, Blockchain, machine learning, and more.

Market Overview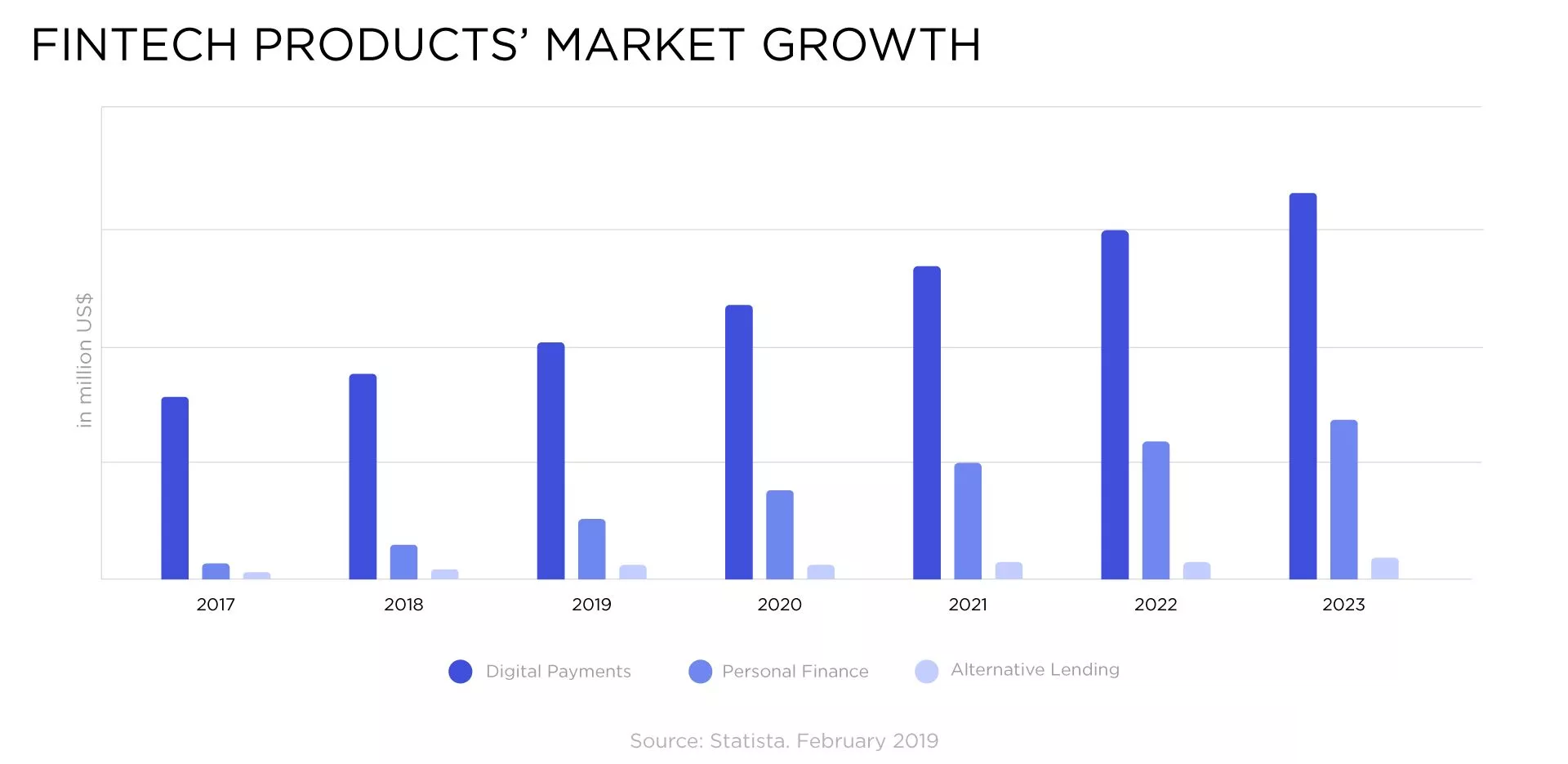 Over the past decade, the global economy has been digitalized at a rapid rate. This has brought so many new challenges and opportunities for financial institutions and businesses. However, choosing the right fintech application development company has helped them to conquer the market and explore new opportunities. 
According to a study by CACI Limited, by 2022, it is predicted that mobile transactions will grow by 121%. This figure will include almost 88% of all digital banking transactions. In fact, today people have more faith in FinTech apps than traditional banking solutions. Moreover, future technologies like AI, Data Science, Blockchain, and cryptocurrencies are truly providing a gateway to a world-class user experience. Apps like Apple Pay, Google Pay, and Ali Pay have made a big difference in how we used to do finance. 
Benefits of Taking FinTech App Development Services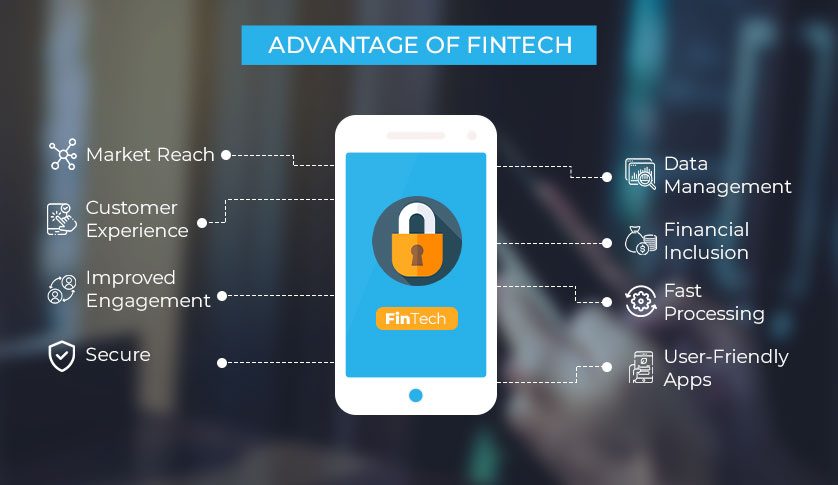 Investing in FinTech application development can provide your customer with the smoothest and most convenient payment experience. These are some notable benefits of FinTech app development; 
Better Market Reach and Presence 
FinTech app development primarily provides mobile-friendly solutions to capture the huge market of smartphone and tablet users. Furthermore, users prefer mobile apps because they provide them with the convenience of staying updated and accessing information in just a few taps. 
The growth of the smartphone market has also led to the growth of FinTech apps. In fact, the consumers are now able to digitally conduct financial activities on the go without any hassle. This makes fintech app development a very important goal for businesses to generate more revenue and stay ahead of the competition. Your business can have a better market reach if you consider developing your own FinTech app. 
Superior Customer Experience 
Today, customer satisfaction is one of the primary factors behind a business' success. By investing in FinTech app development services, your business can provide new ways for your customers to purchase products and services while they are on the go. 
A proper FinTech app allows individuals to perform various functions such as making payments, transferring funds, checking account balances, and more. Thus, this convenience adds up to a better customer experience and builds loyalty for your business. 
Improvement in Engagement and Sales Possibilities 
Mobile apps reduce the gap between users and businesses. Thus, users love to engage with apps instead of manually browsing through websites. By investing in FinTech app development, you can increase your customer engagement and open new sales possibilities. 
Many companies want to launch their own apps just to minimize the gap between users and their businesses. Above all, collaborating with a best mobile app development company can help you beat your competitors with a world-class FinTech application. 
Far Better Security 
Payments on websites are often subjected to security risks. However, this is not the case with mobile apps since they are protected with multiple layers of security protocols. FinTech app development can provide far better security infrastructure for enterprises and consumers. 
These apps use the latest encryption technologies, which ensure safer, securer, and faster convenience than traditional banking apps. 
Improvement in Data Management 
When you invest in FinTech application development, you will receive better data management solutions to improve your overall business productivity and customer experience. In today's digital world, data has become the most precious asset. Thus, FinTech apps could play a significant role in efficiently managing the data and storing it on a unified platform. In this way, you can not only reduce your operational costs but also improve productivity. 
Improved Financial Inclusion 
Not every customer is using banking services on their mobile. However, the FinTech revolution can change the game promoting financial inclusion to almost everyone with a smart device.  This financial inclusion is very important for people because it connects them to banking services and saves their money better. 
A FinTech app can also become a loan platform and give strong competition to loan services provided by the bank. In fact, many FinTech startups are working on this model to provide easy credit to the users and capitalize on the market. 
Lightning Speed 
The digital technology of FinTech apps provides lightning-fast speeds for transactions and loan approval speeds. In fact, investing in FinTech app development makes it a lot easier to process fund transfers and loan reviews. 
Traditional banks might not provide the same advantage of speed for loan approvals and fund transfers. Moreover, it could even take days to process simple transactions with traditional finance methods. 
User-Friendly Apps 
Traditional banking apps are often perceived as boring and overly complicated. Although there has been a massive improvement in the banking apps, still they are often confusing to use. In the contrast, FinTech apps provide a very user-friendly and intuitive experience to the users. 
Investing in the best FinTech app development services can give you an app with a smooth interface, simplistic menus, dashboards, and color combinations. Understanding the consumer's needs and simplicity are the two key elements of building a FinTech app. 
An experienced FinTech application development company has years of expertise in building enterprise-grade applications with beautiful and user-friendly interfaces.

Types of FinTech Apps
Digital Banking Apps 
These apps provide digital banking facilities to the users. Instead of reaching a brick-and-mortar branch, users directly access banking services from their mobile. Accordingly, they can check their balances, transfer funds, make payments, apply for loans, etc. 
Investment Apps 
These apps provide great investment opportunities to almost everyone. Furthermore, users are able to remove intermediaries and do online trading with ease. Advanced fintech app development can take this a step further by implementing AI and machine learning to work as an automatic broker. 
Payment Processing Apps 
These apps are used by businesses to conduct payment transactions on their behalf. Furthermore, they eliminate the need for a middleman for connecting credit card companies with customers. Payment processing apps make financial services more convenient for everyone. 
Tax Filing and Management Apps 
These apps are used for simplifying the complicated aspects of filing and managing taxes. Furthermore, users can simplify the preparation, filing, and management process. In fact, these FinTech apps can remove the need of hiring a dedicated accountant. 
Personal Finance Management Apps 
These apps work as personal finance advisors for users. Users can just define their needs and financial goals, the rest will be managed by the FinTech app. It makes it a lot easier to track all your finances and learn about your spending habits. Top businesses often hire a FinTech app development company to build personal finance management apps. 
Insurance Apps 
These apps are very useful in the insurance industry to assess risks accurately. Furthermore, policyholders also get faster process claims and coverage with insurance apps. It is a lot easier to manage and make claims when people have the power of FinTech technologies. 
Loan Apps 
These apps are a great way to connect borrowers to lenders online. It becomes a lot easier to process loan payments through FinTech apps. In fact, some of the FinTech apps allow peer-to-peer (P2P) lending, which allows individuals to lend money at their own interest rates and policies. 
Collaborating with the Best FinTech App Development Company
If you are ready to enjoy the unexplored opportunities in the world of FinTech apps. Then, MobileCoderz could be your ideal choice for the best FinTech app development company with years of experience in building banking & finance apps.
We always follow a client-centric approach to provide the best client satisfaction. Moreover, our skilled designers and developers are always ready to handle the most complicated projects to provide the best FinTech app development services.